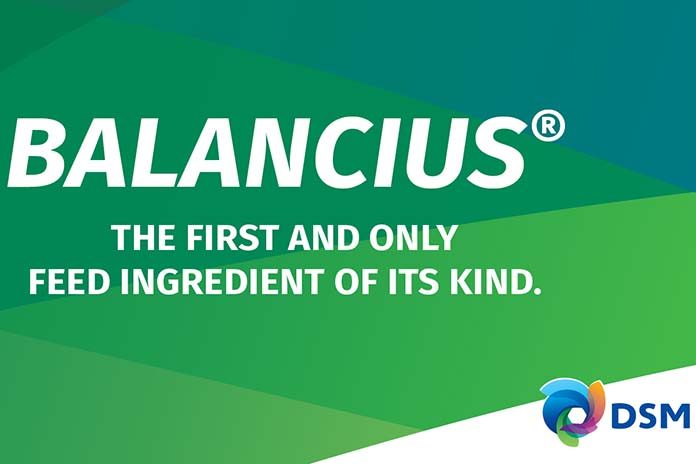 DSM launched its breakthrough innovation BalanciusTM into the EMEA broiler market at the 22nd European Symposium in Poultry Nutrition. BalanciusTM launched in North America and Latin America in September 2018, and is now available in all EU countries, as well as South Africa, Serbia, Nigeria and Moldova.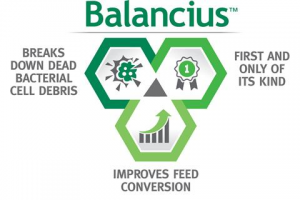 Balancius™ is a microbial muramidase designed to support gastrointestinal functionality there of optimizing the feed efficiency and consequently supporting the sustainability of broiler production. Successfully launched in the USA and Latin America in September 2018, Balancius™ is now authorized for sale for broilers in all EU countries (Regulation (EU) 2019/805 of 17/05/2019), as well as in South Africa, Nigeria, and Serbia.
An innovative feed ingredient, Balancius™ hydrolyses the major cell wall component (peptidoglycan) in the dead bacteria, present in the gut, thus improving nutrients availability. This unique mode of action differentiates it from the other solutions in this space, which target indirectly living bacteria. By including Balancius™ in the feed for broilers, feed producers can improve feed conversion ratio by 4–6 points (3%), translating to significant cost savings. Balancius™ has also been shown to substantially increase breast meat yield and to enhance animal welfare through drier litter.
"Today marks a new milestone in the expansion for Balancius™, and a great news for the EU where we feel a high level of interest for this innovation, until now only available in the USA and Latin America. We are delighted to have the opportunity to share the news with our customers as well as with the scientific community during ESPN, which is one of Europe's most influential poultry nutrition congresses," explains Peter Fisher, Vice President Animal Nutrition & Health EMEA, DSM.
Balancius™ is the latest innovation from the Alliance of DSM with Novozymes, reflecting the strength of its scientific capabilities as well as its capacity to significantly and responsibly improve sustainable animal production.
"Together DSM and Novozymes have developed a solution that contributes to the growth and welfare of animals by digesting bacterial cell debris from the gut. No other technology works like this" says Susanne Palsten Buchardt, Vice President Commercial at Novozymes for Animal Health & Nutrition. "It's a game-changing innovation based on our 20 years Alliance with DSM."
"As a leader in Animal Nutrition & Health, we are at the forefront of innovation and sustainability. The launch of Balancius™ is a testimony of our leadership position, which we will further expand with our world-class research and development capabilities and with the broadest species-specific solution offer in the industry", explains Sebastian Marten, Vice President Enzymes & Eubiotics, Animal Nutrition & Health, DSM.
Based on the FAO's estimates of greenhouse gas emissions in chicken production, Balancius™ could reduce emissions by an estimated 9m tons globally – the equivalent of 3.7 million cars being taken off the road.
The announcement is supported by data from more than 80 international research and customer evaluation studies. Ongoing trials are currently addressing the potential for the extension of Balancius™ into other species, starting with turkeys, which has already a favorable EFSA opinion published early May 2019.
To date, Balancius™ is available in EU, in most Latin American countries and in the USA while launch in South-Asia is expected in the coming months.
BalanciusTM is the only feed ingredient that breaks down peptidoglycans in bacterial cell debris, releasing nutrients and unlocking hidden potential in gastrointestinal functionality.
The addition of BalanciusTM to the diet of broiler chickens:
Significantly improves nutrient digestibility and absorption capacity.
Consistently improves feed conversion ratio and breast meat yield.
Contributes to better broiler welfare through drier litter.
BalanciusTM could reduce greenhouse gas emissions in chicken production by an estimated 9m tonnes globally based on the FAO's estimates, the equivalent of 3.7 million cars being taken off the road.