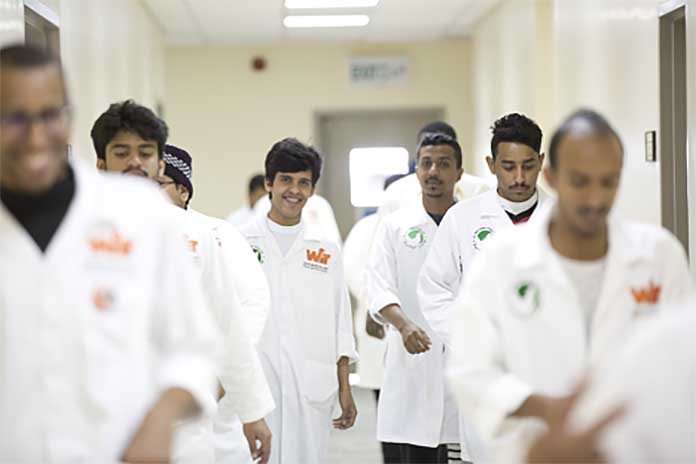 A graduation ceremony at Al Bukayriyah, Al Qassim marked the achievements of the first Saudi Arabian students to complete their training at Al Watania Poultry Institute of Technology (WIT) in a joint program with Cobb-Vantress.
WIT is a charity set up to train the country's nationals to world-class standards in poultry production with a plan to extend this opportunity to students across the GCC's member states. The training covers all aspects of poultry production as well as the English language and basic science. In 2016 Cobb joined hands with WIT to provide practical training at its European and U.S. production facilities.
The first group of more than 50 students has completed their training at the institute, which is equipped with state-of-the-art laboratories and hatcheries and farms where they received hands-on training. Cobb is a sponsor of the project among others including the University of Arkansas.
"With a widely recognized shortage of skilled, young talent in the global poultry industry, WIT is a visionary program involving collaboration between private industry and local and national authorities that should be a role model for the world," said Roy Mutimer, Cobb-Vantress vice president for Europe, the Middle East, Africa and Asia. "We are extremely proud to be associated with the WIT program and are excited at the impact it could have on the poultry industry in The Kingdom and beyond. In addition to the English language training and the more technical classroom and practical sessions delivered by WIT, we are happy for our Cobb technical team to deliver specific presentations on all aspects of poultry management to the students."
The training provides real industry experience to top students by organizing short-term placements in Europe and the U.S. Participants spend time in feed mills, hatcheries and broiler and breeder farms working alongside Cobb-Vantress team members to understand the day-to-day commitment and activity needed to run a successful poultry operation. Mutimer said the first WIT graduation ceremony is a very significant milestone. "We look forward to our continued involvement in this program, seeing many more talented students graduate and transition into roles where they can make a real contribution to feeding the Saudi people and building a highly successful poultry industry in The Kingdom."
The business relationship between Cobb and the Al Watania Poultry Company, not only in Saudi Arabia, but across the Middle East, is seen as one of the most solid in the region. Since 1998, Cobb-Vantress has worked closely with Al Watania to provide favorable genetics to meet the growing market demand for fresh whole birds and cut-up products.