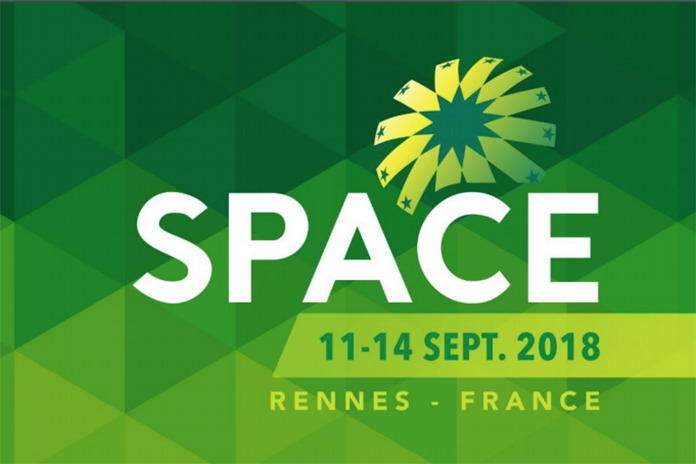 Over the years, SPACE has established itself as a major event and one that is unmissable for farming professionals from all over the world.
A place for exchanges and meetings, it meets the needs of all professionals: to find solutions for the future of the sector, to give ideas for the development of farming in the emerging countries, to promote a highly innovative sector, to allow businesses to open up to overseas markets, to promote French expertise in health safety, to provide new technical knowledge.
When & Where
From Tuesday 11 September to Friday 14 September 2018
Venue
Rennes Exhibition Centre
Opening hours
From Tuesday 11 to Thursday 13 September: 9 am – 6 pm
Friday 14 September: 9 am – 5 pm
Website
www.space.fr

Product previews presented by some exhibiting companies
AB VISTA to launch EMEA Phytate Reference Guide at SPACE 2018 – Hall 9, Stand D84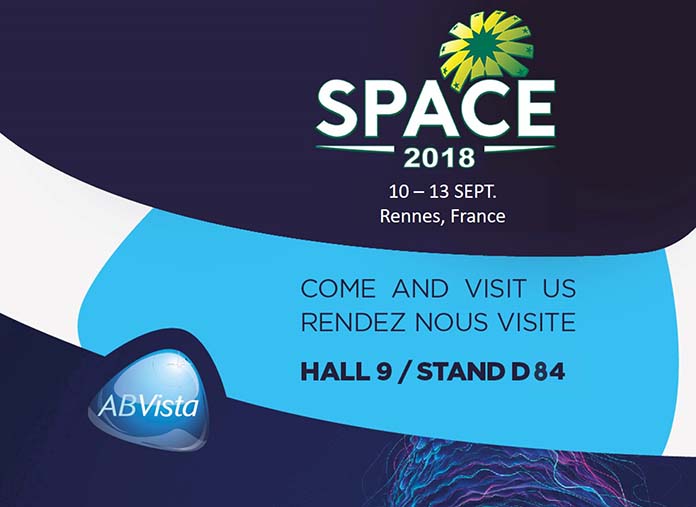 Visitors to the AB Vista stand at SPACE 2018 will be able to take away the EMEA Phytate Reference Guide – the first for the animal feed industry, listing phytate reference values compiled specifically for European, Middle Eastern and African feed markets.
The guide contains phytate levels and variability for a wide range of raw materials, including cereals and protein materials, as well as for different finished feeds.
William Greenwood, Technical Services Manager at AB Vista, says "these valuable insights from data provide companies with an improved nutritional picture or 'feed intelligence' to help optimise their feed formulation".
AB Vista invites SPACE delegates to visit their stand – where breakfast will be offered each morning – to collect their complimentary copy of the EMEA Phytate Reference Guide.
Find out more information about the AB Vista Phytate Reference Guide by clicking here
E-mail: emea@abvista.com – Website: abvista.com
 AGRITECH – Air libre, Stand B05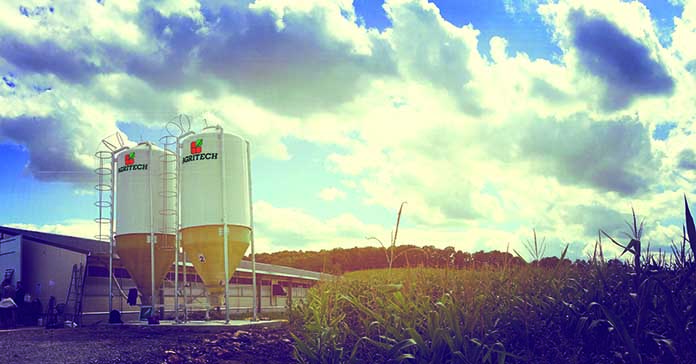 Agritech is an Italian company located in the district of Brescia, specialized in the processing of fiberglass and selling its products in more than 50 countries all over the world.
Agritech main products are silos aimed at the storage of both powdered and granular products. Fiberglass silos are characterized by extremely high constructive and qualitative standards certified UNI EN ISO 9001-2008 and Statik, that make them fit for satisfying the needs of different industrial sectors. Thanks to a 30-year-long cooperation with worldwide farmers, Agritech has constantly improved the design of its silos and has been able to introduce many other products such as a wide range of outdoor shelters for animals, thus satisfying the needs of the most demanding customers.
The particular dedication to export markets and the high quality standards of the products in all their details made Agritech grow in a significant and constant way.
E-mail: agritech@agritech.it – Website: agritech.it
ARION FASOLI – Hall 10 – Stand A01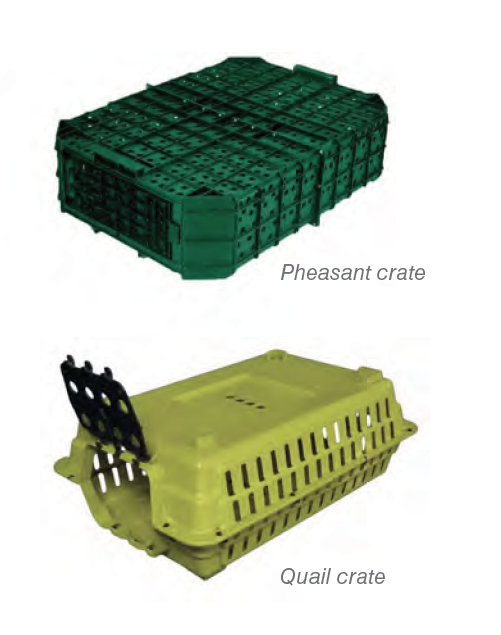 Arion Fasoli srl will be present at SPACE 2018 welcoming customers and visitors.
The Italian company will showcase its entire range of equipment for poultry farming, both the traditional products, and the latest innovations including the new line for game birds and the new "feeding plate 26025". To meet the demands of the customers, Arion Fasoli has recently started a partnership with the Italian company River Systems. This exchange of synergies allows both the companies to be more competitive in emerging markets while at the same time continuing to offer a series of products as complete and interesting as possible, including incubators, crates for the transport of poultry, trays for eggs, and so on.
Email: nicolabonetti@arionfasoli.com – Website: arionfasoli.com
AVIAGEN features "commitment to global poultry industry" theme at SPACE 2018 – Hall 10, Stand B27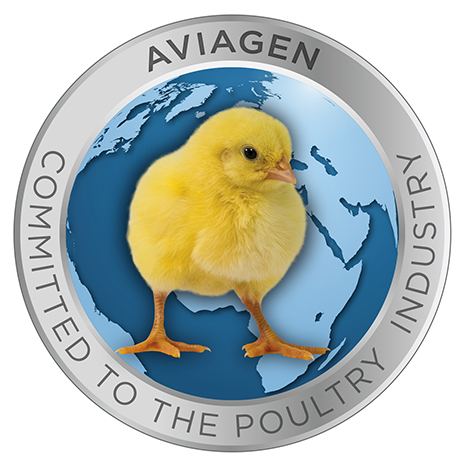 Representatives of Aviagen® France and the Aviagen Middle East & Africa customer support teams welcome visitors to Hall 10, Stand B27, where it's possible to look at the different aspects of Aviagen's commitment first-hand.
Aviagen is committed to helping customers meet varied market needs by offering diverse brands of broiler breeders, including Arbor Acres®, Indian River®, Ross® and Rowan Range®, focused on the slower-growing and organic sectors. Strategies such as compartmentalization highlight Aviagen's commitment to ensure its quality chicks reach customers worldwide.
E-mail: info@aviagen.com – Website: aviagen.com
AVIAGEN TURKEYS – Hall 10A, Stand C64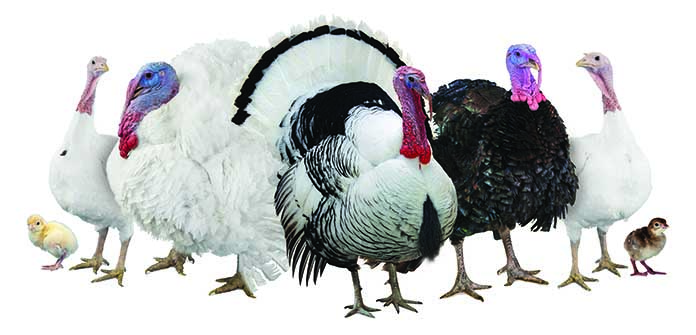 Aviagen® Turkeys will be exhibiting at SPACE 2018 to represent the B.U.T. and Nicholas breeds which are recognised around the globe as marks of quality and superior performance with the highest standards of welfare.
The B.U.T. Premium is the market leading heavy-medium turkey breed and combines the best returns for commercial growers at competitive poult prices. Aviagen Turkeys has recently introduced 3 specialist breeds which are suitable for alternative production systems, these breeds have also been accredited by the Beter Leven quality mark.
E-mail: turkeysltd@aviagen.com – Website: aviagenturkeys.com
BÁBOLNA TETRA – Hall 10, Stand A10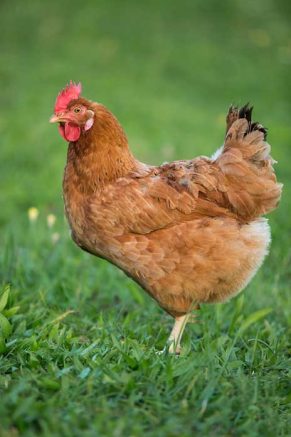 Bábolna TETRA will attend once again the SPACE exhibition in Rennes. In the last years TETRA brown layers have gained high reputation in cage free systems around western Europe.
Sales have increased both on parent stock and commercial level. In addition, Bábolna TETRA offers various slow-growing broilers and coloured layers for the diverse alternative markets of France. In the area, the company promotes its products through its distributor, TETRA France, based in Brittany. The company with 50 years' experience in layer breeding offers a bird for every market and management systems, along with an effective technical support in almost 40 countries.
E-mail: tetrakft@babolnatetra.com – Website: babolnatetra.com
COBB500™ proving its value to the French industry – Hall 10, Stand B41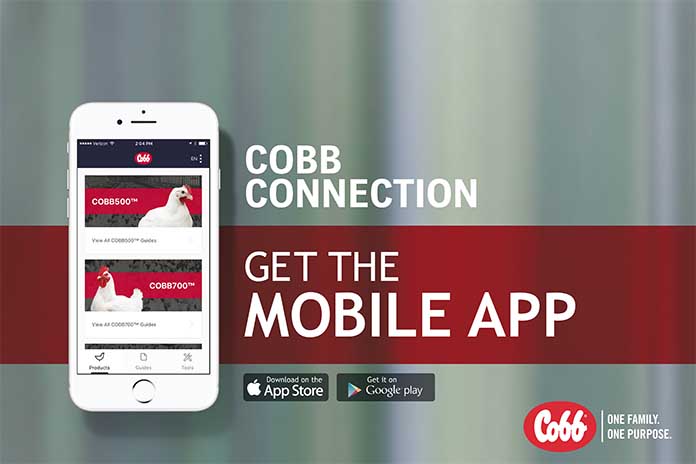 Growers and integrators seeking to increase their revenue should stop by the Cobb Europe SPACE 2018 booth B41 in hall 10.
The Cobb500™ is a solid all-round broiler proving its value in the French market. Ask the company about the Cobb500™ and its strong gains in cost and feed efficiency. The bird is robust and shows great uniformity, while thriving on a lower density and cheaper ration. "France historically imports 51 percent of its standard chicken. Now that local production is favoured, the Cobb500™ is the ideal choice for the market," said Russell Jones, Cobb Europe commercial manager. "Our friendly technical support experts work closely with our customers to help them maximize our broiler advantage and increase breeder efficiency."
E-mail: info@cobb-vantress.com – Website: cobb-vantress.com
GIORDANO POULTRY PLAST – Hall 10, Stand B21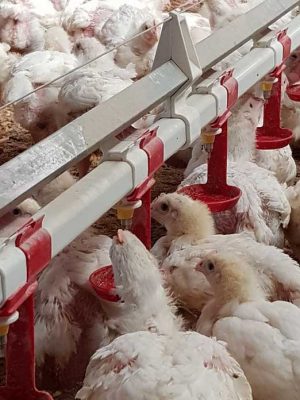 Giordano Poultry Plast, a leading multinational plastic moulding company specialized in the production of poultry equipment, in collaboration with its important partner SARL JOSSE will be present at the upcoming edition of the professional exhibition SPACE 2018.
Giordano Poultry Plast will introduce its new Automatic Drinking Line. The system has been upgraded starting with the pipe that goes from rounded to square shape 28×28 mm. This will provide a better result, not only during the use but also for washing at the cycle end. Moreover, the pipes were changed as well as all plastic accessories and nipple.
This new Automatic Drinking Line is easy to install. The system includes "Super Drop" for broiler, "Pendolo Line" for turkeys and duck (they will have different cups), completed by the already popular "Giro Line", a combination of 2 drinking lines with only 1 metal support (mainly used in the French market).
E-mail: info@poultryplast.com – Website: poultryplast.com
HENDRIX GENETICS – Hall 10, Stand B43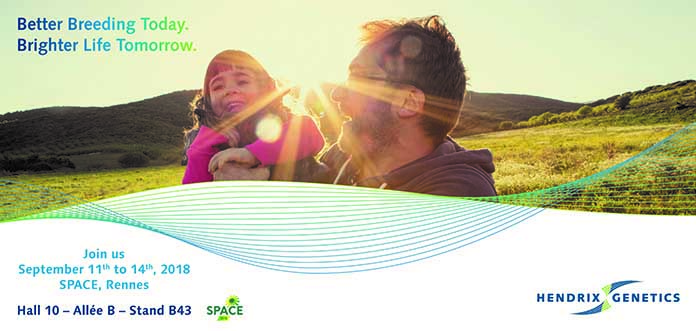 Hendrix Genetics invites all visitors to its booth at SPACE 2018, where the company will be exhibiting all genetic brands for turkeys (Hybrid Turkeys), layers (Dekalb, Shaver, Bovans, ISA, Hisex, and Babcock), and traditional poultry (Sasso).
Members of the global team will be available in Rennes, including sales and technical service representatives, veterinarians, and senior management. Hendrix Genetics will be on hand to discuss ongoing investment in the industry and dedication to supplying quality genetics throughout the value chain. Hendrix Genetics strives to create value for the animal protein value chain through constant innovation, collaboration, and continued focus on sustainability. Meet Hendrix Genetics' team at Hall 10, Stand B43 to find out more about how this can apply to your business.
E-mail: info@hendrix-genetics.com – Website: hendrix-genetics.com
HUBBARD Conventional and Premium. Your Choice, Our Commitment – Hall 10, Stand C63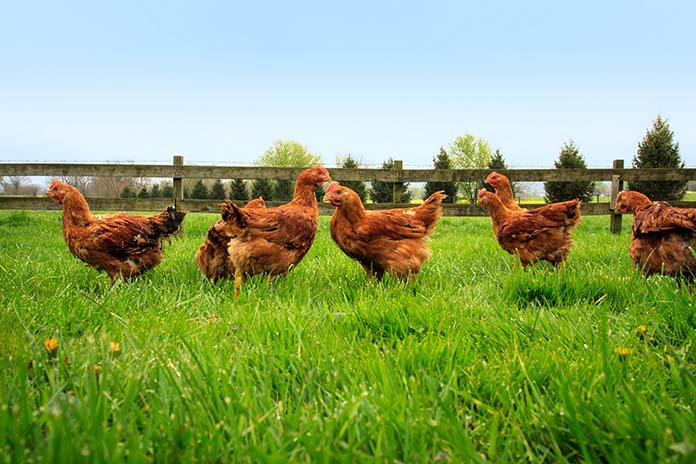 Hubbard's Conventional product range is highlighted by its highly productive breeder females mated with the white or yellow skin males, tested best in class for fertility and FCR. The recently introduced Hubbard M22 male delivers additional breast meat for the debone markets.
Hubbard, global leader in the Premium market, offers a wide range of products with color differentiation, slow(er) growth and excellent robustness responding to changing consumer demand for higher animal welfare standards and quality.
Present in over 100 countries and with support of dedicated teams, Hubbard delivers high quality genetic solutions to broiler breeder customers around the world.
E-mail: contact.emea@hubbardbreeders.com – Website: hubbardbreeders.com
HY-LINE – Hall 10, Stand B29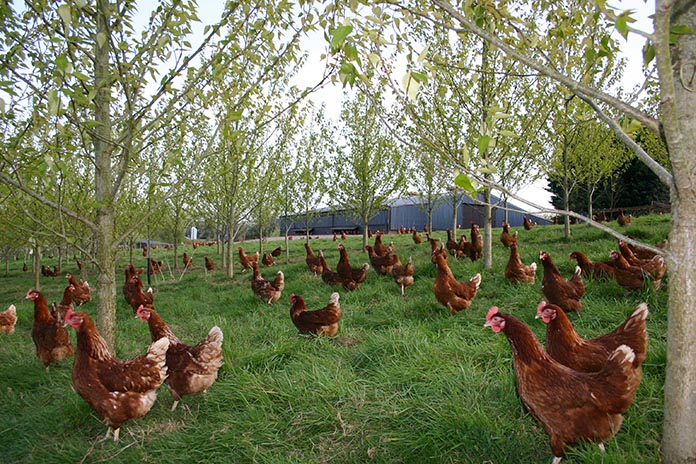 Hy-Line Brown is the world's most balanced brown egg layer. This hardy layer has unrivalled feed efficiency, the best interior egg quality in the market, superior egg colour and excellent liveability.
This makes the Hy-Line Brown the perfect balance, which means more profit for the poultry producer. With the Hy-Line Brown, W-36, W-80, Silver Brown and Sonia, Hy-Line delivers a bird for every market – every climate, every housing system, every country.
Visit us during the SPACE exhibition at the Hy-Line France booth in Hall 10, stand B29.E-mail: france@hyline.com – Website: hyline-france.com
PAS REFORM, a fresh approach to post-hatch feeding – Hall 10, Stand B23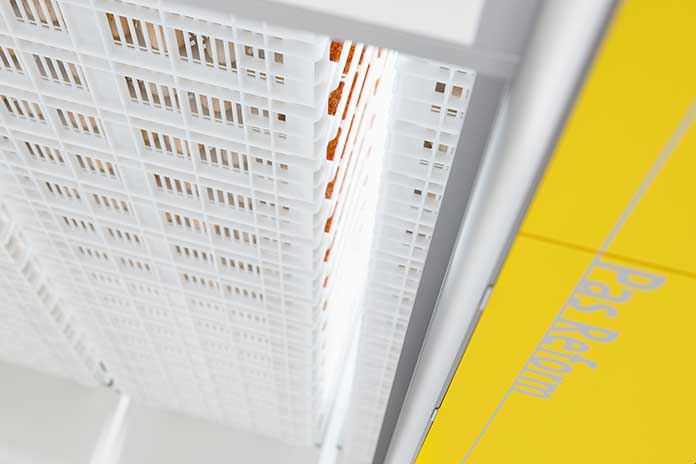 Between September 11th and September 14th Pas Reform will reveal a fresh approach to post-hatch feeding, and launch SmartStart™ at Space 2018, in Rennes.
SmartStart™ is a flexible, ground-breaking post-hatch feeding solution that gives newly hatched chicks the earliest possible access to feed, water and light.
SmartStart™ uses natural deep eutectic solvents (NADES) to retain water inside a semi-moist feed for a practical, simple post-hatch feeding solution. The SmartStart™ system offers a perfect start for new born chicks, enabling them to eat from the moment of hatching. It promotes the development of robust day-old chicks and helps to reduce the need for antibiotics. SmartStart™ comprises two key elements that can be applied individually or together: precision feeding and intelligent lighting.
E-mail: info@pasreform.com – Website: pasreform.com
SASSO, the other way of thinking Poultry, respectful of birds, humans and genetic diversity – Hall 10, Stand B43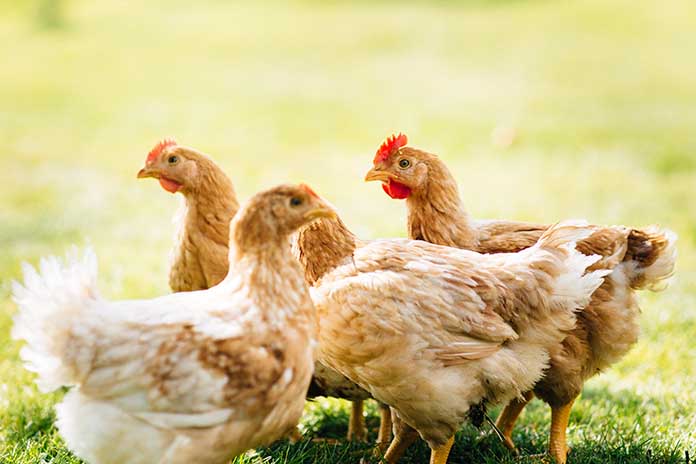 Established 40 years ago by the leading French "Label Rouge" poultry producers, SASSO's sole objective has always been to breed STRAINS capable of producing high-quality poultry.
Developments in selection techniques and research in nutrition and breeder management have enabled SASSO to constantly improve the economic performance of its stock without compromising their inherent quality. To fit the market's requirements, SASSO portfolio offers a large range of parent stock: Dual Purpose, free range, organic, certified or Welfare.
SASSO's breeds characteristics are:
– A highly rustic and resistant chicken;
– With excellent liveability, easy to manage, with good performance in term of FCR and yield. And of course a premium quality meat.
E-mail: infocom@sasso.fr – Website: sasso.fr
VAL-CO – Hall 10, Stand C75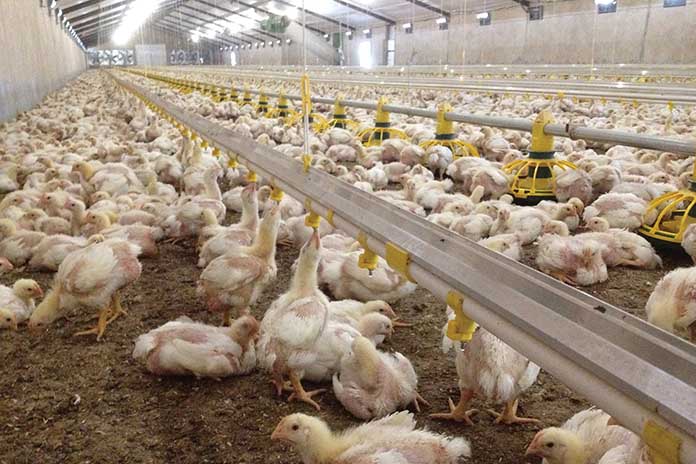 VAL-CO® poultry housing systems are known around the world for their outstanding performance and durability. From the United States to Europe or Africa, our systems are always made with the same care and quality.
VAL-CO feeders have repeatedly shown great feed conversion in feed trials against other top companies. Our nipple drinkers provide the best access to clean water, and when maintained properly, will not leak and cause wet floors. Ventilation fans are energy efficient and can easily move large volumes of air. When VAL-CO feeding, watering, and ventilation systems are used together, chickens grow bigger, live healthier, and are more productive.
E-mail: info@val-co.com – Website: www.val-co.com
VALLI – Hall 10, Stand C66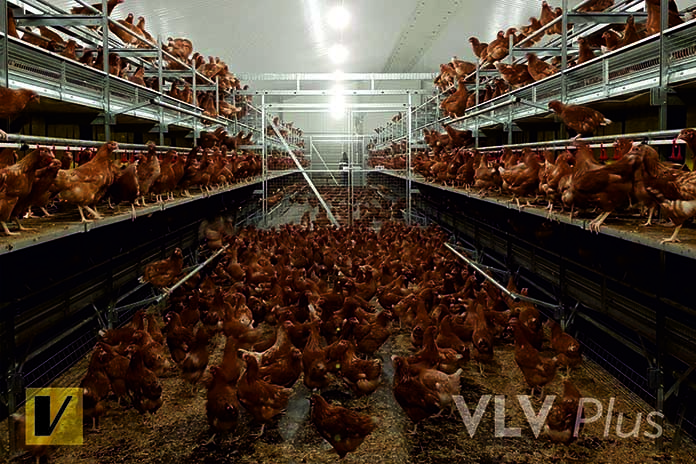 Alternative systems for pullets and laying hens have shown a growing interest in Europe and elsewhere. VALLI offers a wide range of models in order to satisfy every need at every latitude.
VALLI experience is the best guarantee to purchase excellent products and services to give value to the customers' investments. With Baby AREA the pullets will be properly raised to produce the best eggs in different types of equipment that VALLI has prepared for all needs:
– VLV Plus: the best system for barn and free range egg production;
– CASTLE Plus: maximum comfort for the animals;
– HOME: the best system for free range and organic egg production.
Email: info@valli-italy.com – Website: valli-italy.com
VENCOMATIC GROUP – Hall 10, Stand B24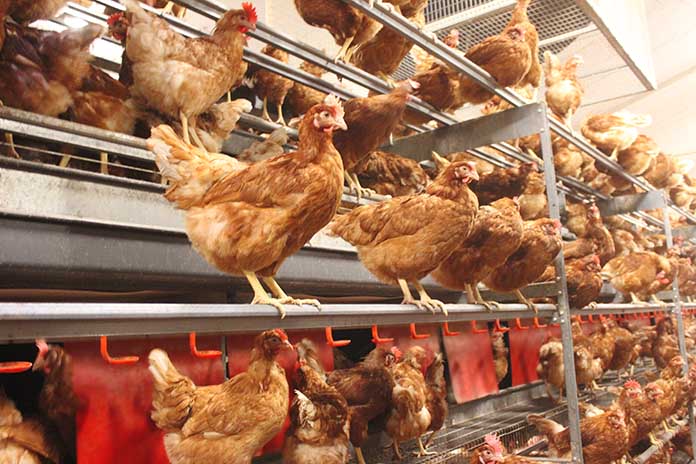 From the very first moment an egg is laid until it reaches its final destination, a commercially produced egg travels a long journey. On this journey it faces numerous impacts and possible contamination sources. Vencomatic Group focuses on perfecting every detail of this journey.
They evaluate and optimize every little step to protect the eggs from damage or contamination. Vencomatic Group strongly believes that optimizing this journey is the way to maximize profit for poultry producers with today's tight margins. The Vencomatic Group poultry professionals happily share their knowledge and look forward to welcome you at their stand at the SPACE 2018.
Email: info@vencomaticgroup.com – Website: vencomaticgroup.com
VICTORIA – Hall 10, Stand C71
Victoria Srl, the leading manufacturer of high performance incubators in the Middle-East, Southeast Asia and Europe, has released their latest and most advanced incubator ever created – the VIC48.
Developed using the most innovative materials and advanced technologies, it is able to reach new standards of production flexibility, efficiency and production load. The VIC48 has a market leading production load of 48,240/51,840 eggs, supported by eight incubating trolleys (6,030-6,480 eggs/layer). The introduction of new trolleys, with a more elegant and effective design, has improved the overall load by 30%+, while keeping the extremely high performance that has made Victoria's machines a leader in the market. This incubator provides a perfect distribution of oxygen, humidity and temperature through a completely new ventilation system (made of 12 innovatively-designed blades) and an efficient system for trolleys. While achieving fantastic performance, the VIC48 is also able to optimise costs. The humidification system, which uses only pressurised water and not pressured air, generates highly energy savings.
Email: victoria@victoria-srl.com – Website: incubatricivictoria.com