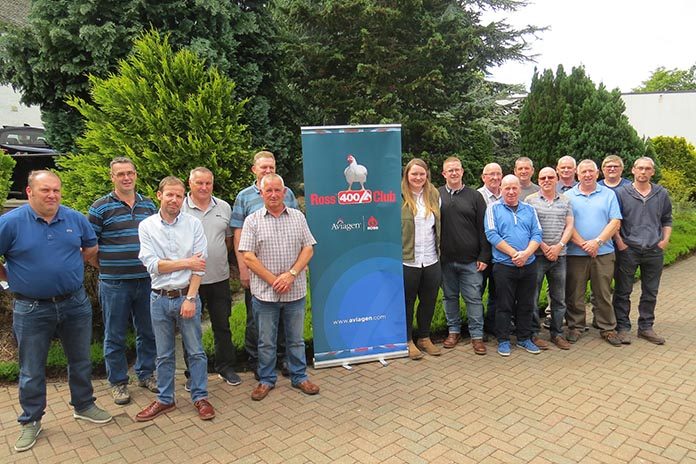 July 10 marked a special occasion for high-performing Ross 400 broiler growers in Scotland. The Aviagen® UK team presented Ross® 400 Club awards to farmers who achieved a European Production Efficiency Factor (EPEF) score of 400 or more during a ceremony at the Hook2Sisters Edinburgh office. A record 83 awards were given to 25 winners.
Double consistency gold – a Club first
The ceremony also saw a first for the UK Ross Clubs — Gerald Griffin is the first and only member to-date to gain two Gold awards for consistency. The Gold recognition is reserved for farmers who have three consecutive flocks with a Club-qualifying EPEF, or who score an EPEF that is 10 percent more than the current target.
"I am overwhelmed to be the first double-consistency Gold award winner. I would say the winning recipe is team work and paying attention to detail, plus having a bit of luck as well," Gerald commented regarding this accolade.
Ross Clubs – a success story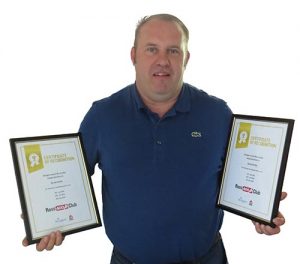 The Ross 400 Club in the UK has gone from strength to strength. Membership has risen from 3 since the Club's introduction in 2009 to more than 400 in 2019. In line with the updated Ross Broiler Performance Objectives, increasingly high field and genetic performance of Ross birds, and outstanding skill and commitment of producers, as of July 1, the qualifying entry score has been raised to 420 EPEF. The higher requirement was necessary to secure the ranking of Ross customers in the UK as the top 1% of the broiler industry. However, membership in a Ross Club is for life; therefore, all existing 400 Club members keep their Club standing. Read more on the new Ross 420 Club here.
Congratulations to the winners
During his speech at the ceremony, UK Head of Sales and Technical Stuart Thomson gave an overview of the Club and congratulated the Scottish Hooks2Sisters producers for their remarkable accomplishments. "I'm impressed by the record number of winners, who should be proud of their performance. Their excellence in stockmanship and hard work has helped to show what our birds can do!"
Frank Lawson, General Manager, PD Hook Limited, a parent company of Hook2Sisters, added, "We're proud of our winners and their farm teams for their effort that goes into successfully managing award-winning broilers — theirs is a 24:7 commitment. They follow the highest welfare standards and really care for the birds. We're honored to be part of the Ross Club awards, as they celebrate the good performance of our birds and the great work of our growers."