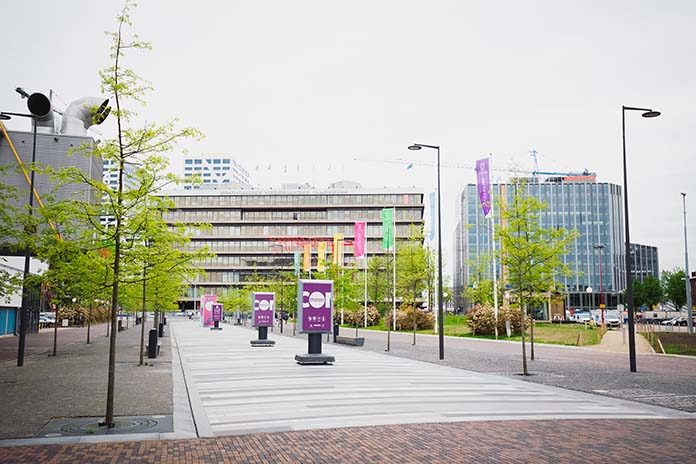 VIV Europe takes place from 20 to 22 June at Jaarbeurs-Utrecht, the exhibition complex located in the heart of the Netherlands. At the next 2018 June edition, VIV Europe will launch a strong and engaging Central theme: "Sharing Data = Better Poultry": how to achieve a new level of poultry production to be proud of. A special section will be onsite, the Innovation Gallery, where companies will show the most interesting innovations in this field regarding the data-driven poultry production.

Where 
When
Jaarbeurs
Jaarbeursplein 6, P.O. Box 8500
NL 3521 AL Utrecht
June 20 – 22, 2018
opening hours
10H00 – 18H00
Register to Attend
AGRITECH – Hall 12, Stand B020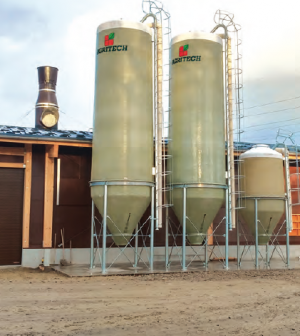 The Italian company Agritech was founded in 1987 and is a leader player in the design and manufacturing of bulk storage systems both for dry and liquid materials for the animal farming sector. Their range of highly resistant fiberglass silos and tanks can meet the farmers' needs, as Agritech silos capacity ranges from 2 cubic meters up to 100 cubic meters.
The company also manufactures different bulk material loading and unloading devices, such as stationary and portable screw conveyors, feed transport tanks, flex augers.
Moreover, their great experience in the processing of fiberglass led Agritech to develop a wide program of shelters and modular stables for animals (dairy, swine, poultry), which are also avail­able with proper insulation for severe environmental conditions.
At VIV Europe 2018 Agritech will present their new portable silos Mod. CUBO 2.7, easily transportable and displaceable by forklift in empty or full-aloaded situations, and their special ozone generators for the sanitization of farms and agricultural ambiences.
AGROVO – Hall 7, Stand A042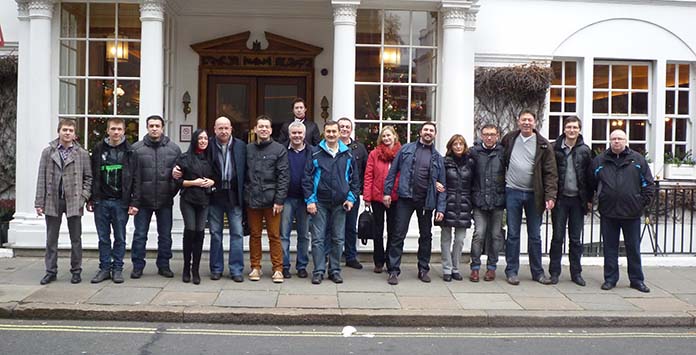 Agrovo has been representing the FPS Moba in the former USSR countries for more than 22 years as it's distributing and servicing agent. At its booth, that is located right next to the Moba exposition, you can see some of the achievements of this fruitful cooperation.
It's geography that covers the territory from Kaliningrad in the West to Sakhalin in the East, from Murmansk in the North to Turkmenistan in the South and the sheer num­ber of installed egg processing and packaging machines witha capacity of 20.000 to 252.000 eggs per hour are impressive. About 130 million eggs per day are being graded and packed on Moba equipment, i.e. more than 75% of the total industry production volume in our sales region. Among Agrovo's custom­ers are industry flagships such as Roskar, Borovskaya, Volzh- anin, Sinyavinskaya, Belorechenskoe, Chelyabinsk, Varaksino, Ovostar Union, Avangard, and many others – 126 companies in total. The actual number of the equipment operating success­fully amounts to 218 units by now.
Agrovo focuses on logistically complex and carefully thought-through solutions for egg grad­ing stations, providing the turn-key projects in cooperation with such well-known companies as Kuhl, Lubing, BVM, Twin Pack, Eggy Play, Ovobel, Bergmeier, Rational Labelling, Nuovo, In­ject Star. But our main advantage, as we see it, is our solid service base, consisting of large spare parts stocks in Moscow, Kiev and Vienna for operational work, remote technical assis­tance 24/7 via Internet help desk and our service engineering team comprising 15 to 17 field engineers with large professional experience (some of them have more than 10 years record). Of course, our other big asset are offices in Vienna, Moscow and Kiev that coordinate equipment supply, service time-tables, personnel administration, spare parts supply and competent customer support at site.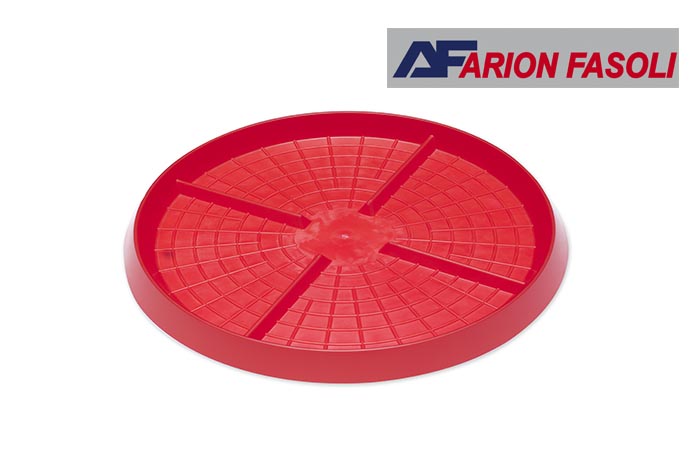 Arion Fasoli srl will be present at the VIV EUROPE 2018 welcoming customers and visitors.
This is an usual appointment for Arion, as the company has regularly taken part to this fair with its latest innovations for over thirty years. "Expectations are high – says Nicola Bonetti, Arion Fasoli Area Manager – as for every international event with such high-level content and visitors coming from all over the world." Arion Fasoli will display its entire range of equipment for poultry farming, both the traditional products, and the latest innovations including the new line for game birds and the new "feeding plate 26025".
AVIAGEN – Hall 11, Stand C010 – aviagen.com
AVIAGEN showcases commitment to global poultry industry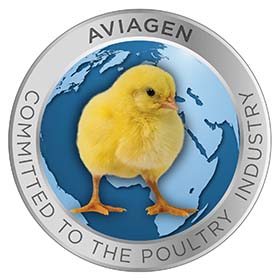 Aviagen® looks forward to welcoming customers and industry colleagues at VIV Europe 2018.
With regional customer support teams on hand from Europe, Middle East, Africa and beyond, Aviagen will showcase its long-term commitment to the glob­al poultry industry alongside core product offerings, including Ross®, Indian River® and Arbor Acres® – which celebrates its 85th anniversary this year! Also featured will be the Rowan Range® which is gaining mo­mentum across Europe for slower-growing, free range and or­ganic markets.
Aviagen will highlight its commitment to securing global supply through strategies such as Compartmentalisation, as well as illustrate commitment to customer support, welfare and sus­tainability and R&D investments.
Magnus Swalander, general manager of Aviagen Ltd, will present on the contribution of poultry genetics to broiler health and productivity at the Broiler Health 2018 Conference taking place at the Mitland Hotel in Utrecht on 19 June, the day prior the show. Aviagen looks forward to seeing you in Utrecht!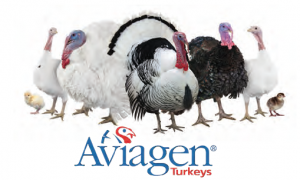 Aviagen Turkeys looks forward to VIV Europe as historically it attracts many overseas customers who may be starting their journey into poultry production. It is also a place to catch up with many contacts in the poultry industry in Europe.
Turkey meat production is increasing worldwide and as more meat is exported from established markets there is greater in­terest in producing meat locally. There are many countries which can be developed and the showground is a good opportunity to meet people who are planning projects or expansion of their business. It is also a chance to meet many established customers and talk about the latest innovations in Aviagen Turkeys' company. The company will take the opportunity to engage customers on the merits of the genomics program which increases selection accuracy and ensures that multi trait selection is focussed on achieving the breeding goals.
The current products of B.U.T. Premium for the heavy medium markets and B.U.T. 6 for the heavy market will be showcased and with the opportunity to discuss current and future expected performance. Aviagen Turkeys looks forward to a good week at the show.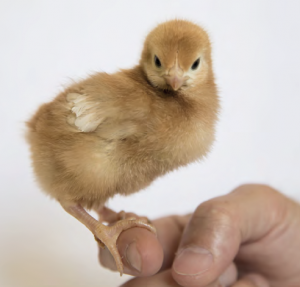 Babolna TETRA will attend the VIV Europe 2018 at Jaarbeurs Exhibition Centre, Utrecht from 20th to 22nd June.
The firm is a privately owned poultry breeding company principally involved with layer breeding. Their wide range of products is gaining great success with in­creasing positive feedbacks for TETRA layers from new cus­tomers. This year, TETRA sales team is aiming to further increase their presence in the area where brown layers have already gained high reputation in various management systems.
Demand for white and tinted egg layers are growing among farmers in western European countries, therefore TETRA is putting more emphasis on these products to meet market pref­erences.
At VIV Europe 2018 the professional and friendly Babolna TETRA sales team will be delighted to meet new and existing partners for better explain the company's philosophy. Last year Babolna TETRA celebrated its 50th anniversary in the supply of layers with superior genetic background to the indus­try. In addition to an effective technical support, the company offers a bird for each market suiting each type of management system. The TETRA products are now present in more than 50 countries.
BARBIERI's wide range of products – Hall 12 – Stand B050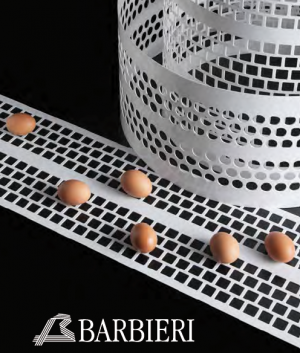 The production of egg conveyor belts, extruded belts and ropes is the final act of a long process that begins with the choice of the best raw materials and continues with the production of high quality yarn.
Barbieri offers its customers a wide range of products:
Egg conveyor belts made of polypropylene, polyester and jute in different colours and measures from 50 mm till 360 mm.
Extruded perforated polypropylene egg conveyor belt in width from 95 mm to 500 mm.
Manure belt in different thickness starting from 0,8 mm to 3 mm and widths starting from 500 mm to 2500 mm.
Perforated manure belt for dry systems.
Perforated polypropylene floor for broiler cages.
Polypropylene, polyester and polyethylene ropes in various sizes for feeding and drinking systems
BIG DUTCHMAN – Hall 12, Stands C060, D060, B070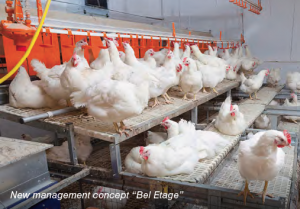 From housing concepts to a management app – everything "from one single source" at the Big Dutchman stand
More and more poultry managers prefer full service for their projects, from the planning stage to clever housing concepts, equipment and even management apps. To this aim, Big Dutchman will present many new and further developed products at VIV Europe 2018.
Digitalization of pro­cesses plays a central role. The German poultry equipment supplier will show "Hybrid, an enriched colony system that poultry farmers can convert to an aviary, if necessary. In addition to different rearing and produc­tion aviaries, Natura Caravan, a mobile house for free range egg production, will also be on display. With the Viper Layer computer and a new elevator, called EggSmart, more innova­tions will debut. The meat production sector will also see some premieres, for example a new broiler breeder aviary named "Bel Etage". FarmBookpro, the first app for every broiler farmer, and ChickNic, an innovative combination of feed pan and tube feed­er, will also make their first appearance. Many new products for exhaust air and residue treatment, cli­mate control, house management and innovative LED solutions for house lighting complete the Big Dutchman display.
CARFED SA – Hall 7, Stand E040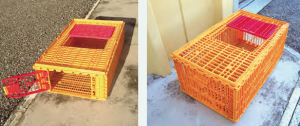 CARFED SA, the well-known Swiss-Italian group a worldwide leader in the field of manufacturing crates for the transportation of live poultry will showcase at VIV Europe 2018 its range of products with particular emphasis on its plastic crates for the transportation of live turkeys. Some of the range of CARFED SA turkey crates on exhibit are:
MAXICARFED Code 43 non collapsible crate with 3 side doors with dimensions of 99 x 58 x 42 cm. This crate has 4 sides and with a one piece moulded bottom is extremely strong and long lasting (monoblock).
MULTI 100 "T" collapsible crate with dimensions of 97 x 58 x 42 cm available also as Basket (Open Top, no lid) and with solid or perforated bottom.
MULTI 110 "T" collapsible crate of with dimensions of 108 x 58 x 42 cm available in the same styles as the MULTI 100 "T" so it can also be used as a basket (open top) and with solid or perforated bottom.
Additionally, visitors to the CARFED SA booth can view other crates from their wide product range including:
The collapsible Baskets (open top crates) MULTI 100 (97 x 58 x 27 cm) and MULTI 100 crates with different lids of same size to transport live chickens;
The collapsible Baskets MULTI 110 (108 x 58 x27 cm) for live chicken transport and MULTI 110 crates with different lids of the same size;
The MONDIALCARFED Code 46 collapsible for live chicken transport crate of 80 x 60 x 28 cm.
Day old chick boxes and egg transport crates with egg trays will be exhibited as well.
CORTI Zootecnici launching a new feeding system – Hall 12, Stand A011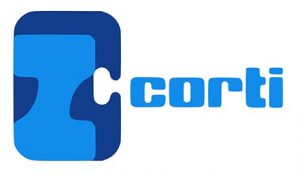 Corti Zootecnici S.R.L, world leader in poultry equipment with over 40 years of experience, is specialized in drinking and feeding systems, nipples and cup drinkers, PVC nipple pipes, and also polypropylene belts for manure removal and egg transport, chicken manure dryer tubes, float tanks, pressure regulators, slope regulators, plastic hoppers and automatic pan feeders for poultry, and all parts and accessories for floor and cage poultry farming.
New pan feeder for cage and ground broilers "INFINITY TZC3"
Characteristics and advantages:
Different control systems to meet all market requirements of broilers both for ground and for reared in cages with reduced manual operation.
Allowed and facilitated access of the animal from the first hours of life and absolute uniformity of the product (uniformly refilled feeders). It does not require a manual feeder.
Impossibility of access of the animal in the pan feeder: basic requirement for cleaning and freshness of the food and increasing palatability of the product. Feeder that for its characteristics allows the quickest renewal of food on the market.
Adjustment of the maximum level facilitated in order to avoid food waste errors at the start of the cycle. Adjustment of the minimum level with absolute absence of food waste and "imprinting" training on the adult animal to completely avoid waste and maximize conversion rates also and especially in the adult animal.
Reduced dimensions of the pan feeder with greater feeding space for the animals. Ability to meet the highest demands cm/animal. Optimization of the cost/benefit ratio to increase efficiency of broiler feeding system. We recommend 100 broiler/pan feeder.
Filling of the pan feeders in a reduced time frame with little weight of the lines. Continuous stimulation of the animal to feed itself and absolute freshness of the food that is continually renewed.
Absence of impact trauma to the animal for the ease of oscillation of the pan feeder on the tube and lightness of the same with food. Very easy cleaning system at the end of the cycle.
Contributes to the animal slaughtering process.
Optimization of food conversion for all the genetics of broilers.
Possibility of partializing the use of the pan feeders (for example in breeding weaning) thanks to the individual closure system of each feeder.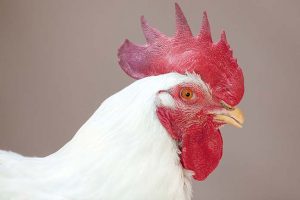 The attributes that have helped drive the Cobb500 broiler performance across Europe, the Middle East and Africa will be featured on the Cobb Europe stand at the VIV Europe Show in Utrecht.
Benefiting from genetic progress at the Cobb European research complex at Herveld in the Netherlands, the Cobb500 has the combination of uniformity, feed efficiency, meat yield and livability that is delivering increased returns for customers. In recent years more than €12 million (US$15) has been invested in doubling the capacity of the Herveld complex and extending the scope of breed development work. Alongside this Cobb has expanded production capacity in the UK and the Netherlands for supplying grandparent stock to meet the growing demand from our distributors across the region. The UK grandparent hatchery in Norfolk is now being expanded, without any disruption to current production, using state-of-the-art technology. The work is scheduled for completion by early next year. Meanwhile, the first chicks have been placed on a new great grandparent farm, located in Lincoln, which uses the latest feeding and ventilation systems. The farm has been built to incorporate the highest levels of biosecurity methods and best practices.
Cobb has built its reputation on providing in-depth technical support by both the regional advisers and the company's World Technical Support Team that brings together specialists in all aspects of production. They will be available on the Cobb stand throughout the show to meet visitors.
EUROSILOS SIRP displaying their products – Hall 11, Stand F035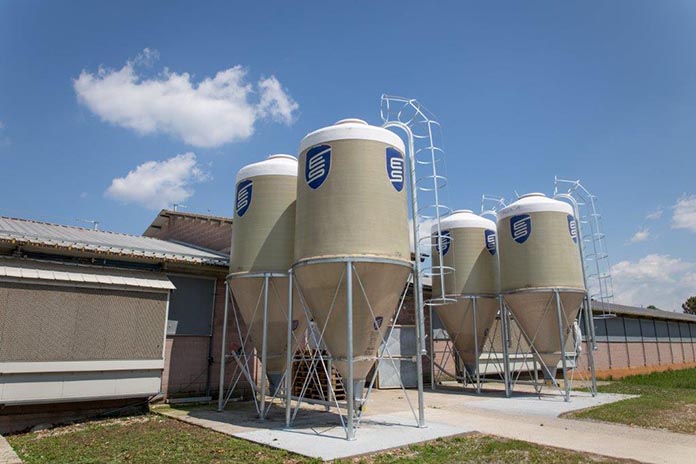 The company Eurosilos Sirp dates back to the early seventies. They manufacture modular fiberglass silos for livestock farms, which comply with the static international regulations and are awarded of quality certifications. They also provide innovative and tailor-made transport solutions for filling and discharging their fiberglass silos, such as tubular conveyors; flexible augers and bulk feed wagons. The company's storage installations match the uncompromising quality requirements of poultry, swine, dairy and grain industries, while their technical expertise and forward-looking attitude focus on enhancing the efficiency of any customer livestock operation. Eurosilos Sirp's commitment to design and improvement through novelty grants them a reputation for quality, offering market-leading products at affordable prices, whilst striving to keep the reliability of their product range is a priority. Eurosilos Sirp is a dynamically growing reality, whose mission is to provide modern and profitable business solutions endeavoring to become a strategic partner for their clients. The company is proud and eager to welcome and share their comprehensive experience with customers to meet any need, primarily focusing on feed handling and livestock storage automation.
FACCO – Hall 11, Stand D010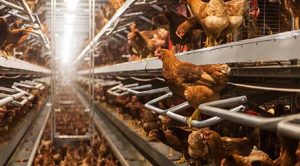 Food quality requires today innovation skills and focus on the whole supply chain, from feed to egg. VIV Europe 2018 will give to poultry operators the opportunity to discuss and share ideas and Facco, for over 60 years world leader in the poultry field, will welcome visitors at their booth with the complete range of avant-garde poultry solutions.
As a forerunner of the market changes, Facco (900 employees, 75 countries) will display the evolutions of the Libera range, developed thanks to the close connection with their customers. Highly qualified in Turnkey Solutions, Facco will be the partner in designing, analyzing data and managing projects using the most advanced technologies developed internally by the FED – Facco Electronic Division. Remote control development and improvement has guided Facco's innovation and 4.0 approach for more than a decade. The FED department will disclose the latest Farm Managing Systems, Customer Service and Assistance. Keeping the highest quality as a standard, the Facco staff will welcome visitors and clients at its stand offering a taste of Italian cuisine.
Gasolec's equipment – Hall 11, Stand C047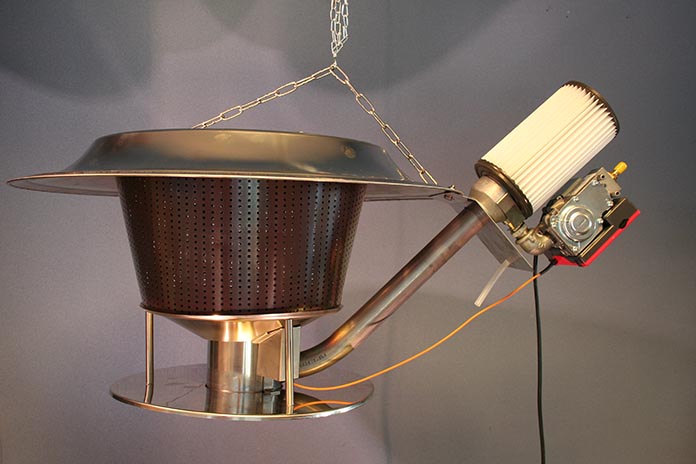 Gasolec is the leading supplier of Energy Efficient Infrared Ra­diant Gas Heaters and Light Systems for Poultry & Pig Houses with a history going back over 60 years.
The company's heaters come in 3 model ranges:
The G-series of 12.kW.
The M-series of 1 – 5kW.
The S-series of 0.9 – 3kW.
At the VIV Europe the company will show the latest develop­ments for the M5 & M8 heaters and a revised G12E with Elec­tric Ignition. They will also display their latest OrionLED 14W program and a patented applied design for new Gasolec tube lights.
Gasolec welcomes all customers, visitors and readers to visit their stand to see their products and get all the information.
GIORDANO POULTRY-PLAST SPA – Hall 11, Stand C050 – Hall 10, Stand G041 (vaccination products)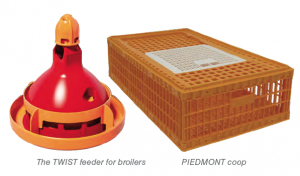 Giordano Poultry Plast, a leading multinational plastic moulding company, specialized in the production of poultry equipment, will be present at the upcoming edition of the professional exhibition VIV EUROPE 2018, which will be held in Utrecht.
Established in 1962 under the name of Avicolplastica and starting from 1974 as Giordano Poultry Plast, a handicraft company specialized in plastic equipment for poultry farming, the company has grown regularly over more than half a century to reach a very international dimension, both in sales and in production. The product range, probably the largest in the world dedicated to professional poultry sector, covers all areas of production, from livestock to transport, from incubation to vaccination, to the handling of final poultry and egg products. The innovative use of plastic material has provided significant added value to the company's production, in terms of efficency, lightness, environmental sustainability, hygiene. To these advantages, new innovations have recently been added, such as the ability to electronically trace some equipment at the poultry farms' interior or the addition to plastic materials of active antibacterial ingredients. The headquarters of the Company is located in Italy, in Caraglio (CN), where more than 80 people are employed, the production subsidiaries are in Mexico, Argentina, Egypt and Malaysia. The Giordano family totally controls the group, with Osvaldo Giordano, President and sons Oscar and Enrico, Managing Directors. 95% of the group's production is exported to more than 65 countries.

Hendrix Genetics invites all visitors to its booth at VIV Europe, where the company will be exhibiting all genetic brands for tur­keys (Hybrid Turkeys), layers (Dekalb, Shaver, Bovans, ISA, Hisex, and Babcock), aquaculture (Troutlodge and Landcatch), swine (Hypor) and traditional poultry (Sasso).
Hendrix Genetics will also be debuting its new egg grading ro­bot, known as the Eggxaminator. The Eggxaminator is able to automatically grade and inspect eggs with the focus on ten dif­ferent exterior egg quality traits and can process over 1.2 million eggs per machine each year. Stay tuned for future updates on this exciting new piece of technology.
Located only an hour from Hendrix Genetics' head office in Boxmeer, members of the global team will be available in Utrecht, including sales and technical service representatives, veteri­narians, and senior management. The company will be available to discuss the ongoing investment in the industry and ded­ication to supplying quality genetics throughout the value chain. Hendrix Genetics strives to create value for the animal protein value chain through constant innovation, collaboration, and continued focus on sustainability. Meet at the booth to find out more about how this can apply to your business.
HUBBARD Conventional and Premium – Hall 11, Stand A034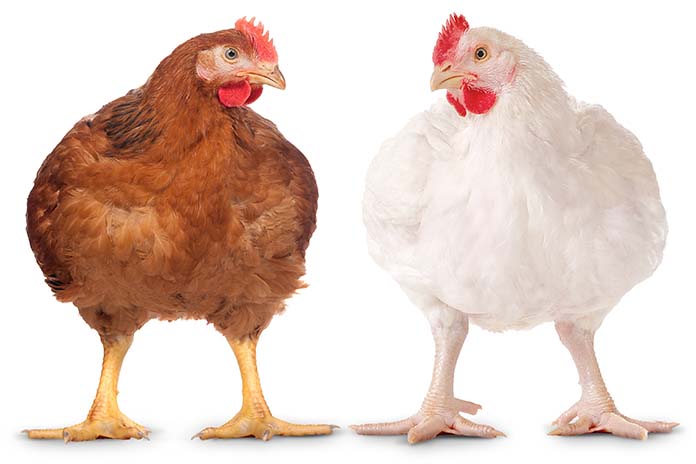 Your Choice, Our Commitment!
Hubbard is welcoming all its customers around the world at VIV Europe to share the latest developments in their product range and market presence. Hubbard's Conventional product range is highlighted by its highly productive breeder females mated with the white or yellow skin males, tested best in class for fertility and FCR. The recently introduced Hubbard M22 male delivers additional breast meat for the debone markets.
Hubbard, global leader in the Premium market, offers a wide range of products with color differentiation, slow(er) growth and excellent robustness responding to changing consumer demand for higher animal welfare standards and quality. Present in over 100 countries and with support of dedicated teams involved in R&D, Production, Technical Service and Logistics, Hubbard delivers high quality genetic solutions to broiler breeder customers around the world.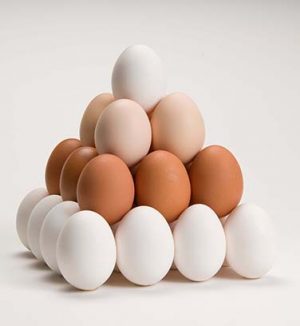 Hy-Line is accelerating genetic progress across all genetic lines, putting more selection pressure on increased egg numbers and shell strength while not overlooking other key traits.
"We are achieving progress in all lines faster than has ever been seen before," noted Dr. Danny Lubritz, research and development director for Hy-Line International, in a recent discussion regarding Hy-Line's intensified efforts in genetic selections. Hy-Line's team of geneticists is making the genetic engine more powerful and more efficient. In fact, the recent pure line selections have documented a considerably higher response than achieved in previous years.
Hy-Line produces and sells brown and white egg breeding stock to more than 120 countries worldwide and is the largest selling layer around the world. Hy-Line layers are known for their strong egg production, superior liveability and feed conversion as well as outstanding shell strength and interior quality.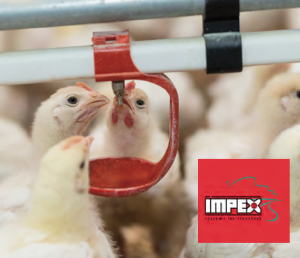 Big surprise at IMPEX BARNEVELD B.V. stand
From June 20-22 the VIV Europe will be held at the Jaarbeurs in Utrecht. Impex Barneveld B.V. will of course join this big event which is held in its home country. At the show the company will display the latest innovations on drinking systems for livestock, such as an automatic flushing system and nipples that can be used with non-debeaked hens.
Furthermore, Impex Barneveld B.V. has a big surprise for the visitors as they will give them a sneak peak in how the compa­ny works. More information shall not be revealed, but it is well worth the visit!
For this show Impex's staff hopes to meet many livestock pro­ducers with whom they can talk and share ideas on innovations for the farming sector. So if you want to know everything on au­tomatic flushing of the drinking lines, learn more about drinking systems for livestock or want to know how Impex Barneveld B.V. company works, visit them at VIV Europe. In the meantime, it's possible to follow the Impex social media or visit the company's website to stay updated on everything you need to know about Impex products and the exhibition.
Dynamic presence of INTRACARE at the fair – Hall 10, Stand B071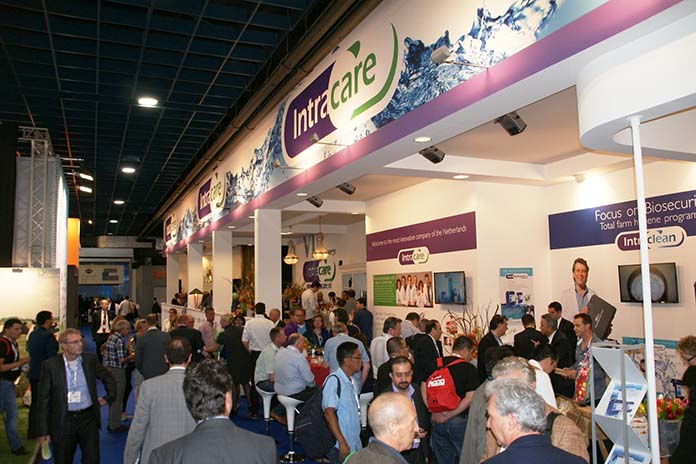 All people at Intracare are already excited about the next VIV Europe. Traditionally, this event is always a serious home match for Intracare, where many distributors from all over the world will visit the Netherlands.
This year Intracare will build a huge booth where they can host their valuable customers. Life cooking, a VIP area for customers and an experience place, where people can learn everything about the company's products. A main topic during this event will be "reducing antibiotics with Intracare products". Over the last years, Intracare proved to be one of the main producers, which play a serious role in this important issue. "Intracare positioned as a global innovator", will be the way they will present themselves during the VIV. In display a comprehensive range of products, meeting the highest quality requirements of farmers and European guidelines. With stricter government measures and increasing consumer demands for food safety, Intracare invests in solutions for healthy and antibiotic free animal productions. Their new generations of disinfectants and nutritional supplements contribute to a better animal health and operating results for farmers. Together with their second antibiotic free veterinary medicine, Intracare contributes to a better health and performance in the intensive livestock industry.
JAMESWAY, a worry-free hatchery as a state of mind – Hall 7, Stand E080 
A worry-free hatchery is a state of mind. It means that you know your equipment is solid, that your HVAC is efficient and that your embryos are nestled in the perfect environment. Jamesway is the partner you need to hatch quality chicks with complete confidence.
Please join the company at VIV Europe where they will feature their Platinum 2.0 Single-Stage incubator and hatcher: the most reliable and easy to use incubation equipment on the market. This robust platform offers as standard: a complete set of racks, S.P.I.D.E.S. capability in every machine and access to Jamesway's renowned team of hatchery professionals. Jamesway's Platinum Single-Stage machines feature high bio-security, easy cleaning, and easily accessible controls, which produce high quality day-old chicks and ducklings.
Also on display will be some of the company's Plug and Play solutions for your Automated Hatchery. Automation is an option for hatcheries of all sizes and Jamesway's expandable and customizable solutions are perfect for every level. Drop by for a visit, check out their machines, and talk about some of the issues facing your hatchery.
Jamesway is the reference incubator company for the global poultry industry. They plan, design, install, and maintain incubation and hatchery systems worldwide, offering the most reliable products and customer services. Jamesway is the leading supplier in North America and with over 100 years in the industry, they are also the best choice for Europe and Africa.
MAREL POULTRY launching new products – Hall 7, Stand D010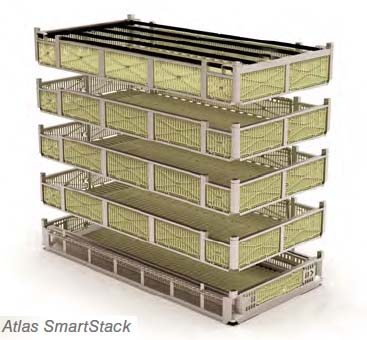 VIV Europe will be the occasion for Marel Poultry to launch a large number of exciting innovations. Once again, these revolutionary poultry processing solutions will set new benchmarks for the entire industry.
In the world of poultry processing, automation is advancing more than ever and this trend is even accelerated by the progressive global challenge to acquire personnel for poultry plants. Fully aware of this, Marel Poultry continues to focus heavily on developing new automated processes. Live bird handling More and more, consumers worldwide want to know about the origin of their food. As for poultry meat, they want to buy chickens which have grown slower and have had a humane treatment. Poultry processors who share this view are looking for an appropriate live bird handling system in their plant.
Marel Poultry likes to show at VIV Europe that Stork ATLAS is the solution that fits best in this respect. Adding value and carcass balance Around the planet the awareness of carcass balancing in the poultry industry is growing. People recognize that it makes no sense to use only the breast fillet of a chicken and downgrade the rest of the meat. By automating manual deboning operations, poultry processors can align with that trend and at the same time add value to their products, because deboned meat has more value than bone-in meat. Automation allows for upgrading of formerly exported frozen bone-in meat parts, turning them into attractive boneless products. That is why Marel Poultry keeps introducing fully inline deboning solutions, and VIV Europe is no exception to this.
OMAZ's latest innovations – Hall 11, Stand B059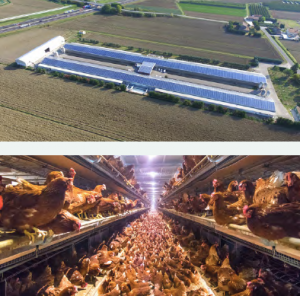 VIV Europe 2018 will be a strategic expo for OMAZ. We expect a great turnout of potential costumers interested to our innovative aviary models, called Open Space, and also many attendance from extra-European countries, more interested to cage systems like our tested Space International. In our stand we will show two samples: Galaxy, an Open Space model, and a Space International AIR cage (some news of this product was recently presented at VIV Mea). Galaxy is built on three levels and it's a versatile product: this aviary system meets the needs of the various farmers. The structure allows you to create macro areas where the hens can freely move and live totally within the system. Space International was designed for extra-European markets. It's particularly strong, easy to assemble and adaptable. This cage is available in three different variants and it's 100% made in Italy.
OMAZ production features complete, highly automated systems for commercial laying hens, broilers and chicks rearing with fully computerized systems for poultry management.
MEYN's innovations – Hall 7, Stand A130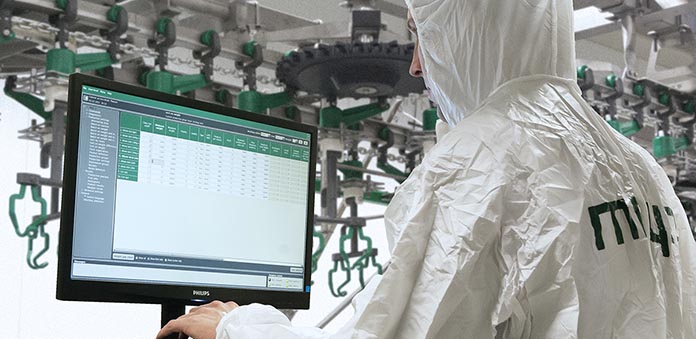 Meyn is proud to launch several new innovations in poultry processing. Meyn, the market leader in poultry processing equipment, is well-known for its high yields at high processing capaci­ties, and part of the market has been asking for ever higher processing speeds.
At VIV Europe 2018, Meyn will intro­duce new record-high processing speeds to poultry processors to generate more production and to maximize their return on investment. Visitors can discover how the innovative solutions from Meyn can support their poultry processing concerning ef­ficiency and food safety at VIV Europe. The VIV Europe ex­hibition is one of the largest shows dedicated to the poultry industry in the world, Meyn has been one of the leading exhibitors at the trade show for years. Many of new Meyn innovations will be making their world premiere during the show (from live bird handling, slaughtering, evisceration, cut-up, deboning and plant man­agement) to support the customers in their quest for even more efficiency. Visitors can join live simulations by the expert team regard­ing the new poultry processing software platform, called "Meyn Connect" and the new World Class parts ordering system.
The impressive innovation list reads as follows: Meyn Grande drawer system M1.0, Meyn Carousel Rehanger M2.0 (world premiere), Meyn High-speed weigher M1.0 (world premiere), Meyn Physic M3.0 (world premiere), Meyn Connect 1.1.
PAS REFORMs SmartStart™ – Hall 7, Stand D074/D075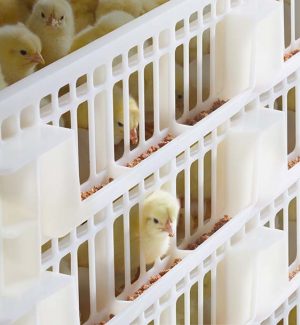 Post-hatch feeding made easy, practical and flexible
A unique partnership between Pas Reform, biotech start-up In Ovo, DSM Premix company Twilmij and Philips NatureDynamics has led to a flexible, ground-breaking post-hatch feeding solu­tion that gives newly hatched chicks the earliest possible ac­cess to feed, water and lighting.
Taking the lead from nature, SmartStart™ uses NADES to re­tain water inside a semi-moist feed. A perfect start for newly hatched chicks, that stimulates feed intake and yolk utilization, to promote the development of robust day old chicks and a re­duced reliance on the use of antibiotics.
4 ways that SmartStart™ gives your hatchery an advan­tage
Maximum flexibility
SmartStart™ is easily incorporated into your daily hatchery practice
Precision feeding
SmartStart™ meets the nutrient requirement of newly hatched chicks as accurately as possible
Intelligent Lighting
SmartStart™ provides a natural, stress free environment for day old chicks
Optimum hygiene
SmartStart™ is specifically designed to meet stringent hygienic requirements
SmartStart™ will be officially launched at VIV Europe this year. Pas Reform look forward to showing you how they can positive­ly influence your hatchery's future!
PETERSIME to showcase automation solutions – Hall 7, Stand B010 


Petersime, a world leader in incubation and hatcheries, will be exhibiting at VIV Europe in Utrecht and looks forward to welcoming visitors to their booth. During this world expo 'from feed to food,' Petersime will be delighted to show how their solutions lead to significant performance improvements of hatcheries worldwide and an excellent chick quality.
This exhibition will surely satisfy who is willing to receive information on the extensive experience of Petersime and the latest innovations of their product range. Petersime will mainly focus on presenting a new range of standard automation solutions. As more and more hatchery businesses are growing be- cause of single-stage incubation, it makes sense to automate at least certain parts of the hatchery process. This will increase the efficiency of essential operations and improve work conditions for hatchery employees.
RIVER SYSTEMS – Hall 12, Stand C052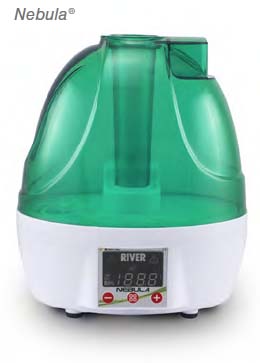 After Fieragricola and VIV MEA, River Systems will showcase also at VIV Europe 2018 its ultrasonic humidifier NEBULA® that can be connected to any small/medium capacity incubator.
The River Systems' goal in developing NEBULA. was to create a system that can control humidity and keep it constant without affecting the temperature inside the incubator. Thanks to its continuous variable arrangement, NEBULA can supply energy to the water via a generator that produces microscopic droplets (fog effect). The supplied hose conveys the droplets to the incubator. Getting in contact with the heat, the droplets instantly evaporate creating humidity. NEBULA's advantages are the following:
• User friendly;
• Accurate and reliable in measurement;
• Fast achievement of the desired humidity level;
• Prevents the eggs from being submerged by water;
• No part is prone to wear, as it can happen with the peristaltic pumps.
The Italian company River Systems will also introduce their anti-waste feeders COMPACTA, ARCUS and ARCUS GYRO, variations of the traditional hopper feeders. The distinctive assembly (whose design is registered) was expressly developed to allow birds to eat in a correct way, preventing them from flicking the feed and minimizing the feed waste.
ROXELL presenting their best products – Hall 12, Stand B116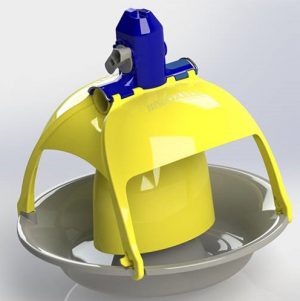 At the fair, visitors will find Natural Beak Smoothing for broiler breeders, a feeding system with a rough structure to smooth the beak of the birds. The rough structured bottom pan continuously controls the beak growth in a very natural way, just while the birds are eating. This new solution ensures a top performance of the birds and complies with animal welfare regulations.
At VIV, visitors will also see Titan for heavy turkeys: a new XL feeder pan for better growth results. Titan is a 'Plus' for turkeys, with bigger and comfortable eating places with higher openings. You can get 17% more feeding space compared to other large feeder pans and this makes it a big timesaver for farmers. Titan has central feed adjustment (optional) and is easy to clean.
Another Roxell product displayed is the IQON #sharp for remote connectivity: a new app to remotely control the IQON feeding controller. IQON #sharp ensures an easier operation of your centralized IQON. Your laptop, computer or smartphone will have secure, remote access. Software updates can be done from a distance and you will get warnings and notifications on the device you select. Additionally, #sharp provides the ability to connect to third party analytics providers in order to get a deeper insight at the management of your flock. IQON #sharp will be the foundation for your smart farm.
SANOVO TECHNOLOGY GROUP, a supplier for your egg business – Hall 7, Stand B096­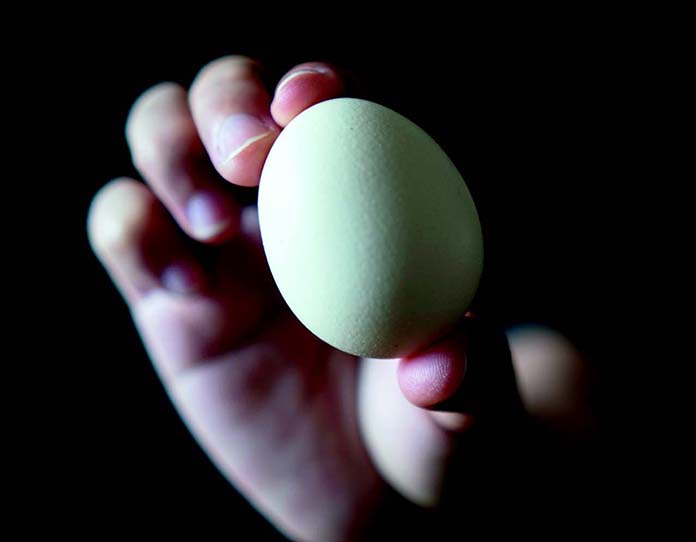 The complexity of today's modern egg processing, grading and robotic automation installations is very high and it requires expertise and knowledge to make a successful integration. At SANOVO TECHNOLOGY GROUP, the company has the know-how and resources to handle all aspects of your complete plant including the best service and support in the industry.
Stop by their booth and learn how they can help turn your eggs into a valuable business. The company will exhibit a wide range of solutions for the egg industry within graders, breakers, robotic automation, farm-packers, hatchery packers, pasteurizers, enzymes, spray dryers, hard-boiled eggs and much more.
Step into the future
Get a special VIP experience inside the future egg processing and grading stations by exploring the modern facilities up close with VR and 3D technology. You will be able to walk through the factories exploring the machine functionalities up close – in a setup not seen before at VIV Europe.
Sign up at their homepage: sanovogroup.com/news/events
SASSO: the other way of thinking poultry, respectful of birds, humans and genetic diversity – Hall 11. Stand B074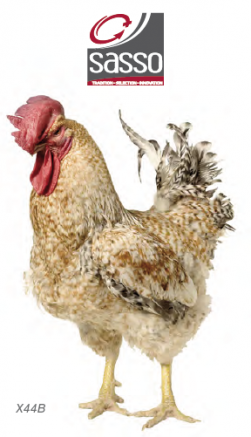 Sasso is a company fully dedicated to colour breeder genetic. Their genetics comes from a long and strict selection based on the performance. Established 35 years ago by the leading French "Label Rouge" poultry producers, SASSO's sole objective has always been to breed strains capable of producing high-quality poultry, full of flavors and cost-effective for producers, in the best sanitary conditions. Developments in se- lection techniques and research in nutrition and breeder management have enabled SASSO to constantly improve the economic performance of its stock without compromising their inherent quality. To fit the market's requirements, SASSO portfolio offers a large range of parent stock.
Various dominant phenotypes of males and recessive females able to fit different markets, such as Dual Purpose, Free Range, Organic, Certified or Welfare.
A large range of slow growth: (30 gr of ADG) T44, T55, T77, T88, T44N, T44NI, T88N, T77N.
Medium growth: (from 40 to 45 gr of ADG) XL44, XL44N, X44B, X44, X55, XR.
Rapid growth: (Adg > 45 gr) C44, C44I, Cobb Sasso.
Sasso's breeds characteristics are:
A highly rustic and resistant chicken;
Excellent livability, easy to manage, with good performance in term of FCR and yield. And of course a premium quality meat.
SKA – Hall 11, Stand C034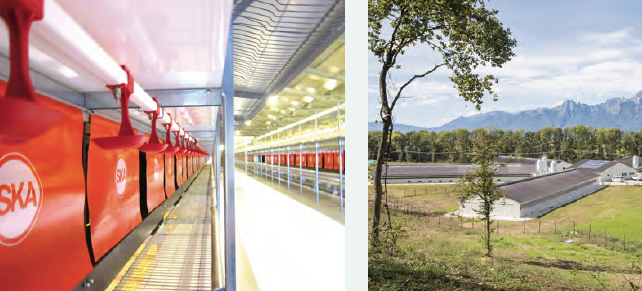 SKA srl of Sandrigo is a 100% made in Italy manufacturer. The company is the specialist and reference point for the large broiler, broiler breeders and egg laying companies, and the smaller producers in a highly competitive marketplace.
SKA has achieved a leading position in the industry through being the only manufacturer to offer a wide range of poultry equipment of high quality and elevated technology: poultry buildings, aviaries, feeders and nests. During VIV Europe 2018, SKA expects visitors from Europe, especially those farmers being focused on laying rearing and interested to invest more on high quality products. The company will be glad to welcome also the worldwide visitors, from Asia and Pacific to Africa and Americas, being ready to show their production for layers, broilers and breeders. GEMMA, the aviary for commercial layers, represents the ideal criteria to rear birds on an intensive scale respecting the European directives on bird welfare. The main feature of this aviary is ZEUS, a wooden nest placed in the middle tier. Egg collection is central, the eggs collecting belt is placed inside the nests to guarantee a higher level of hygiene and quality. The collocation of perch allows birds to move about freely within the shed. AVIO, the automatic galvanised nest, is made of steel, resistant to chemical agents and bacteria, ensuring the highest level of biosecurity, and increasing hygiene during the cleaning period. It provides a 50% saving in labour and a quiet, natural environment for the birds, maximizing eggs production.
SOCOREX animal health syringes ­­– Hall 10, Stand C047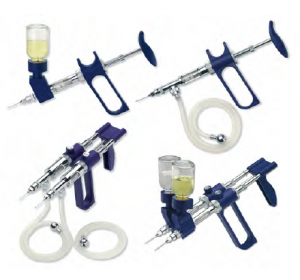 The company welcomes visitors and customers to their booth at VIV Utrecht exhibition. The Swiss manufacturer presents its syringes and accessories program intended for reliable animal injection.
Among other novelties, you will discover:
NEW: Fixed volume syringe SocoreX® 187F providing excellent precision to guarantee reproducibility until the last shot. Eight models starting from 0.2 mL up to 10 mL. Supplied either with feed tubing and vial holder accessories.
Socorex® 187, glass / metal syringe highly appreciated by professionals. Perfect plunger tightness without O-ring. Six fully autoclavable models with adjustable volumes ranging from 0,025 mL to 10 mL. Feed tubing or vial holder versions, which can be converted from one to the other without using tools.
Socorex® Twin 287 model with two barrels and independent volume setting mechanisms. Five fully autoclavable models ranging from 0,025 mL to 5 mL.
Autoclavable, superior quality needles with extreme sharp bevel. Stainless steel material and thick wall drastically reduce risk of needle breakage. Selection start at 25G until 14G. Very large selection of lengths.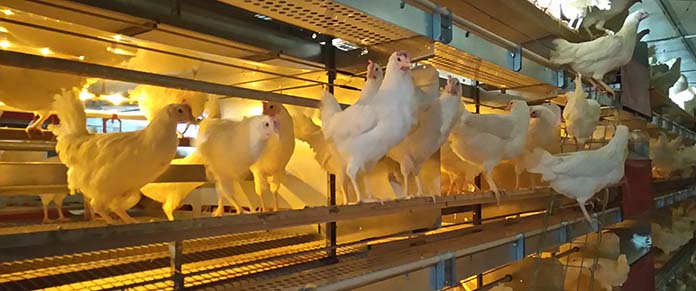 Specht Ten Elsen GmbH & Co. KG is a manufacturer and seller of poultry equipment, such as cage systems for layers, pullets, breeders and broiler.
Today the company offers not only high quality cage systems for all kind of birds, but also provides very modern feeding and drinking equipment, ventilation and pad-cooling systems and alternative rearing systems, such as the Varia System, the Varia Plus System, Aviary System with a nest in the center and the Floor Management System for laying hens. The SPECHT livestock equipment system is the result of decades of experience. SPECHT combines the advantages of different cage types in one system: it offers the hens all the advantages of natural movement and promotes the social behaviour of animals. During the VIV Europe 2018 exhibition in Utrecht, the company' staff will be available throughout the show to meet visitors, showcasing different types of "Specht" equipment – rearing cages, layer cages, broiler cages and Varia systems – at their stand.
SPEROTTO's excellences – Hall 11, Stand F010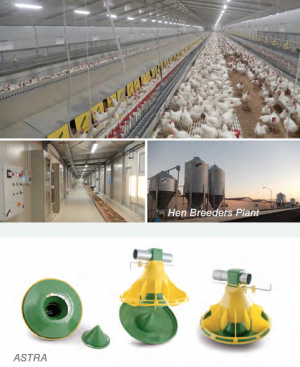 VIV Europe has always been an important opportunity for SPEROTTO S.p.A. to meet operators of the poultry sector coming from all over the world. The company's sales managers, together with agents and international dealers, will be pleased to welcome visitors in their large exhibition area, to provide them with all the necessary information on the quality of the company's turnkey supplies and plants for new poultry farms. SPEROTTO's main technologies will be exhibited at the fair, including their poultry equipment featured by the best quality available on the market, which is the expression and result of the company's mission, always focused on maximizing performance for farmers who can get their full satisfaction thanks to these specialized equipment.
In particular, visitors will be able to see directly at the SPEROTTO S.p.A.'s stand the quality of their 2 types of automatic nests for layers and breeders, and their spiral and flat chain feeding lines.
ASTRA, the company's new broiler feeder, has already received enthusiastic feedbacks from their customers.
TPI-Polytechniek, ready for the future – Hall 11, Stand E064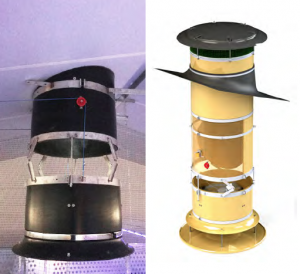 The Dutch livestock production industry has always been at the forefront of technological development. At TPI-Polytechniek, they see lots of new trends emerging in the livestock market and therefore the company keeps developing their products as well as creating new ones. An example of these trends is the rise of equal pressure ventilation in free-range housing concepts. In this regard, the company has created the Automatic Adjustable Recirculation Chimney, which will be on display during the VIV Europe exhibition. Visit TPI-Polytechniek's stand and see their latest products and, a big part of their standard program.
Product Range & Focus
TPI-Polytechniek is supplier of high-end polyurethane ventilation components. For all types of climates and building techniques they can offer suitable products and make sure there is always a good fit. The company strives to create products that are easy to install, maintain and operate. Their solutions are made with usability for the farmer and welfare for the animals in mind. The livestock industry is always changing and growing so they make sure to stay on top of the game with technological developments and optimal service & advice.
TWINPACK launching All Clear® – Hall 7, Stand C110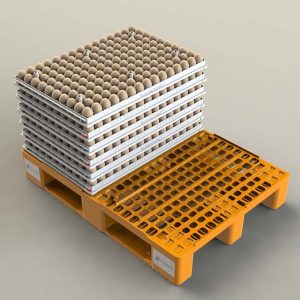 Twinpack Special Products from Barneveld, The Netherlands, is ready for VIV Europe, which will be held from 20 to 22 June 2018.
"VIV Europe is the most important exhibition for our company", says Jacco Wagelaar, Managing Director of Twinpack. "This exhibition is truly international, attracting customers from all over the world. Our expectations are high and we are sure it will be a great event ".
During the show, Twinpack will display their logistic systems for transportation of table and hatching eggs. Jacco Wagelaar continues: "Beside our logistic systems, like the EggsCargo and HatchCargo system, we will show our brand new egg trays developed for duck and turkey eggs and the new tray for quail eggs. The trays are shown in combination with all the crates and pallets we sell. Naturally, we pay attention to our very nice consumer egg packaging Eggyplay. This Lego looking-alike egg pack has tremendous attraction on children. We sold Eggyplay already in 15 countries worldwide, and this number is rapidly increasing. Both egg graders and supermarkets love Eggyplay".
Twinpack Special Products will also launch their brand new packaging line called All Clear®. All Clear® is a range of PS glass-clear egg packaging in beautiful design and customers' comfort. This system provides packs from 4 up to 15 eggs per pack. The All Clear® egg packaging comes with printing as well as labelling. The exhibition will be also the chance for Twinpack to meet and gather their global agents.
Visit VAL-CO at the fair – Hall 11, Stand E034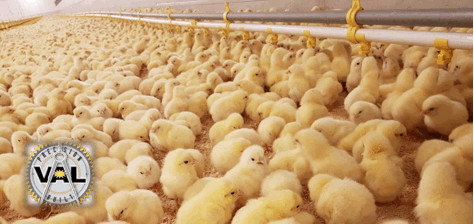 VIV Europe allows VAL-CO to welcome all customers to their home country of over 2 decades. At VAL-CO, they look forward to engaging customers, competitors and suppliers as well as meeting potential new customers and partners who are attending the exhibition.
VAL-CO drinking systems
Broilers, broiler breeders, layers, turkeys and ducks have all flourished using world-famous VAL-CO Watering. With the recent interest in drip cups, the company is offering a special show price.
Feeding solutions of VAL-CO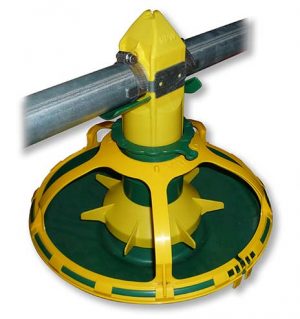 VAL-CO's feeding pan systems provide feed for broilers, breeders, layers, turkeys and other poultry.
Their new FUZE® Shutoff pan allows you to stop feed supply to individual feeders, giving you more control of your system. VAL-CO also specializes in Feed Bins, Augers, Brooders, Heaters, Fans and more. Their team will be happy to answer all the technical, commercial and service questions first hand. The company is confident that this year's exhibition will be a successful event and look forward to welcoming you to their booth.
VDL AGROTECH – Hall 12, Stand A032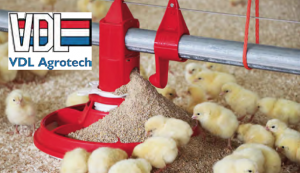 VDL Agrotech welcomes all people visiting them at the VIV Europe 2018 exhibition in Utrecht. The Dutch company is located in Eindhoven and produces high quality feeding systems for pig & poultry farms. Also, it produces drying technology for poultry manure and industrial (waste-) products.
At the VIV Europe 2018 VDL Agrotech will display some innovations: the Valenta broiler feed pan was introduced exactly 4 years ago at the VIV Europe. On the global broiler market, the product is widely accepted as versatile feed pan for modern broiler farms. Two new options will now be launched: the new FlowSlider and the CentralSlider systems. For the broiler breeder sector a complete redesign of the well-known Matrix male feeding system will be displayed. Main design focus was easier assembly and user friendly operation. VDL Agrotech is specialised in world-wide turnkey projects for broilers, breeders, pigs and manure drying. The company would like to share their experience and ideas with you and combine them with your local demands and wishes.
VALLI – Hall 12, Stand C010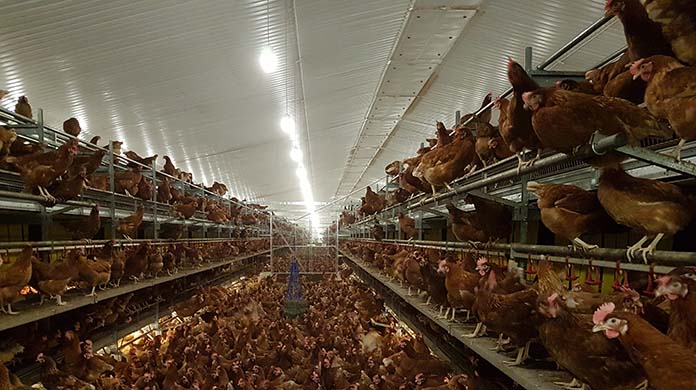 The latest transformations in farming techniques, according to today's market demands, make Valli's clients to pay the greatest attention to the capital investment phase: "Spending your money right" means earning higher and quicker profits, thanks to solid, flexible and reliable equipment, with the certainty of a reliable and competent service.
VALLI, for over 60 years on the market in the manufacturing, installation and after-sales service of poultry equipment, offers a wide range of products to meet all customers' needs.
VALLI is present in over 70 countries all over the world and offers customized turnkey units at the highest quality level but not only; VALLI is an absolute guarantee in terms of experience, listening and collaboration to study and build together the best possible solution.
The latest equipment made by VALLI, such as the VLV Plus and the Baby AREA aviaries for hens and pullets, represent a great success and their growing recognition on an international level certifies the proven excellence.
VICTORIA – Hall 7, Stand E064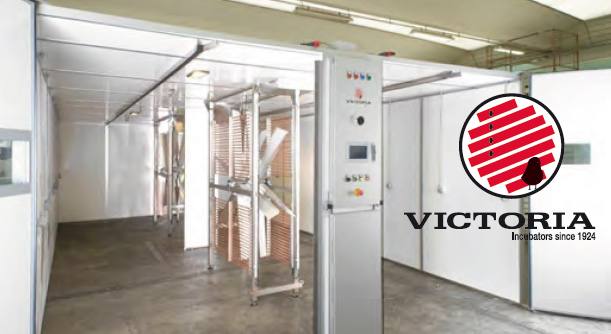 Victoria Srl, the leading manufacturer of high performance incubators in the Middle-East, Southeast Asia and Europe, has released their latest and most advanced incubator ever created. Developed using the most innovative materials and advanced technologies, it is able to reach new standards of production flexibility, efficiency and production load.
The VIC115 has a market leading production load of 115,776 hen's eggs, supported by 18/eighteen incubating trolleys (6,432 eggs per trolley). The introduction of new trolleys, with a more elegant and effective design, has improved the overall load by 30%+, while keeping the extremely high performance that has made Victoria's machines a leader in the market. This incubator provides a perfect distribution of oxygen, humidity and temperature through a completely new ventilation system (made of 12 innovatively-designed blades) and an efficient system for trolleys. While achieving fantastic performance, the VIC1150 is also able to optimize costs.
The humidification system, which uses only pressurized water and not pressured air, generates high-energy savings.