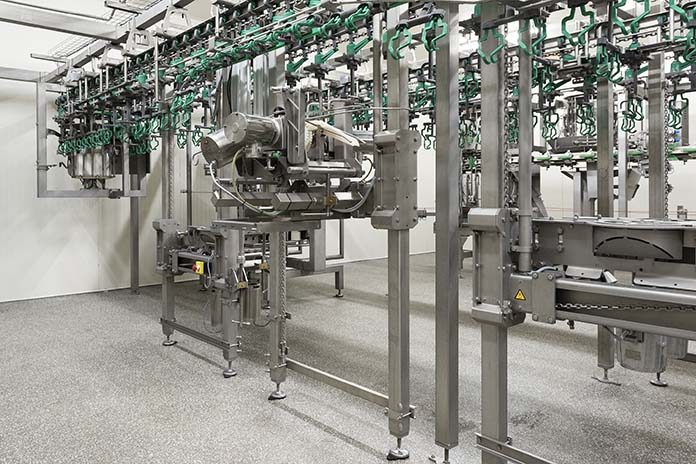 At VIV Europe, Meyn offers poultry processing at a speed of 15,000 bph to increase production and maximize the return on investment for the customer.
Many of Meyn's innovations will be making their world premiere during the show (from live bird handling to deboning) to support the customers in their quest for even more efficiency and food safety. Visitors can experience live simulations of the new poultry processing software platform, called "Meyn Connect" at the booth and attend live equipment demonstrations at Meyn Demo and Training Center in Amsterdam.
The impressive innovation list reads as follows:
The new Meyn Grande drawer system M1.0 for 15,000 bph to ensure full production lines with the highest bird quality
Careful live bird handling optimizes both animal welfare and product quality, and the Grande drawer system is developed with those in mind. The Grande drawer system offers flexible layouts, depending on specific plant requirements, and can be expanded with the Meyn Multistage CO2 stunning and automatic trailer unloading and loading. The system has an unrivaled headspace of 255 mm for birds, preventing heat stress and ensuring uniform meat quality moreover it supports the highest line speeds.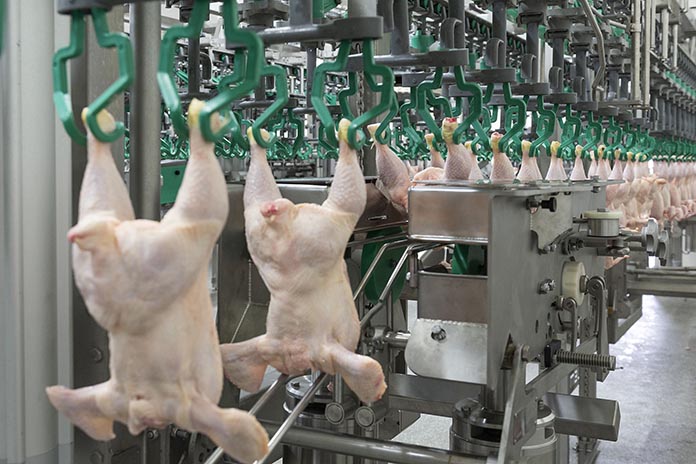 The new Meyn Carousel Rehanger M2.0 to assure efficient operations in high-speed processing lines (world premiere)
The Meyn Carousel rehanger is the latest development in a long history of successful rehanging solutions. M2.0 enables smooth transfers between lines with equal or different shackles, at either similar or different line speeds. It takes all the best characteristics from the M1.0 and adds new upgraded features that improve safety, adds adjustability and decrease maintenance cost.
The new Meyn Physic cut up line M3.0 to increase the hygiene level, with improved adjustability and a large weight range (world premiere)
Meyn introduces the latest innovations in the Physic cut up line M3.0 with an unchallenged performance at 7,500 birds per hour. The new design of the modules is more practical and fit the purpose to increase the hygiene level and increase uptime due to easy access during calibration. The Physic line M3.0 can be configured to match a large number of situation-specific requirements in terms of product type, quantity, quality, and flexibility.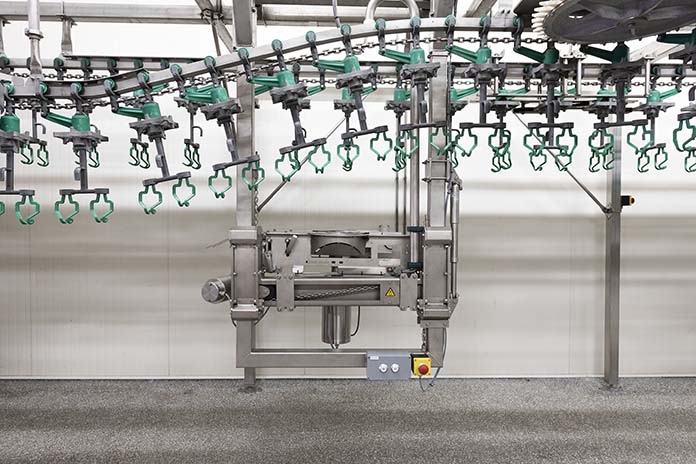 The new Meyn Rapid Plus breast deboner M4.1 to increase the capacity of up to 7,000 while reducing the footprint with 16% (world premiere)
Meyn, now offers a more compact and flexible design with the Rapid Plus breast deboner M4.1 and an unrivalled capacity of up to 7,000 birds per hour, which is suitable for matured and non-matured poultry. This enables our customers a lower capital investment, TCO and operating cost. The new user-friendly interface design allows for easy access to the information, and preset touch buttons allow the adjustment of critical settings fast and easy when product weights change, reducing your dependency of your operator skills.The Rapid Plus breast is suitable for matured and non-matured poultry.
Meyn Connect 1.1 for transparency and data consistency in poultry processing
Meyn Connect 1.1 enables data, previously scattered available, to be turned into valuable information to be monitored in real time and combined into integrated reports. Processors can now invest their time in analyzing data, instead of gathering it. Condensed dashboards give a quick overview where to improve efficiency in production or process. Connecting hardware with software has never been easier.
About VIV Europe 2018
VIV Europe is the most important, international show dedicated to the poultry industry in the world. Meyn has been one of the leading exhibitors at VIV Europe for more than 50 years. It is the ideal opportunity to meet customers from the entire EMEA region for Meyn. Commenting on the importance of VIV Europe, Robbert Birkhoff, Director of Sales Meyn said, "Our customers are competing at the highest level, every day. That is why we are excited to present our next generation solutions at VIV Europe. We bring powerful 15,000 bph processing solutions with maximum food safety."
Meyn welcomes all guests to VIV Europe 2018 at Jaarbeurs-Utrecht in Hall 7, at booth A130.