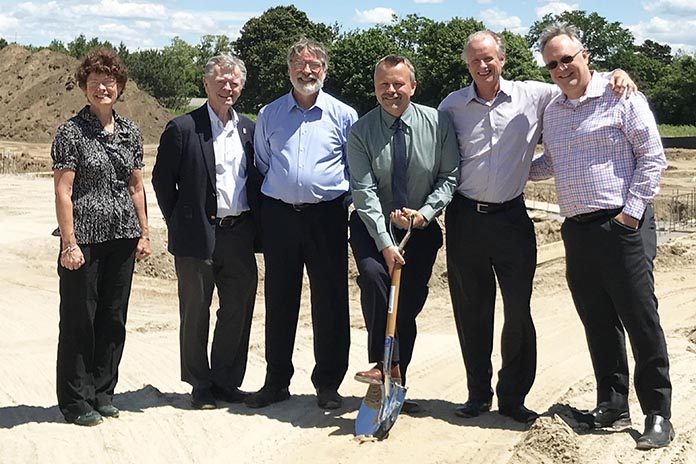 Maple Lodge Farms has recently announced an $8-million expansion of the Curtis Chicks Hatchery in Ontario, Canada.
The 22,825-square-foot expansion to the facility is currently underway and expected to be operational by the end of the year or early next year, said veterinarian and Port Hope Hatchery General Manager Dr. Rachel Ouckama.
The expansion will include state-of-the-art incubation equipment provided by Jamesway, a long time supplier for Maple Lodge hatcheries. The project will feature 36 Platinum 2.0 incubators and 20 Platinum 2.0 hatchers. "This is a significant investment," said Michael Burrows, CEO of Maple Lodge Farms, at the announcement on June 15. "We are doubling the capacity."
Once complete, the Port Hope hatchery will be the largest of Maple Lodge Farms four hatchery facilities in Ontario. Currently the hatchery produces 24 million chicks a year and now will have the capacity for 48 million chicks annually.
Dr. Ouckama was instrumental in developing the expansion proposal and will oversee the project to ensure that a high operational standard is maintained. "We are committed to the province's chicken farmers and the Ontario hatching egg and poultry industry," said Burrows. "We are investing in the industry, our employees and the Port Hope community. The world-class technology that we are bringing in will make this an exemplary hatchery in the province and country."
A strong supporter of Ontario farmers, Maple Lodge Farms began as a rural, family-run farm and is still 100 per cent family-owned. The company operates four hatcheries in Ontario and is the largest chicken processor in Canada, supplying chicken products across Canada and throughout the world.
For more information:
Jamesway Incubator Company Inc.
Telephone: +1 519 624 4646 ext. 1240
Fax: +1 519 624 5803
Email: service@jamesway.com
www.jamesway.com