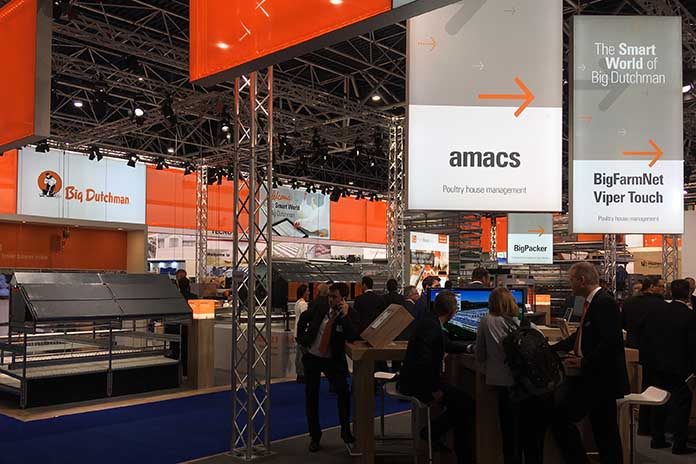 The Smart World of Big Dutchman on display at VIV Europe 2018!
2018 was the year of VIV Europe, one of the world's largest trade shows for modern poultry production: for three days, the exhibition opened its gates in the Dutch city of Utrecht. Following the motto "The Smart World of Big Dutchman", poultry equipment supplier Big Dutchman from Vechta, Germany, showed its extensive product range on large and inviting stands.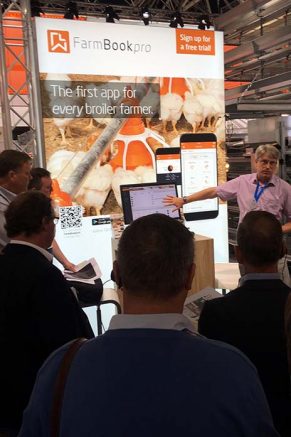 "To us, 'smart' refers not only to the current 'hot topics' regarding digitization, but also to clever innovations, housing concepts and other solutions poultry managers can use to make their farms future-proof," explained Big Dutchman CEO Bernd Meerpohl.
This statement was reflected by the impressive number of products Big Dutchman boasted during the European VIV version that takes place every four years.
The Big Dutchman booth displayed interesting and innovative solutions for every poultry house. FarmBookpro, the free-of-charge app for every poultry farmer, efficient BigFarmNet solutions, new farm packers, a brand new mobile house on wheels and the world's first aviary for broiler breeders are just some examples.
World market leader Big Dutchman presented many attractive innovations for poultry managers at this year's VIV:

NATURA Caravan – For producers who market their eggs directly. The new Big Dutchman mobile house with wheels for free range and organic egg production will premiere on the fairgrounds in Utrecht. Due to a clever concept that includes automatic feeding, egg collection, climate control and manure removal, NATURA Caravan is a very reliable system. The new mobile house can be registered for use on public roads and is easy and safe to move, even in operating mode with 800 to 1,000 layers on the range.
NATURA Step 24-18 V16 aviary – The nests of the NATURA family's flagship member for egg production are now equipped with an easy-to-remove back panel. Farmers can therefore access the egg channel without obstructions. The crossbeam design including anti-roost profile is also new.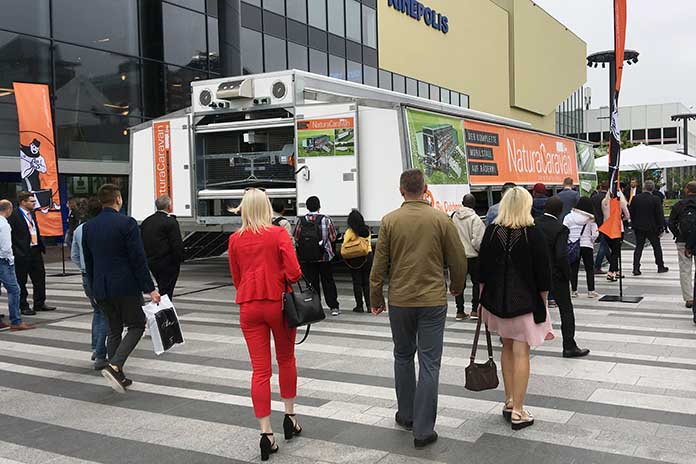 Hybrid management system – Innovative: poultry managers can convert this colony system into an aviary when required.
EggSmart elevator – This compact elevator has been newly developed specifically with the African, Asian and South American markets in mind. It is the perfect solution for smaller houses and reduced collection capacities.
BigPacker – The new BigPacker product line is an ideal addition to the Big Dutchman portfolio for egg collection. Three different farm packer models allow for capacities of 15,000 to 25,000 eggs per hour and are thus the perfect solution for small and medium-sized farms. The new BigPacker products are distributed in cooperation with the Moba group, the world's leading manufacturer of egg grading, packing and processing equipment.
OptiPlate TS 23 plate dryer – An efficient plate dryer that can be installed at the barn's gable wall thanks to its compact design. Enhanced features allow for drying of very moist poultry manure (from a dry matter content as low as 23 %).
ViperTouch 6.0 climate and production computer – All new: the Big Dutchman success story for state-of-the-art management and control of broiler houses is now also available for egg production thanks to special software modifications. Great functions such as layer feeding, shell limestone dosing, water level alarms, egg counting and air mixer control are included.
Egg and meat producers can also look forward to a faster processor, the larger 10-inch display and more functions with even more benefits.
FlexLED HO (high output) LED lamp – the second generation. The new light tube's output is four times higher than that of the standard FlexLED, making it ideal for aisle and ceiling lighting.
FlexLED ECO LED lamp: a small and compact lamp for management systems or for mounting below the aviary as well as for retrofitting of existing systems. It's very easy to install.
FarmBookpro app – The first app for every broiler farmer makes documentation and analyses as simple as never before. The smartphone turns into a digital notebook. The app works with any equipment, irrespective of the manufacturer, and can also be used for turkey and duck production. Find more details including the app for download here.
MaleChain feeding system for broiler breeder males: space-saving installation thanks to a chain loop in one single trough. The feed chain also promotes natural smoothing of the males' beak.
BelEtage aviary concept for increased animal welfare – The world's first aviary for broiler breeders. Three different levels allow the birds to find raised areas they can use to rest and as a retreat.
Stand-alone Relax nest 2.0 for broiler breeders – New features increase hygiene and nest acceptance even more.
Nest-integrated bird scale Nesca for the Big Dutchman broiler breeder nests: all birds are weighed reliably and directly in the nest – even lazy and heavy ones.
SIMBA belt system for manure pits – This innovation significantly reduces the ammonia load in broiler breeder houses because it removes the manure regularly during the batch, and not only after the birds have been moved out. The result: an improved climate in the house and increased animal welfare. Another plus is the lower jump height that ensures that the birds accept the nest better.
New ChickNic feed pan with integrated feed storage – An innovative combination of feed pan and automatic feeder for countries with inconsistent power supply (available as suspended or stand-alone version).
Pressure regulator with integrated solenoid valve and automatic rinsing – Automatic rinsing of the drinker line to minimise biofilm formation.
Slat washer – A machine that automatically cleans plastic slats from broiler, breeder and duck houses.