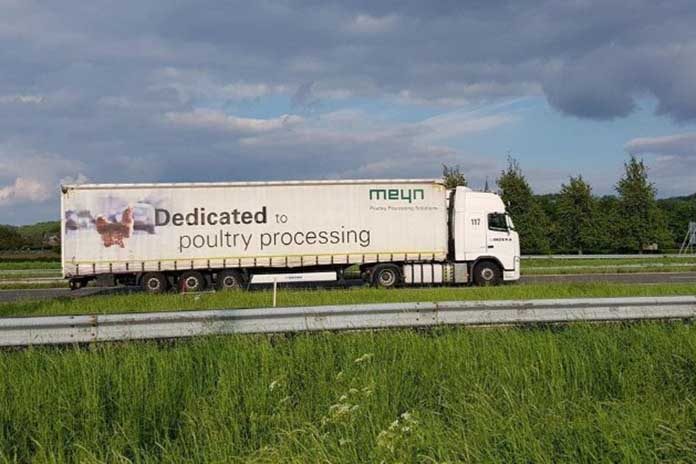 Meyn Food Processing Technology BV, announced today that they have established Meyn Italy SRL, and have acquired the assets of Maxitech SRL and Maxi STM; both Italian companies specialized in world-class live bird handling solutions. Ms. Federica Martinazzi has been appointed Operations Director of Meyn Italy SRL.
Meyn is the global market leader in poultry processing solutions with an extensive portfolio of poultry processing machines, Maxitech's Maxiload system will be a great addition to Meyn's family of products.
Erik Blom, Managing Director, said, "Incorporating Maxitech's Maxiload product line in our existing portfolio creates an even stronger Live Bird Handling proposition for the North American market. We have a lot of respect for the accomplishments of the Maxitech team and the successful solutions they have developed for the market. I look forward to working together as we integrate their company into our operations. The focus for the Maxitech products will be the North American market for now. For the rest of the world, we promote the current Meyn arrival portfolio (EVO, Drawer, and Grande Drawer systems)."
Going one step further with Maple Leaf
Meyn is very proud to announce that Maple Leaf has selected the Meyn Maxiload – live bird handling – system for their Edmonton facility. Maple Leaf is investing heavily to ensure optimal animal care during the live reception and stunning process while ensuring safe and healthy working conditions for all employees.
The installation includes the Maxiload controlled atmosphere stunning (CAS) technology in combination with Maxiload Arrival system. This system ensures a smooth daily operation with higher productivity and enables Maple Leaf to increase animal welfare and quality of the final product.
"We are deploying world-class technologies and best practices that support our goal to eliminate stress and pain and provide humane treatment of animals in our care while enhancing employee health and safety and food quality, " said Michael McCain, president, and CEO, Maple Leaf Foods.
For more information, please visit www.meyn.com.