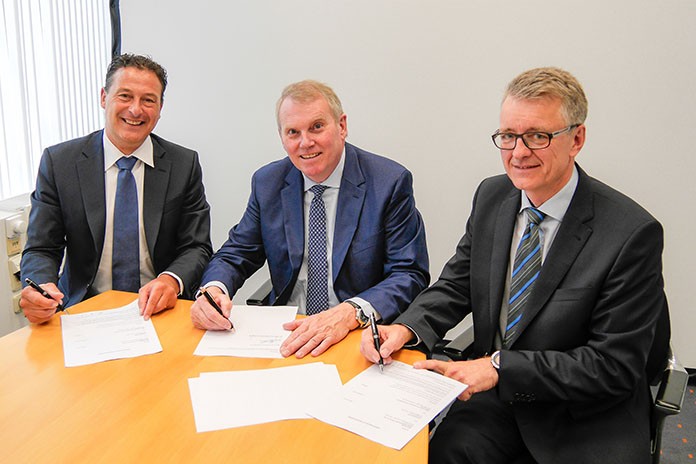 Cabinplant A/S, MULTIVAC Sepp Haggenmüller SE & Co. KG and Meyn Food Processing Technology B.V., complete a strategic alliance. A memorandum of understanding was recently signed by representatives of the companies involved at interpack, the international packaging trade fair.
The three companies are worldwide leaders in their particular spheres, and have agreed on cooperation with the aim of offering their customers even greater benefits. The objective is to offer food producers joint solutions, ranging from processing, filling and weighing of products right through to packaging, at a level of combined quality that has never previously been available on the market. Significant synergy effects are expected.
Meyn is the market leader in complete solutions for poultry processing with solutions, which range from slaughtering to packing. The company plans and completes whole factories – for all processing stages from the delivery of the living birds through to the dispatch of the packed products ready for sale.
Cabinplant offers complete solutions in the food processing sector and specialises in the weighing, portioning and precise filling of products that are difficult to handle. The company supports customers in the meat, poultry, fruit and vegetable industries as well as those in the fish, seafood and convenience food sectors.
The packaging specialist, MULTIVAC, offers solutions for packing food products of all types, as well as for the labelling and inspection of finished packs and secondary packaging. The company's strengths also include the customized development of complete packaging lines and the integration of partner equipment.
The cooperation comprises two agreements: firstly, cooperation between Meyn, Cabinplant and MULTIVAC with a focus on poultry processing, and secondly cooperation between Cabinplant and MULTIVAC in regard to projects and lines for ready meals, fish and meat. The alliance extends to virtually all markets worldwide. Today there is already a large, worldwide service network between the three partner companies, which is able to offer customers comprehensive support. Joint development projects are also envisaged in the future.