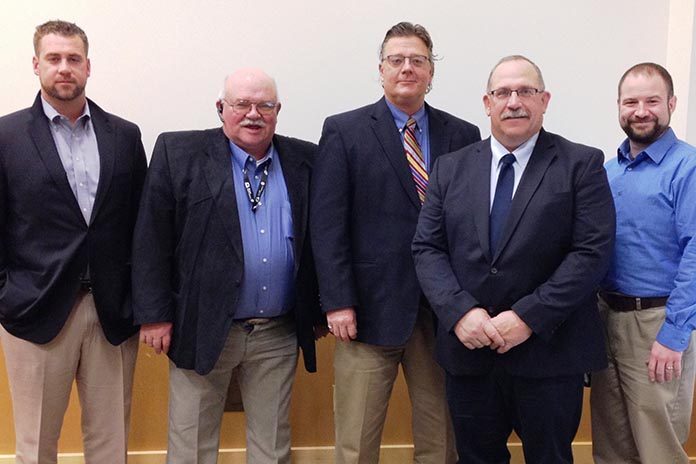 The Midwest Poultry Federation is pleased to announce several new directors to its Board of Directors. At its March 12 board meeting in Minneapolis, Blake Renner Van Denburgh, North Oak Park Heights, Minn., was appointed as a new Allied Director, representing exhibitors on the board. Van Denburgh works as a Regional Account Manager for poultry accounts at Zoetis, a long-time exhibitor at the MPF Convention.
Van Denburgh replaces Bruce Eastlund of ILC Resources, who served nine years on the MPF Board. Van Denburgh will start his three-year term immediately.
Other new directors recently appointed by their state poultry organizations to represent them on the MPF Board include:
Lisa Beohm, who works for Henning Companies in Johnston, Iowa, represents the Iowa Poultry Association on the MPF Board. Beohm replaces J.T. Dean of Center Fresh Group, Souix Center, IA.
John Burkel, a turkey farmer from Badger, Minn., represents the Minnesota Turkey Growers Association on the MPF Board. Burkel replaces Pete Rothfork, Rothfork Associates, Melrose, Minn.
Current MPF officers – all serving their second year of a two-year term – are:
President
Greg Nelson serves as President and represents the Kansas Poultry Association on the Board.
Vice President
Ben Thompson, Pearl Valley Eggs in Pearl City, Illinois, serves as Vice President and represents the Illinois Poultry Industries on the Board.
Secretary / Treasurer
Scott Waldner, Purina Animal Nutrition LLC, New Ulm, Minn., serves as Secretary-Treasurer and represents the Chicken and Egg Association of Minnesota on the Board. The Midwest Poultry Federation (MPF) Convention wrapped up its second year back at the Minneapolis Convention Center with 609 booths in two exhibit halls, jam-packed education sessions, and total registration at nearly 3,100. The 49th annual Midwest Poultry Federation (MPF) Convention will be held March 17-19, 2020 at the Minneapolis Convention Center in downtown Minneapolis, Minn.
Further details on the 2020 show will be available later this year. For more information, visit MPF's Web site, www.midwestpoultry.com.