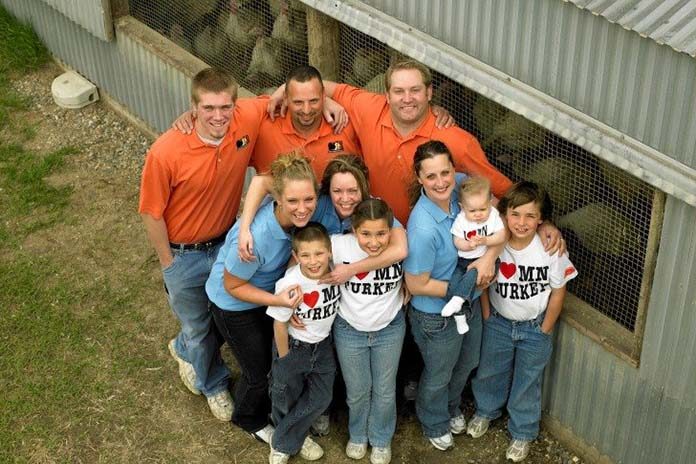 To commemorate its 80th anniversary, the Minnesota Turkey Growers Association (MTGA) has released the first of several videos highlighting some of its many families who have made an impact on the turkey industry.
"As we looked at ways we can celebrate MTGA's 80 years of existence, it became readily apparent that sharing the stories of some of our members was the best way to do this," said MTGA Executive Director Steve Olson. "MTGA was formed by a group of turkey farmers in 1939 who wanted a way to connect, collaborate, and learn from other farmers like them. While plenty has changed in agriculture and farming over the past eight decades, one thing remains constant: MTGA continues to bring farmers and our industry partners together to work together for the betterment of the turkey industry."
The first video showcases the Rothfork family of Melrose, Minn., which includes Pete and Patti Rothfork and their daughter, Jes Westbrock and her husband, Andy and their three children. The family works together to raise turkeys and operate a feed mill in Melrose. You can view the video here and learn about how they got started in raising turkeys and how they are building their future in agriculture together.
The Rothfork video and all future 80th anniversary family videos will be posted on the MinnesotaTurkey.com website and MTGA's YouTube Channel. You can also follow Minnesota Turkey on Facebook, Twitter, and Instagram (@minnesotaturkey) to make sure you don't miss any of the videos over the course of the next several weeks. The video project will culminate in a special 80th anniversary celebration at MTGA's Summer Conference for members, June 26-28.
"MTGA would also like to thank one of our long-time partners, the Minnesota Soybean Research and Promotion Council, for assisting with our 80th video project," said Olson.
Minnesota is the nation's top turkey producer, with approximately 450 turkey farmers raising around 45 million turkeys annually.
For more information about Minnesota Turkey, please visit: MinnesotaTurkey.com.
See the video: https://www.facebook.com/minnesotaturkey/videos/2184802404948279/