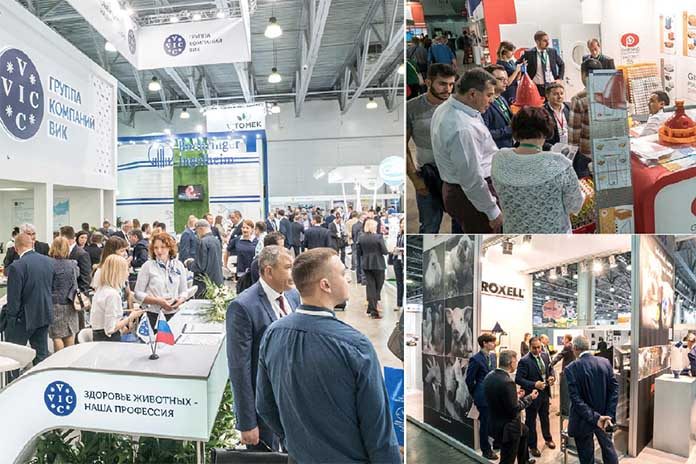 The Meat & Poultry industry show, held in Moscow at the Crocus Expo May 28-30, opens new opportunities for meat, poultry, and eggs in Russia.
This is an important industry platform showing the most advanced developments for the production of quality products: from equipment and technologies for livestock farming and feed production to the processing of raw materials. An ideal meeting place for professionals of the agro-industrial complex from around the world. The main concept of the exhibition – safety and quality of products "from the Field to the Counter"– is gaining increasing popularity and support from the leading agricultural nations and serves further integration in livestock and poultry farming.
Aviagen exhibits "commitment to global poultry industry" at Meat and Poultry Industry 2019 – Pavilion 2, Hall 8, Booth 7.F2 – www.aviagen.com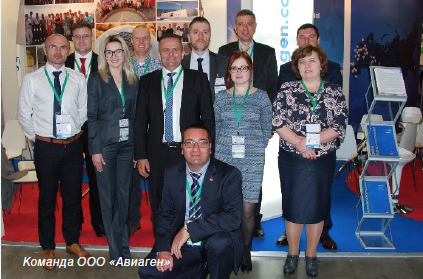 For more than a decade Aviagen® LLC has been welcoming visitors to VIV Russia. This year at Meat and Poultry Industry 2019 (taking place at the IEC, "Crocus Expo"), we will be demonstrating our theme of "commitment to the poultry industry". Our regional support team will be on hand to discuss the latest developments in Ross® broiler breeders with our customers and industry colleagues, exchanging ideas on ways to increase quality and performance.
We will be hosting a Nutrition Seminar (on Wednesday 29 May from 10.30 to 14.30 in Pavilion 2, Hall 7), where our Nutritionist Adam Sacranie will cover important topics relating to Ross 308 parent stock and broiler nutrition. The seminar will also feature roundtable discussions.
Please visit our seminar and our Booth 7 F2, Pavilion 2, Hall 8, where you'll receive a warm welcome from our staff. See you in Moscow! Learn more at www.aviagen.com or contact Eduard Taktarov: etaktarov@aviagen.com
Aviagen Turkeys – Pavilion 2, Hall 8, Booth 7.F2 – www.aviagenturkeys.com

Aviagen Turkeys will exhibit at the Meat and Poultry Industry Exhibition in Moscow on May 28th to 30th 2019 to show case their leading brands of BUT6 and BUT Premium.
A high level of investment in our breeding programmes means continuous improvements in product performance. The BUT 6 is the market leading breed in Europe and offers significant advantages at breeder and commercial level.
Aviagen Turkeys has a long history of doing business in Russia and is currently building a farming complex in the Penza region to produce commercial hatching eggs. The project is a significant investment with farms built to the highest specification and will provide a strong link between Aviagen Turkeys and its customers in Russia.
Today the Russian Turkey business continues to expand and further growth is predicted. Working in the market and understanding the customer's needs is a vital part of the company strategy.
Aviagen Turkeys is the leading producer of turkey breeding stock worldwide.
Email address: turkeysltd@aviagen.com
DanLen JSC – Pavilion 2, Hall 8, Booth 28.C4 – www.danlen.ru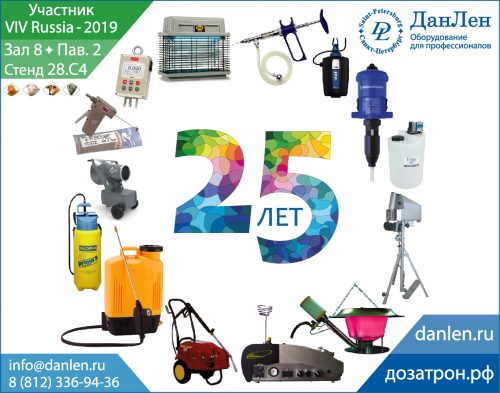 Danlen JSC is a Russian company from St. Petersburg, which provides poultry and livestock enterprises with high-quality equipment from Europe for about 25 years. DanLen will participate in the 9th International VIV Russia exhibition in Moscow, Crocus Expo IEC (May 28 – 30, 2019). The guests of the Booth 28.C4 (hall 8, pavilion 2) will be able to get acquainted with our equipment as well as to communicate with the representatives of the manufacturing companies: Dosatron International S.A.S. (France), Socorex Isba S.A. (Switzerland), Idrobase Group (Italy), GLORIA GmbH (Germany), IMV Technologies (France) and VEIT Electronics (Czech Republic) and others.
See you at VIV Russia – 2019!
Eurosilos SIRP – Pavilion 2, Hall 8, Booth 1.A5 – www.eurosilos.it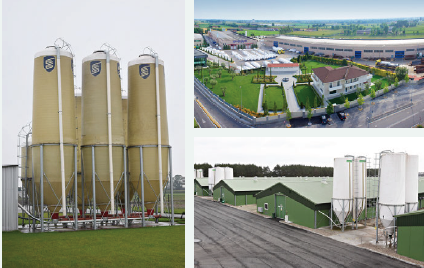 The company Eurosilos SIRP dates back to the early seventies: we manufacture modular fiberglass silos for livestock farms, which comply with the static international regulations and are awarded of quality certifications.
We also provide innovative and tailor-made transport solutions for filling and discharging our fiberglass silos, such as tubular conveyors, flexible augers and bulk feed wagons. Our storage installations match the requirements of poultry, swine, dairy and grain industries.
We will again exhibit at VIV RUSSIA and our booth location is Hall 8 1A5. We are proud and eager to welcome your visit, we will be delighted to share our extensive experience and the latest innovations of our product range with you, while focusing on mutual cooperation opportunities to enhance your livestock operation efficiency. Our commitment to design and improvement through novelty bestows Eurosilos a reputation for quality, offering market leading products at affordable prices, while striving to keep customer relationship our sole priority. Please get in touch with us by accessing www.eurosilos.it or submit your inquiry to contatti@eurosilos.it. 
FACCO – Pavilion 2, Hall 8, Booth 21.G2 – www.facco.net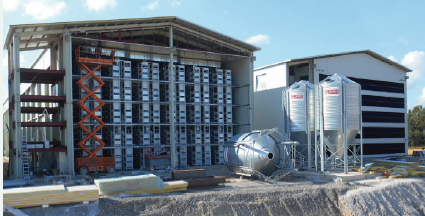 Food quality requires today innovation skills and focus on the whole supply chain, from feed to egg. VIV Russia 2019 will give the opportunity to discuss and share ideas and Facco, for over 60 years world leader in the poultry field, will welcome you in booth 21.G2 Hall 8 Pavillon 2, with the complete range of avant-garde poultry solutions.
Facco (worldwide presence in over 75 countries) will be pleased to share its knowledge in the poultry field, focused on vertical cages and cage free systems, developed thanks to the close connection with its customers and being a forerunner of the market changes.
Highly qualified in Turnkey Solutions, Facco will be your partner in designing, analyzing data and managing projects using the most advanced technologies developed internally for your SMART FARM. Remote control development and improvement has guided our innovation and 4.0 approach for more than a decade. Facco will disclose the latest Farm Managing Systems, Customer Service and Assistance.
Keeping the highest quality as our standard, we will welcome you at our stand with our warmest, professional and friendly hospitality.
Email: facco@facco.net
GIORDANO Poultry Plast – Pavilion 2, Hall 8, Booth 29.D8 – www.poultryplast.com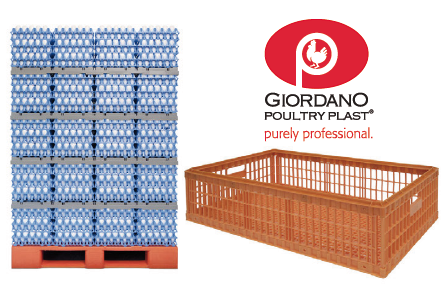 Giordano Poultry Plast (www.poultryplast.com), a leading multinational plastic moulding company, specialized in the production of poultry equipment, will be present at the upcoming edition of the professional exhibition: VIV RUSSIA 2019, which will be held in Moscow, at the stand n.29.D8 – Hall 8 – Pav 2.
Established in 1962 under the name of Avicolplastica and since 1974 as Giordano Poultry Plast, a handicraft company specializing in plastic equipment for poultry farming, the company has grown regularly over more than half a century to reach a very international dimension, both in sales and in production.
Giordano Poultry Plast is glad to introduce its new Automatic Drinking Lines.
The system has been upgraded starting with the pipe that goes from rounded to square shape 28×28 mm. This will provide a better result, not only during the use but also for washing at the cycle end. Also the pipes were changed as all plastic accessories and nipple.
This new Automatic Drinking Line will also be easy to install, firstly because all the screws were eliminated and due to the larger space between the metal support and the plastic water pipe.
The system includes "Super Drop" for broiler, "Pendolo Line" for Turkey and Duck (they will have different cups), completed by our already popular "Giro Line", a combination of 2 drinking lines with only 1 metal support (mainly used in the French market).
The headquarters of the Company is located in Italy, in Caraglio (CN), where more than 80 people are employed, the production subsidiaries are in Mexico, Argentina, Egypt and Malaysia. The Giordano family totally controls the group, with Osvaldo Giordano, President and sons Oscar and Enrico, Managing Directors. 95% of the group's production is exported to more than 65 countries.
Email: info@poultryplast.com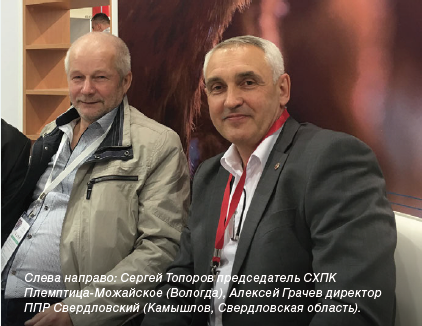 Hendrix Genetics – world leader in breeding of layers, turkeys, guinea fowls, colored broilers, pigs, sweet and ocean water fish, and shrimps.
Hendrix genetics Layers division has six brands-bestsellers Hisex, Dekalb, Bovans, Shaver, Isa and Babcock in its brown, white and tinted egg-shell variants. Russian joint venture of the company PPR "Sverdlovsky" is situated in Kamyshlov town of Sverdlovsk region, has pure lines of Hisex Brown and Dekalb White breeds and supply breeders and finals to the biggest table egg producers of Russia and CIS countries. The holding also has Russian partners in production of breeding pigs and turkeys.
Address of Representative office in Russia and CIS:
119107 Moscow, 1st Kazachy line, 5/2,
Tel. +7-495-956-70-55,
Email: Yaroslav.Nemirovsky@hendrix-genetics.com
Mob: +79031204458
Hubbard Conventional and Premium;
Your Choice, Our Commitment! – Pavilion 2, Hall 8, Booth 7-2 – www.hubbardbreeders.com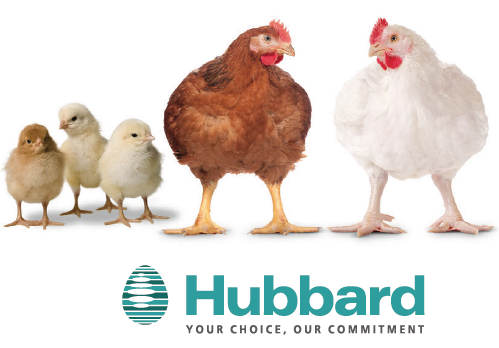 Hubbard's Conventional product range is highlighted by its highly productive breeder females mated with the white or yellow skin males. On broiler level the Hubbard Conventional delivers optimal growth, FCR and total meat yield.
Hubbard, global leader in the Premium market, offers a wide range of products with colour differentiation, slow(er) growth and excellent robustness responding to changing consumer demand for high animal welfare standards and quality.
Present in over 100 countries and with support of dedicated teams, Hubbard delivers high quality genetic solutions to broiler breeder customers around the world.
Email: aleksandr.sukhanov@hubbardbreeders.com
SmartStart™ – A fresh approach to post-hatch feeding – Pavilion 2, Hall 8, Booth 15.D1 www.pasreform.com/smartstart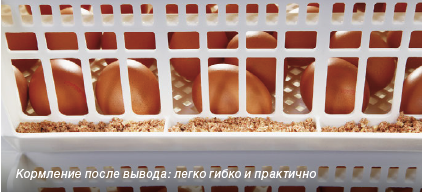 A unique partnership between Pas Reform, biotech start-up In Ovo, DSM Premix company Twilmij and Philips NatureDynamics has led to a flexible, ground-breaking post-hatch feeding solution that gives newly hatched chicks the earliest possible access to feed, water and light: SmartStart™.
SmartStart™ uses natural deep eutectic solvents (NADES) to retain water inside a semi-moist feed. The system offers a perfect start for newborn chicks, enabling them to eat, if they want to, from the moment of hatching. It promotes the development of robust day-old chicks and helps to reduce the need for antibiotics. We very much hope you can join us at Meat and Poultry Industry/Kuriniy Korol – 2019, Pavilion 2, Hall 8, Booth 15.D1 to find out more. We look forward to welcoming you!
Email: samoilova@pasreform.ru – info@pasreform.com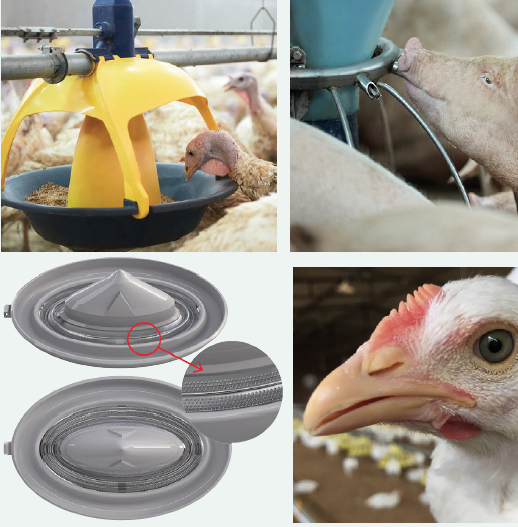 The Roxell booth focuses on three innovative products. First Titan, a new automatic feeding system for large turkeys. Titan is the largest pan feeder in the market (21% larger circumference than its predecessor) and has improved robustness and durability. It is very easy to clean and you can easily switch the bottom pan when moving from rearing to fattening. Secondly, we presented Natural Beak Smoothing. This feeding system has a rough structure to smooth the beak of broiler breeders. Finally, Roxell will also showcase Blu'Hox, a range of round ad lib feeders for piglets and meat pigs.
Email: info@roxell.com
Webs:
http://titan.roxell.com
http://naturalbeaksmoothing.roxell.com
http://bluhox.roxell.com
The brand name SPECHT – quality, durability, reliability, durability, economy – Pavilion 2, Hall 8, Booth 2.B1 – www.specht-tenelsen.de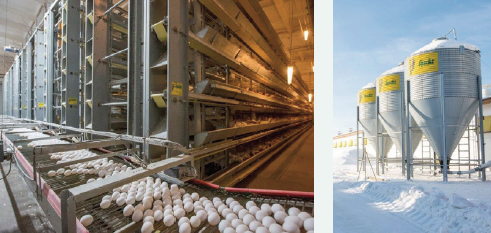 Since its inception in 1961, Johannes Ten Elsen company's production equipment «Specht" for animal – Ten Elsen GmbH & Co. KG (Germany) passed '58.
Today, the company is a leading developer and manufacturer of cellular poultry equipment and successfully helps to maintain high image quality German – «Made in Germany» around the world.
The company produces at the head office in Sonsbeck / North Rhine – Westphalia, as well as in the subdivision in East Germany a wide range of high-tech fancier-cal equipment for all types of content and all age groups (cell batteries for herd replacements, for chickens – hens, breeder when the content in groups and for artificial insemination as well as broiler, including a modern system of automatic feeding, watering, manure drying and conditioning air.
High professionalism and deep knowledge accumulated over many years, allow co-nicks firms find the best solution for the various problems associated with both the completing of new poultry farms and reconstruction of existing ones, taking into account all specific conditions individually for each poultry farm.
The exhibition "VIV Russia 2019" in Moscow in May of this year on its stand № 2.B1 firm planet submit the following samples of the equipment, "Specht": cell batteries for rearing young, for chickens – hens, breeder at artificial insemination with a separate battery for the content of roosters in individual cells, as well as for feeding broilers.
We invite you to visit our booth and learn of our equipment.
Email: info@specht-tenelsen.de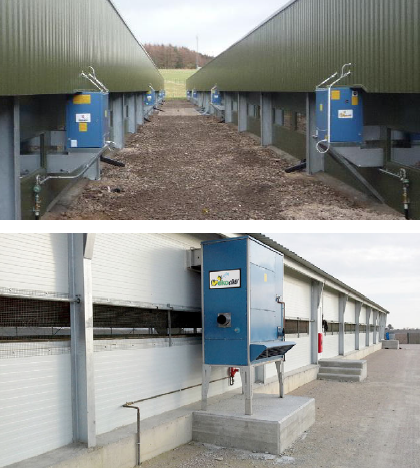 Tecnoclima S.p.A. is an Italian manufacturer of the air heating systems. Tecnoclima produces more than 300 types of air heating systems and has a wide experience in developing customized turnkey solutions. The air heating systems for the farming industry is one of the Tecnoclima main profile specializations. Tecnoclima produces the air heating systems for greenhouses, livestock farms and poultry farms, agricultural products warehouses. Tecnoclima S.p.A. offers suspended or ground standing heating systems working on natural gas, LGP or diesel, as well as water heating systems made of corrosion resistant stainless steel. There are systems for inside and outside installation, with direct air flow and with the possibility to connect to air channels.
Email: tecnoclima@tecnoclimaspa.com
VAL-CO – www.valcorussia.ru – Pavilion 2, Hall 8, Booth 28.C1 
VAL-CO – www.val-co.com – is a global manufacturer of high-quality systems and components for commercial poultry production, pig production and egg production. To guarantee performance you can count on, all VAL-CO products are expertly designed and manufactured with the end-user in mind. We engineer our components to work together as complete production solutions for all your feeding, watering, heating, ventilation, nesting, flooring and farm biosecurity needs.
Email: info@valcorussia.ru
Email: info@val-co.com
VALLI – Pavillon 2, Hall 8, Booth 25.C1 – www.valli-italy.com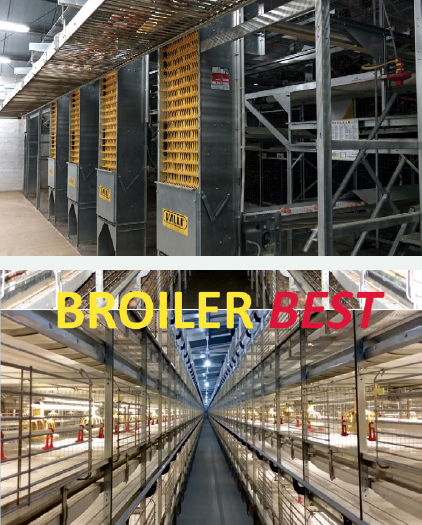 Broiler Best CR was born from the solidity and convenience of Broiler Best broiler equipment, with an innovative and customized feeding system with hoppers: an easier management and maintenance of the equipment are just some of the biggest advantages.
The proven "VALLI self-supporting feeder" makes the equipment even safer and more performing both for animals and staff. Another news is the "ONDA" egg elevator: simple, sturdy and designed to work hard with a capacity of over 20,000 eggs / hour. VALLI will be delighted to welcome you at the fair to present all its products and to thank all the customers who have put their trust in VALLI equipment for over 20 years.
Email: info@valli-italy.com
Victoria, an Italian Company specialized in Poultry incubators manufacturer since 1924 will take part to "VIV Russia 2019". The Group, which operates internationally, bases its corporate strategy of the uniqueness for its incubators, which are the most advanced and sophisticated available on the market today.
In occasion of the show, Victoria will be proud to display its high quality incubators and relevant innovations regarding the hatchery and incubator processes.
Email: victoria@victoria-srl.com