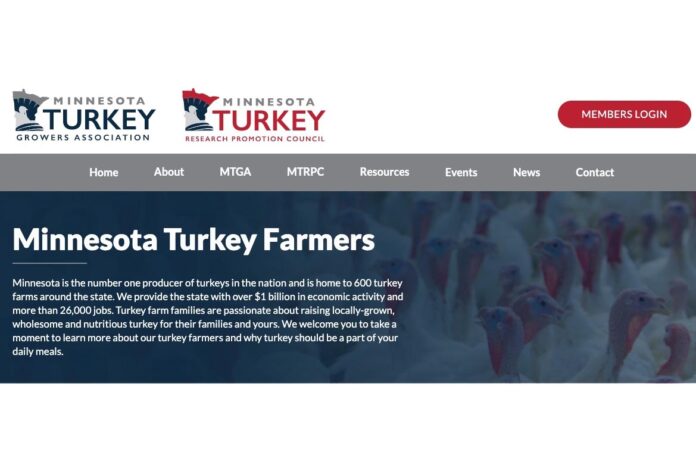 The Minnesota Turkey Growers Association and the Minnesota Turkey Research and Promotion Council are excited to reveal their new website, https://www.minnesotaturkey.com/ to turkey farmers, agriculture stakeholders, and the general public. Resources to help farmers, educators, and consumers were added to the user-friendly site.
"The new website has been a strategic goal of ours for almost a year now," said Paul Kvistad, Minnesota Turkey Growers Association President. "The new website's modern design allows for easy navigation and provides readily available, valuable content for those seeking information about the Minnesota turkey industry."
Working with Image Digital Marketing, the organizations added a classified section containing job postings and equipment for sale. Farmers, industry stakeholders, and the public are able to post a classified advertisement. The goal is to offer a one-stop shop for turkey farmers and industry stakeholders.
"Working in the agriculture sector offers so many opportunities for growth," said Kvistad. "We want to encourage more people to enter this rewarding career path."
The website is also designed with the general public in mind. The site includes classroom materials for educators as well as nutrition information and recipes for consumers.
"Turkey and Minnesota's industry are the best kept secret," said Sarah Anderson, Executive Director of the Minnesota Turkey Growers Association. "We want to share Minnesota's locally grown success story by providing our teachers with content and helping families learn about turkey's exceptional nutritional benefits."
Members of the organizations are also given access to the Member Portal containing exclusive benefits.
It's a great resource for staying up to date on happenings within the industry.
MTGA is a trade association representing over 600 turkey farms across the state. Many of our growers come from multi-generational family farms. Our organization also represents turkey processors and other industry stakeholders. Together, we advocate for the interests of the Minnesota turkey farmer and industry as a whole.