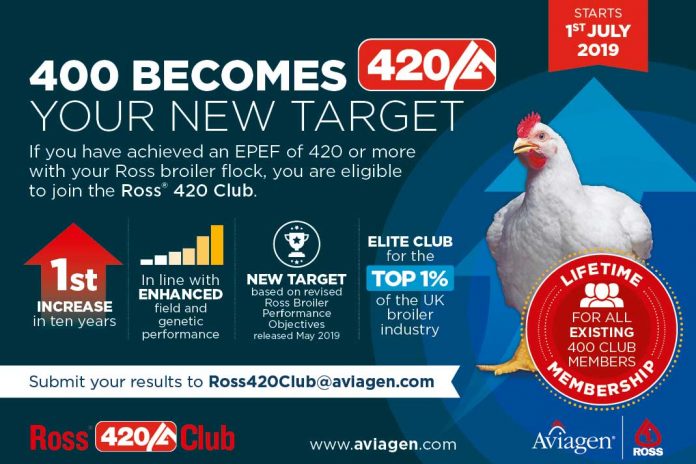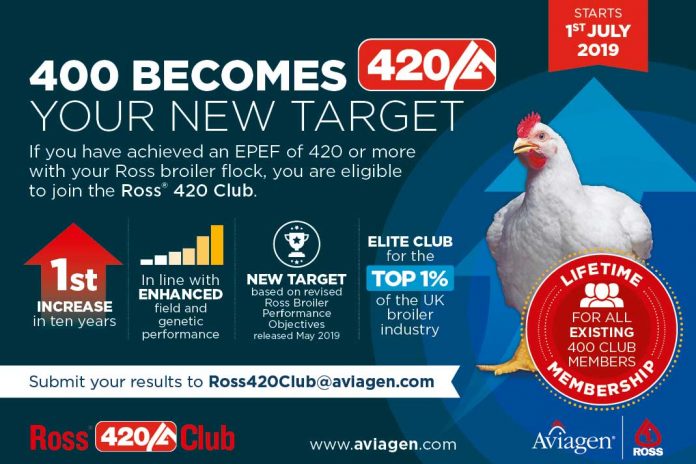 Owing to the hard work, skill and commitment of Ross® growers, broiler performance continues to go from strength to strength.
To make sure these dedicated farmers keep their ranking as the top 1 percent of the UK broiler industry, on July 1 the Ross 400 Club will become the Ross 420 Club, with the qualifying entry level raised to a European Performance Efficiency Factor (EPEF) of 420 and above.
Lifetime Club membership
All Ross 400 Club and future 420 Club entrants enjoy lifetime Club membership and the benefits that come with this. These include access to a dedicated Ross 420 Club Forum. Here they can exchange ideas, information and expertise with fellow club members and Aviagen specialists.
Potential and performance – a winning combination
The Ross 420 Club was made possible because of the consistent excellent performance of UK broiler growers, combined with a rise in genetic potential of Ross birds.
The increase in entry level corresponds to the recently released 2019 Ross Broiler Performance Objectives. These targets reflect an upgrade in field and genetic performance, which has seen an EPEF rise of 5 to 6 points year on year since the objectives were last released in 2014.
Going for Gold
Ross 400 Club members have been consistent in their excellence, and thus, in 2018 Aviagen announced a new initiative in the Gold Awards. Since then, more than 20 customers have gone for the gold. The new criteria of the 420 Club rewards farmers who have three consecutive flocks with an EPEF of 420 or more, or who score an EPEF that is 10 percent more than the current target.
Stuart Thomson, Head of UK Sales and Technical, expressed his gratitude to all who have reached Club-level performance. "A big thank you goes to all of our Ross Club participants for their outstanding stockmanship and attention to detail that have enabled us to raise the bar on our Club entry level. Theirs is a story of success, as our number has risen from 3 since the Club's introduction to more than 400 in 2018. We value our Club members and welcome all new inductees. They serve as a shining example to the entire industry of the heights that are possible through hard work, dedication and skilful husbandry."