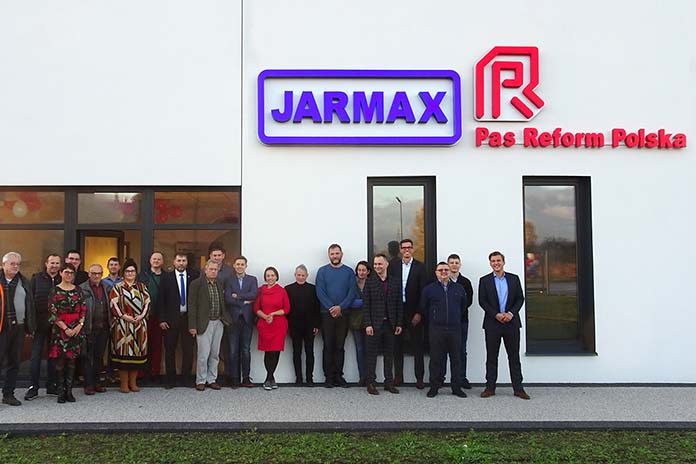 Royal Pas Reform is pleased to announce the grand opening of its new business headquarters in Poland.
The 800-square-meter facility includes offices for the sales and customer support teams, a warehouse, service and spare parts department and an HVAC production area. A team of up to 20 staff will be based there.
Located in Kościerzyna, near the northern port city of Gdansk, the launch of the new premises has been driven by Pas Reform's expanded product and support offerings. It strengthens the company's already strong presence in Poland – where Royal Pas Reform incubators at present produce 600 million day-old chicks per year – while also providing important operational and resource efficiencies.
The building was officially opened with a two-day celebratory launch event in October. The formalities began in the presence of the Mayor of the city of Kościerzyna – along with other authorities, customers, industry partners and Pas Reform colleagues.
This was followed by an open house for the Polish poultry industry. Guests enjoyed a guided tour of the innovative office facilities, together with a series of presentations on Royal Pas Reform's integrated hatchery solutions and the company's approach to customer-oriented product development.
The industry attendees were particularly interested in discovering more about Royal Pas Reform as a total solutions provider – with complete Hatchery Automation Systems and integrated HVAC. There were also wide-ranging discussions covering energy saving solutions, energy recovery options and the issue of early feeding.
"The opening of this office and production facility is an exciting milestone for Royal Pas Reform," says CEO Harm Langen. "It demonstrates our long-term commitment to the Polish poultry industry and will enable us to further strengthen our service capabilities in this country."
"The decision to open this office was a logical next step in our business growth strategy," says Jarek Piankowski, Market Director Poland. "The new location and enhanced operational efficiencies will help us continue to grow and develop to keep pace with our customers' needs.
"Pas Reform Polska will serve as a service hub for the entire Polish market and allow us to provide superior service along the way: with spares on stock and direct technical support – building on 25 years' experience of servicing complete hatchery installations."
Pas Reform Polska can be contacted by email at jarmaxled@icloud.com, or on mobile at +48 603 957 229.