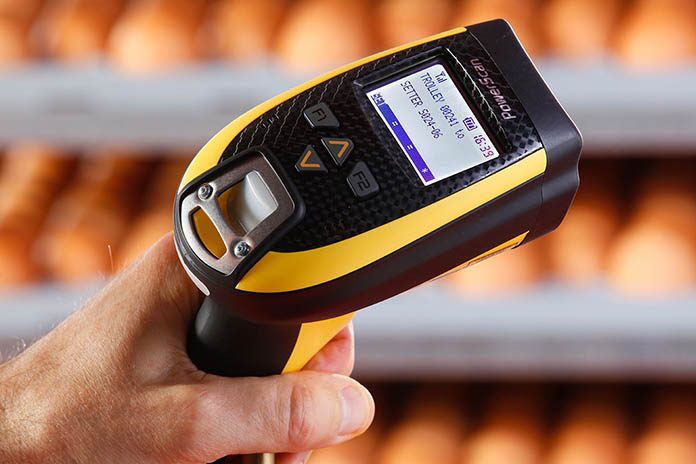 Pas Reform has been working with leading information systems companies to develop SmartTrack™: a new, automated technology to connect external track and trace data tools, like the Ovotrack barcoding system, to Pas Reform's SmartCenterPro™ hatchery management system. SmartTrack™ makes it possible to record and report on every event in the hatchery journey with minimal data entry.
SmartTrack™ is a flexible, easy and secure method of tracking and tracing hatching eggs and day-old chicks in the hatchery. The technology is based on verification software, barcode tags and tag readers, and makes it easy to exchange data with Pas Reform's SmartCenterPro™ hatchery management system and (optionally) with the hatchery's own enterprise resource planning (ERP) system.
SmartTrack™ automatically gathers data that supports effective stock management from egg ordering through to chick handling. It also gathers candling results for each batch, setter and setter trolley position, and collects processing results per hatcher and hatcher dolly position. The data allows batch-specific analysis, leading to better decision-making that achieves the highest number of best quality chicks.
For every breeder flock taken into production, durable labels with a unique barcode are printed, containing detailed information on flock name, age and breed. These batch-specific labels are applied to each individual setter and hatcher trolley, and scanned at the time of egg receipt, transfer to setter trolley, incubation, candling, transfer, hatching and chick handling. In this way hatching eggs and day-old chicks are identified at each stage of the incubation process, allowing for instant and reliable egg-to-chick traceability for each specific batch.
Martijn Janssen, R&D Manager at Pas Reform Hatchery Technologies, comments: "SmartTrack™ is a perfect example of Pas Reform's integrated hatchery solutions capability. It delivers accurate, real-time track and trace capability, from the origin of the hatching eggs at the breeder farm to the receipt of the day-old chicks by the customer's farm. SmartTrack™ is a unique tool that super-connects external track and trace data to SmartCenterPro™, enabling hatchery managers to look back in time and also to predict what is coming in the daily hatchery practice."
SmartTrack™ is being demonstrated for the first time at VIV Europe 2018, which is taking place from 20 to 22 June in Utrecht, The Netherlands.