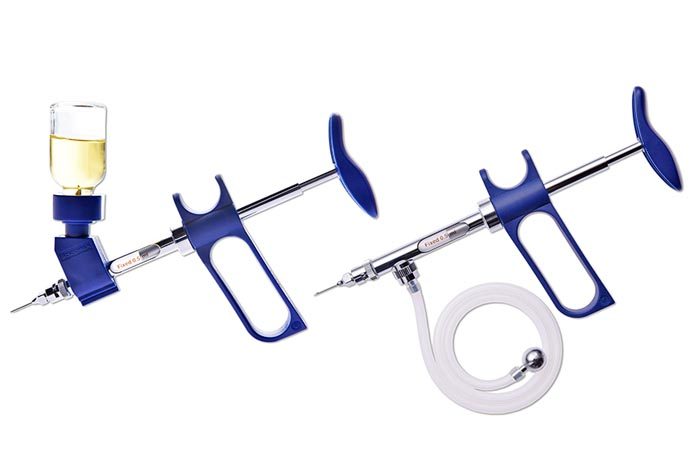 The Swiss made Socorex® syringes with spring-loaded plunger and three-way valve system include eight new fixed volume models starting from 0.2 mL until 10 mL. Volume is well indicated and clearly visible on glass barrel. Supplied with feed tubing or vial holder. Fixed volume syringes have no setting mechanism providing excellent dose reproducibility over long injection series.
All Socorex® syringes have plunger tightness without O-ring. Metal casing prevents glass barrel breakage. Failure free valve is fitted with stainless steel ball and spring, both quickly disassembled for cleaning. Autoclavable fully assembled at 121°C.
Feed tube and vial holder models are available as fixed versions from 0.2 mL to 10 mL, with adjustable volumes ranging 0.025 mL to 10 mL, and as Twin models from 0.1 to 5 mL. This selection covers all needs in fish, poultry, swine, sheep, goat and cattle among other fields.
All models are easy to maintain, disassemble, clean. Parts can be replaced, extending instrument life span thus limiting waste generated by poor quality syringes.
To get more information of our complete animal injection syringes programme please click here.