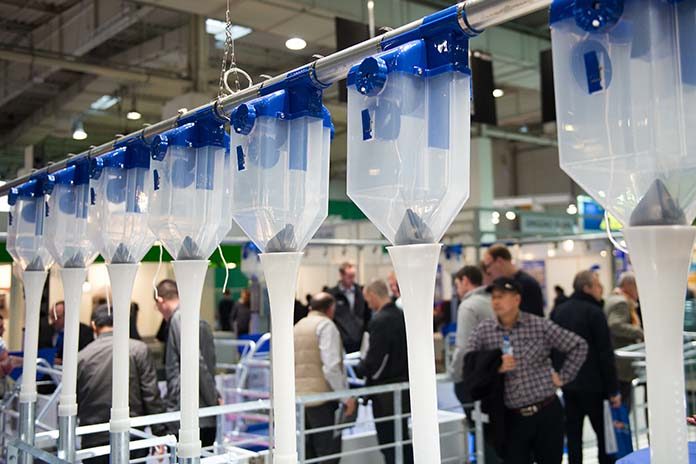 Livestock farmers from the United States will be able to find out how an increasingly digitally connected world is opening up new possibilities for their businesses at EuroTier 2018, which takes pace in Germany in November.
Widely acknowledged as the world's leading trade fair for livestock professionals, this year's EuroTier event is themed "Digital Animal Farming – Management Support, Animal Health, Food Safety", and it will highlight technologies for successfully combining productivity and animal welfare, as well as information management and the sustainable use of natural resources. Efficiency and animal health, as well as transparency and quality in the production processes, are now recognized as the key to economic and ecological success in livestock farming. "New concepts around digitization can bring added value to agriculture, help integrate agriculture into a dynamic rural area, and highlight its role as an indispensable part of society," explained EuroTier's project manager, Dr. Karl Schlösser from the event organizer DLG (German Agricultural Society). "EuroTier exhibitors will be presenting their latest solutions at the Hanover Exhibition Center from 13 to 16 November 2018, and the DLG, together with partners from industry, science and consulting, will explain the importance of digitization for modern livestock farming, with examples explained in special features and forum events." There are many smart systems emerging in the livestock sector that use new technologies to assist in farm animal management. "I often hear the comment from US journalists that new concepts shown at EuroTier are a good indicator as to what will come to North America later," said DLG's international communications manager, Dr Malene Conlong. "All the world's leading suppliers of modern animal husbandry technology will be represented at the event; more than 2,000 companies have already registered, and this includes about 300 new exhibitors, underscoring the trade fair's importance as a platform for the modern animal husbandry sector. We expect the total number of trade stands to exceed 2,500 this year."
It is clear that international participation at EuroTier 2018 will again be very high. More than half the applications for trade stands so far have been made by exhibitors based outside Germany.
Further information about EuroTier 2018 is available from DLG Service GmbH.
The contact is Dr. Karl Schlösser,
Tel: +49 69 24 78 82 54,
E-mail: EuroTier@DLG.org
Website: www.eurotier.com