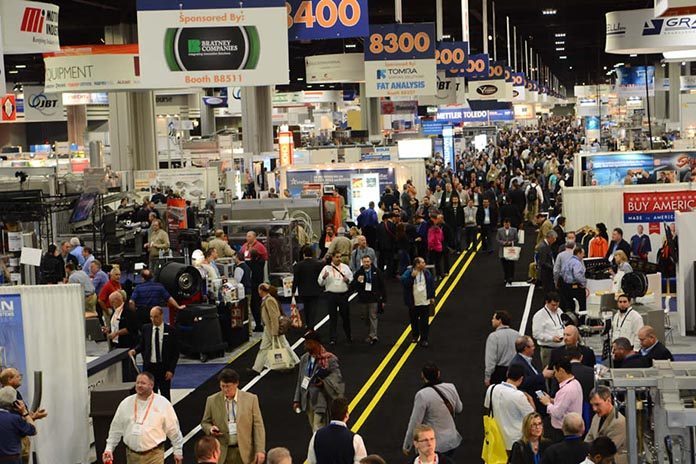 The top 10 teams of the Food Science and Technology Career Development Event (CDE) have been invited to attend the International Poultry Expo (IPE), part of the 2019 International Production & Processing Expo (IPPE). 
The opportunity for teams of the Food Science and Technology CDE to attend is made possible in part by endowing Foundation gifts from Pilgrim's and Cargill.

The students will receive an all-expense paid trip and will participate in a program led by poultry industry leaders who will advise them of the numerous and varying career opportunities in the industry. They will also have an opportunity to see and experience the exciting technology used by today's modern, sustainable poultry industry while visiting the vast IPPE trade show floor.
"This is the third year we have brought the Food Science and Technology CDE winners to IPE. The program has become one the students, our member companies, exhibitors, the staff of FFA and our Foundation look forward to each year. The opportunity to bring future leaders to IPE is tremendous. This expansion is another effort toward assisting the industry in its continuous recruitment of young talent," remarked Barbara Jenkins, executive director of the USPOULTRY Foundation.
The following Food Science and Technology CDE teams have been invited to attend IPPE. Their awards were presented by Jenkins and are listed in their order of finish: Big Walnut-DACC FFA, Ohio; Oley Valley FFA, Pennsylvania; Cambridge FFA, Idaho; Orlando Colonial FFA, Florida; Canyon New Braunfels FFA, Texas; Cashmere FFA, Washington; Lincoln FFA, Arkansas; Lawton FFA, Oklahoma; Triton FFA, North Carolina; and Napoleon FFA, North Dakota.
Source: USPOULTRY FOUNDATION