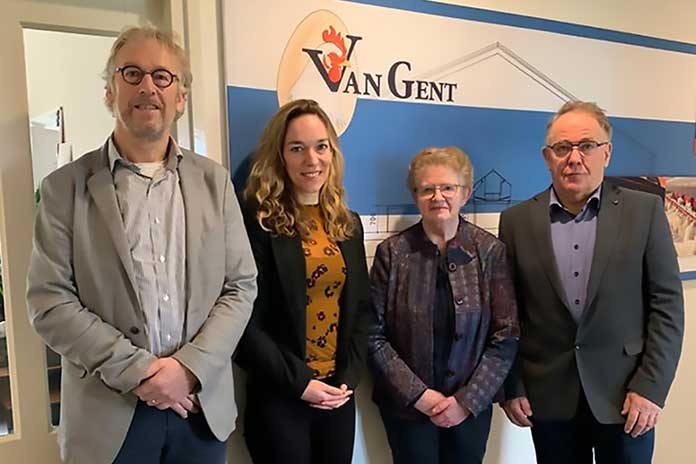 The Eersel-based family business Vencomatic Group, developer of sustainable poultry systems, takes over the family business Van Gent Laying nests from Renswoude. Van Gent Laying nests is a reliable player in the breeding and laying sector with an excellent reputation in the International poultry world.
Acquisition offers certainty and strengthens position
For more than 50 years Teus and Netty van Gent have worked with heart and soul to run their company Van Gent Laying nests. Now it's time for an acquisition, giving the founders the opportunity to enjoy some more free time. Van Gent has found a reliable partner in Vencomatic Group. Just like Van Gent, Vencomatic Group is a family business with a long-term vision that stands for quality, reliability and service. Teus: "For our company, the team and the customers, this step provides certainty for a bright future. This really means a lot to us".
"We have always had a great deal of respect for Van Gent with its cast-iron reputation for service and technical results," says Lotte van de Ven. With the acquisition, Vencomatic Group proudly becomes a supplier of the Van Gent laying nests, and strengthens its position in the broiler breeder sector.
About Van Gent
Family business Van Gent is a leading company in the international poultry world. With 11 employees and 24 dealers they serve 40 countries worldwide. For the poultry sector, Van Gent's animal friendly and laying nests stand for high quality and great durability. This is the merit of more than 50 years' experience in which natural behaviour of birds has always remained key, with the highest nest acceptance as a result.
About Vencomatic Group
Vencomatic Group is an innovative player in the poultry sector. The family business is committed to making poultry husbandry sustainable. They seek to balance the operation of a successful business with the lowest possible environmental impact, all while achieving the highest animal welfare levels.
Vencomatic Group offers solutions for housing, egg collection and climate control for every type of poultry farm. With a strong dealer network and over 450 employees, they serve their customers worldwide.
For further information you can contact us via marketing@vencomaticgroup.com or by telephone on +31 (0) 497 517380.