VIV China is a 3-day event being held from 17th September to 19th September 2018 at the Nanjing International Exhibition Center in Nanjing, China. National and international exhibitors at VIV China 2018 will represent their solutions and innovations within the Feed to Food chain.
The VIV China format represents a hub of different information exchanges and networking opportunities over several days and shows an equal appeal to those professionals from other countries who want to learn about China's own dynamics in producing animal proteins.
This event showcases products like feed ingredients and additives, industrial feed processing equipment, supplies, raw materials, poultry farms, meat, dairy, egg products and much more in the agriculture and veterinary industries.

Why Nanjing
In 2018, VIV China will move to Nanjing, a location that will offer new opportunities and activities. Jiangsu province is surrounded by important production areas. VIV worldwide expects to be able to extend the visitor target groups by moving to this new area. Exhibitors will be enabled to strengthen their networks by gaining access to more regions and the production areas in China. The economic importance of Nanjing is increasing, also thanks to government support. Facilities for exhibitors and visitors are good. Nanjing is an attractive city, easy accessible for Chinese visitors by train, bullet train and by air. International visitors fly easily to Nanjing. The NIEC exhibition centre has high quality facilities and transportation to the city centre is close.

Poultry market trends in China
In the two past decades, the Chinese market has been growing at a fast pace. The dramatic expansions of the manufacturing capabilities and rising consumer consumptions in China have transformed China's society and economy. China currently produces about one quarter of the world's poultry meat, with projections showing both production and consumption increasing in the next decade. Twenty per cent of the world's poultry is in China, including 1.2 billion layers/breeders, 8.8 billion broilers, and 4 billion water fowl. One quarter of layer farms are considered large, with more than 50,000 birds, and 33% are mid­scale, with 20,000 to 50,000 birds per farm. The feed sector is also consolidating. According to Alltech's 2017 Global Feed Survey, China is still the world's largest feed producer, but the country's feed mill count has declined by almost 30 per cent as the sector evolves from one that is fragmented to one that is segmented and integrated into the food chain.
As China becomes wealthier, consumers are starting to pay more attention to issues like production standards, quality, animal welfare and the environment. The transparency is the new focus. Five key trends are driving poultry industry change in China: growing integration in the egg and poultry sectors; growing consumer awareness of environmental pollution caused by farming that is putting pressure on farms; need for antibiotic­free production as testing and legislation become stricter; consumer demands for quality; and high feed costs.
VIV CHINA 2018
When & where
Conferences: 16-17 September 2018
Exposition: 17-19 September 2018, Hall 4, 5 and 6.
Venue: Nanjing International Exhibition Center (NIEC) Nanjing, China
Opening hours: 09:00 – 17.00
Website: vivchina.nl
Product previews presented by some exhibiting companies
AVIAGEN showcases brand diversity and customer dedication at VIV China 2018 – Hall 4, Stand C014

The commercial chicken industry is a vital part of Chinese agriculture, and China is the world's second largest chicken meat producer. Through the Arbor Acres® and Ross® brands, Aviagen®, a global supplier of high-quality poultry breeding stock, has been a significant participant of the Chinese chicken industry for over 30 years.
Distinct economic and market benefits
Arbor Acres was one of the first brands to be commercially available in China, and both Arbor Acres and Ross have experienced steady growth and success in the Chinese market. These brands offer Chinese poultry producers the economic benefit of excellent efficiency, requiring less feed to grow at a healthy rate. They also demonstrate a strong growth rate, meat yield and environmental resistance. Through a broad product selection, Arbor Acres and Ross address the needs of an array of sectors, including fast food, retail grocery, whole and live bird markets and all others that demand affordable and nutritious poultry products.
Putting the customer first
Aviagen local service team works closely with its Chinese customers and keeps them up to date on the latest flock management advice. The team remains strongly committed to the success of customers, as well as their communities, government and the Chinese poultry industry at large.
See you in booth C014!
This dedicated team is led by Mr. Han Feng, a 30-year veteran of the Chinese poultry industry. At VIV China 2018, Mr. Han and his team look forward to welcoming visitors to Aviagen booth C014 in Hall 4. For Aviagen, the best part of the show is strengthening common bonds with customers and industry associates.
Contacts:
Han Feng, VP (China) Asia Pacific, +86 139 0135 9538 or fhan@aviagen.com
Zhang Xiuzhen (Julia), AVP (China) Asia Pacific, +86 136 0111 6648 or xzhang@aviagen.com
Website: aviagen.com
MAREL POULTRY: cutting edge showcase at VIV China 2018 – Hall 4, Stand C001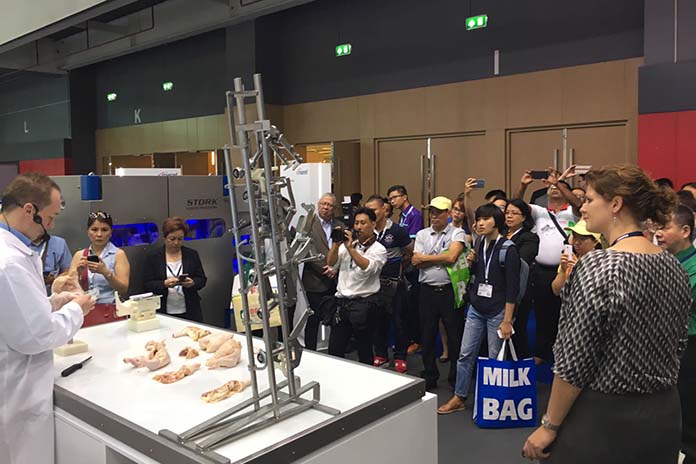 At VIV China 2018 Marel Poultry will introduce exciting innovations that support poultry processors in this part of the world in adding most value to their operations.
Marel Poultry will present a unique live demonstration during VIV China. An in-house cutting master will show how the skilful cut-up and deboning systems go about to achieve the highest quality, most precise cuts and manoeuvres.
Cut-up
Automated cut-up is high on the agenda of today's poultry industry, now that skilled labour is hard to find worldwide. The modular configuration of Marel Poultry's cut-up solution ACM-NT allows for customizing to every market in the world. When Chinese consumers have a focus on second-joint wing cutting, the need for these products can easily be met, using dedicated modules.
Thigh deboning
Marel Poultry's Thigh Fillet System is the world's first inline high-capacity thigh filleting solution. With utmost efficiency and consistency, the bone is separated from the meat, in order to supply retail quality thigh fillets. Meanwhile, the knee cap is removed accurately and at no point in the process, there's a need for manual trimming.
RevoPortioner with Helix Drum
The new Helix Drum technology of the famous RevoPortioner takes processors to the next step in low pressure portioning. It enables them to raise production volumes and profitability even more, while reducing wear and tear.
E-mail: info.poultry@marel.com Website: www.marel.com/poultry 
At VIV China, MEYN presents 15,000 bph solutions – Hall 4, Stand B038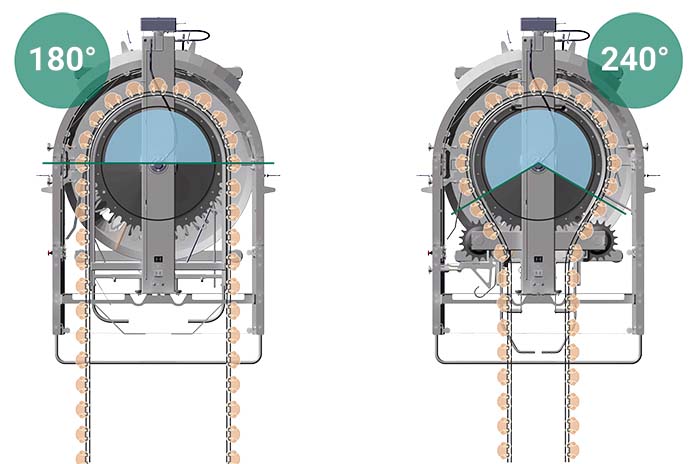 At VIV China, Meyn presents 15,000 bph solutions which lead to lower cost per bird and therefore increases profitability. 
For Chinese poultry processors the future looks bright. In the first place because the consumption per capita of poultry meat has increased. And secondly because it is likely that the import of poultry meat will decrease.
Meyn is very proud that this year alone, 3 new factories will be commissioned at 15,000 bph. To be able to run at 15,000 bph and still meet the optimal performance figures it is necessary to innovate several processing steps. The new 240 degrees evisceration solutions guarantee superior product and food safety.
The Meyn Physic and Flex M3.0 cut up lines are updated to seamlessly integrate with high speed lines. The Physic line M3.0 offers maximum flexibility and can be configured to situation-specific requirements in terms of product type, quantity, quality and flexibility.
The new Meyn Rapid Plus breast deboner M4.1 has an upgraded capacity of 7,000 breasts caps / front halves per hour. At the same time the footprint is significantly reduced by almost a fifth.
VIV China is the most important poultry industry show in China. Commenting on the importance of VIV China, Su Jiangang, General Manager Meyn China, says: "Our customers need poultry processing solutions at high speeds with an impeccable quality. That is why we are excited to present our next generation solutions at VIV China. We provide powerful 15,000 bph processing solutions with the lowest total cost of ownership."
Email: sales@meyn.com – Website: meyn.com
PAS REFORM's new SmartControl™ sensor technology creates the perfect hatchery climate control solution – Hall 5, Stand G040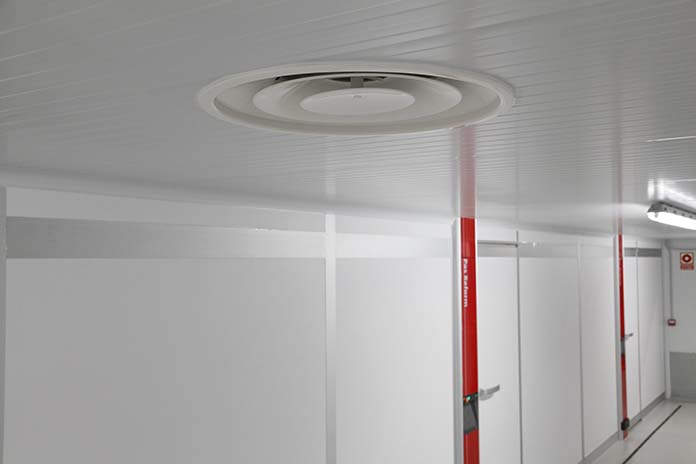 Pas Reform has built on the success of its innovative SmartCenterPro™ hatchery management system with the introduction of SmartControl™.
Designed to ensure the reliable central monitoring and automatic control of air temperature, air pressure, CO2 and humidity in any hatchery room, the SmartControl™ module makes climate information accessible from a single platform. Storage of all data ensures there is a complete climate-history record for the entire process. By processing the inputs from multiple SmartControl™ sensors, SmartCenterPro™ responds instantly to maintain the exact climate needs of any hatchery room. The automated system perfectly aligns room conditions to the preset values, quickly achieving the desired air quality using as little energy as possible. This allows hatchery climate control in the most efficient way, for the highest number of best quality chicks.
SmartControl™ can be applied across a wide range of areas, such as egg storage and chick holding rooms, corridors, fluff tunnels, attics and plenums. The system comes with room sensors which are connected to actuators for full output control, as well as a bus system for connection and seamless integration with SmartCenterPro™ – to enable data logging and extended climate graphs. Pas Reform is able to supply customer-specific proposals for the installation of SmartControl™, based on the rooms to be included and the functionality required. Installation is implemented on a project basis, to ensure that the scope, quality and training needs for the individual hatchery are met fully. As a result, Pas Reform can give all the customers a customized, tailor-made solution that exactly meets their needs.
Email: info@pasreform.com – Website: pasreform.com
PETERSIME puts BioStreamer™ incubators in the picture – Hall 4,

 

Stand C07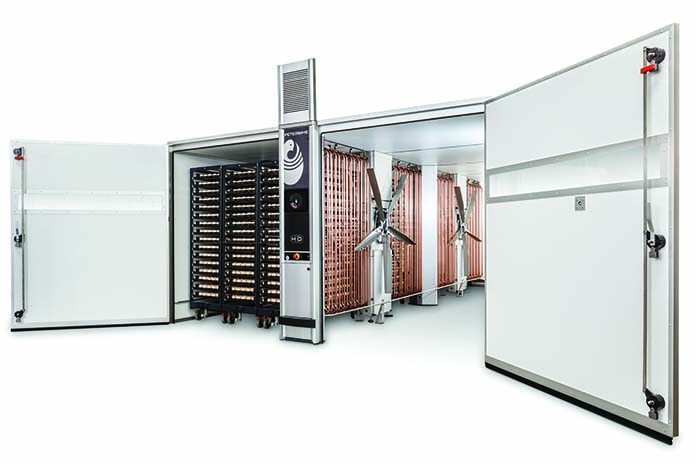 Achieving more and better chicks starts with using the best equipment. Petersime offers a wide variety of setters and hatchers for chicken, turkey, goose and duck eggs.
At VIV China in Nanjing, Petersime will be delighted to show how the different types of BioStreamer™ incubators lead to significant performance improvements of hatcheries worldwide.
BioStreamer™: the top-of-the-range model with an extended user interface and autopilot functions based on Embryo-Response Incubation™ parameters.

BioStreamer™ HD: engineered for 12% higher capacity thanks to the honeycomb shaped setter trays.

BioStreamer™ Re-Store: designed to apply short periods of heat treatment during storage, restoring a significant part of the losses caused by long storage times.
During this world expo 'from feed to food', the Petersime sales team will gladly answer any question and inform visitors on their complete range of hatchery equipment, trainings, turnkey projects and services.
Email: info@petersime.com – Website: petersime.com
TPI-POLYTECHNIEK – Hall 5, Stand F037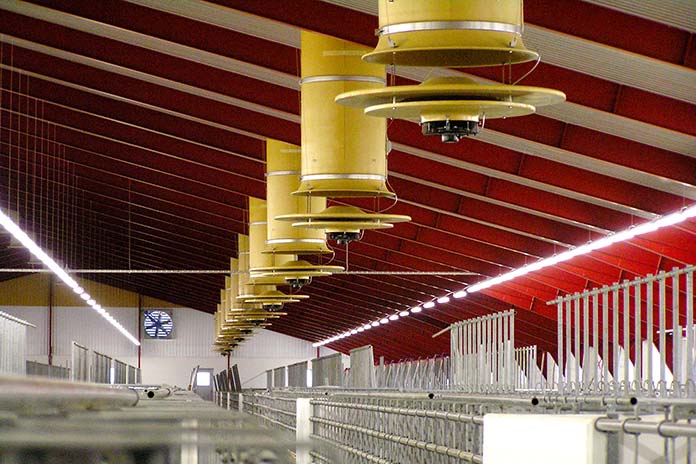 As a global supplier of polyurethane ventilation components TPI-Polytechniek aims to better the environmental conditions and climates for the intensive livestock industry.
For over 20 years TPI-Polytechniek has been specialising in ventilation for the agricultural sector and in the last years they have increased their focus and activity in the Asia Pacific region!
A short glimpse of some of TPI's new products and features:
3000-VFG-C: centrally controlled, wall mounted air inlet valve
TPI-Polytechniek has further developed the ease of operation for the 3000-VFG-C inlet. It has been equipped with special seals to prevent any kind of air leakage. Also the newly developed closing catch gives ability to manually keep the inlet closed whilst cleaning or partial ventilation when only a few of the inlets are meant to be in use.
Omniflux: wall mounted air inlet valve with sliding plate
The Omniflux is specially developed to give optimal control in building concepts where obstacles are found such as aviary systems, or in very wide buildings. With its multiple louvres which can be positioned independently it is possible to guide air in a few different directions. The inlet is equipped with a sliding plate and special air seals to prevent air leakage.
Exhaust and intake ventilation chimneys
A wide variety of set-ups or special parts is offered with these chimneys to support all housing concepts, both for pigs and poultry. TPI-Polytechniek is currently showcasing the latest chimney, the Automatic Adjustable Recirculation Chimney (AARC). With all components the company can design chimneys for all housing concepts.
Email: info@tpi-polytechniek.com – Website: tpi-polytechniek.com
VAL-CO's excellences – Hall 5, Stand H065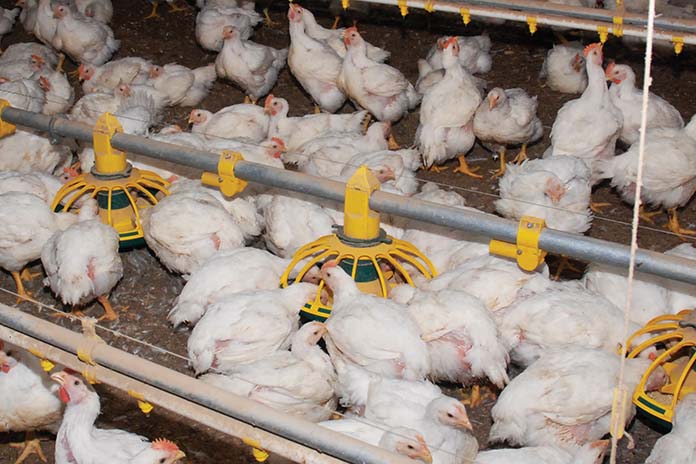 Valco Companies, Inc. welcomes visitors and customers to the SHANGHAI VAL LIVESTOCK EQUIPMENT CO., LTD booth at VIV China exhibition. The FUZE® ProLine family of feeders is specially designed to be lightweight and durable.
Six unique pan and grill combinations allow you to choose a pan designed for your specific needs – pans are available in standard or shallow depths; grills are available with 5, 13, or 14 spokes. Choose the easy assembly of a two-piece tower that snaps into place, or the added stability of a single piece tower.
All FUZE ProLine feed pans have three large flood windows to evenly fill the pan. Birds of all ages have easy, 360° access to the feed. The pan's feed-saver lip ensures more feed stays in the pan to be eaten by the birds, not on the floor where it's wasted. The FUZE feeder easily snaps open and closed so the pan can be hosed down for quick cleaning and disinfecting. FUZE pans have proven themselves in multiple feed trials against top competitors – each time delivering optimal feed conversion and consistent bird weights. Try it out for yourself!
Email: intl.sales@val-co.com – Website: val-co.com
VALLI to conquer the Chinese market – Hall 4, Stand B094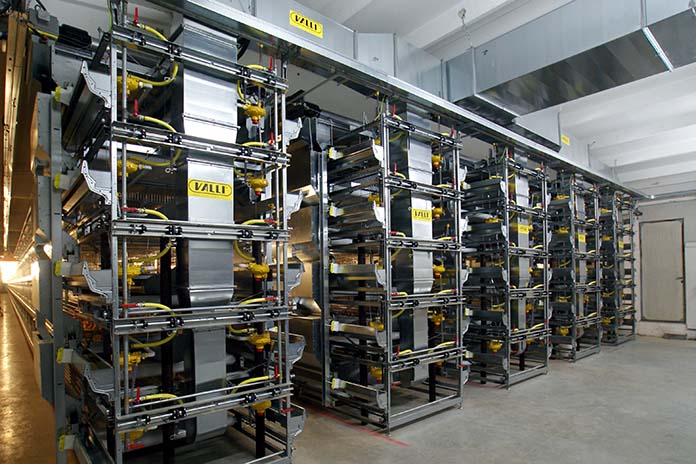 Since its foundation in 1956, VALLI has been dedicated to the manufacturing of top quality "cage" systems for the poultry industry.
VALLI provides today a wide range of products for laying birds, from traditional "A" frame cages for tropical climate countries to manure belted multi-tier systems with/without manure drying. The Italian company also supplies rearing, parent stock and broiler cages. VALLI designs complete turnkey packages with all the required internal equipment, ventilation and electrical controls and have the back up of well-trained installers and supervisors to ensure the best quality service and functionality.
A worldwide network of qualified dealers keeps in close contact with the markets in order to provide a prompt service and to be fully aware of the ever changing needs of the poultry industry. VALLI equipment is sold today worldwide in over 70 countries under many different management and climatic conditions. VALLI's history, experience and work are dedicated day by day to the improvement of the design and performance of its equipment in order to provide the customers with a "quality they can depend on".
VALLI is an absolute guarantee in terms of experience, listening and collaboration to study and build together the best possible solution. For these reasons, customers who choose VALLI cages make a wise decision in their long-term investment plans.
Email: info@valli-italy.com – Website: valli-italy.com