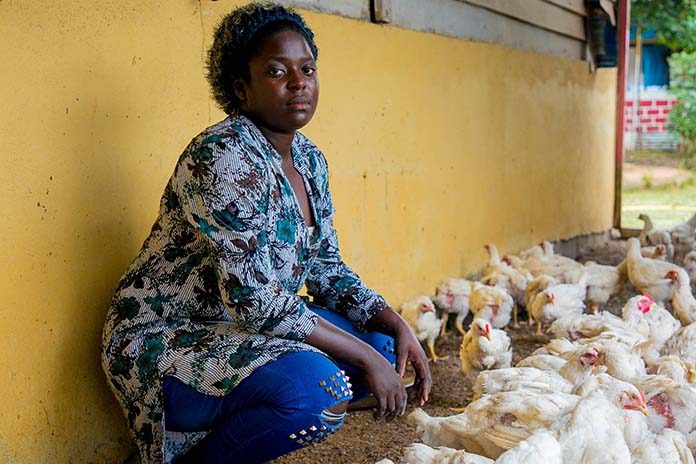 Nigeria's poultry industry could be headed for improved performance after the government announced measures meant to boost domestic egg and poultry meat production as well enhance the implementation of the recently approved industry regulatory framework especially on production, handling, packaging, labeling and marketing of feeds.
In a bid to expand Nigeria's domestic poultry market, the country's Central Bank has included chicken, eggs, turkey and processed poultry meat products in the list of products that are not valid for foreign exchange. Businesses that want to import these products cannot approach Nigeria's formal foreign exchange market for financing although they can still import the products using own financing, which usually attracts a higher foreign exchange rate.
The 2003 ban on chicken importation, except for day old chicks, is still in the country's importation regulation statutes despite challenges in enforcement as the country is still known for high level smuggling of poultry products especially frozen chicken from Brazil through Nigeria's neighbour Benin according to private equity firm Sahel Capital.
The reason for crowding out poultry products from among those that qualify to access the country's foreign exchange market is both to stabilise Nigeria's foreign exchange market and encourage the revival and increased production of chicken, eggs, turkey and poultry meat products according to the Nigerian Central Bank.
Alongside efforts by the Central Bank to resuscitate Nigeria's domestic poultry industry, estimated to be US$600 million by 2015, State agency Nigeria Institute of Animal Science (NIAS) with support of the government through the Ministry of Agriculture and Rural Development had previously issued new guidelines meant to streamline the country's US$2 billion animal feeds industry that is likely to substantially impact the performance of the poultry sub-sector in Nigeria.
The 'Regulation for the Feed Milling Industry in Nigeria, 2017' would enable the country's poultry industry achieve high production levels and generate quality and internationally competitive products with Nigeria anticipating increase in production to 8 billion eggs and 100 million kilogrammes of poultry meat by 2040 if the current industry momentum is sustained.
Under the approved regulations, poultry feed manufacturers in Nigeria, sub Saharan Africa's largest egg producer, would now have to pick from a list of necessary feed formulation ingredients approved by NIAS for the making of the feeds to ensure the products meet the internationally acceptable benchmarks on poultry feed safety.
NIAS, which estimates the share of feeds in the total cost of running a poultry enterprise at nearly 70%, hopes to use the 2017 feed milling regulations to streamline the manufacture, importation, advertisement, sale and distribution of feeds in Nigeria, which had an estimated population of 165 million birds in 2015, to ensure compliance with international poultry industry standards.
Apart from mandatory registration of all feed industry businesses, NIAS has under the new regulations restricted the marketing of poultry feed products to manufacturing companies whose premises have been inspected and approved for the making of the feeds and also those that are using the recommended feed formulations in feed production.
To enable compliance with the feed formulation regulations, NIAS is pushing to ensure all feed manufacturing firms enlist an animal scientist as a condition for the licensing of the feed manufacturing business.
"Every feed business in Nigeria shall have in its employment either permanently or on part time, at least one registered animal scientist as technical officer supervising the operation of the (feed) mill," says NIAS.
In addition to ensuring compliance with Good Manufacturing Practices (GMP), NIAS has also made it mandatory for feed makers to keep a record of all raw materials used in the poultry feed milling plant with clear indications of the origin, date of receipt and quantities. The end products should also be "properly packaged and labelled for traceability and other label regulatory requirements."
Furthermore, poultry feed producers in Nigeria, the second largest chicken producer after South Africa, are now required to set up quality assurance departments, which according to NIAS should be supervised by the registered animal scientists the businesses are supposed to have under the 2017 approved regulations.
Despite the efforts to improve performance if Nigeria's poultry feed market, American-based developer of agricultural and food products, Alltech, says the West African country, which had increased egg and poultry meat production to 650,000MT and 290,000MT respectively, has one of the highest poultry feed prices in the world alongside countries such as Haiti, Cuba, Yemen, Seychelles and Armenia.
With a stronger economy, which grew 0.8% in 2017, up from –1.5% in 2016 and 2.1% in 2018 and is expected to hit 2.5% in 2019, increasing restrictions on chicken and poultry products imports backed by increased compliance levels of the 2017 regulations on feed milling, Nigeria stands a chance of overcoming poultry industry challenges such as low feed conversion levels linked to lack of quality ingredients and also imbalanced distribution of eggs and poultry meat across the nation of 190 million people to sustain and even improve its top performance in Africa.