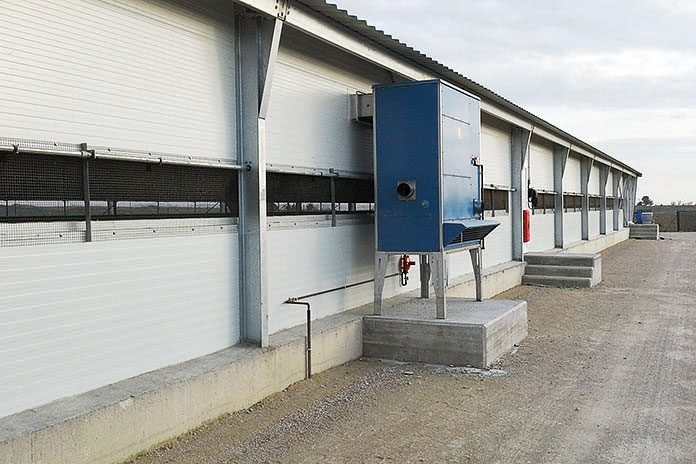 Tecnoclima SpA is a leading Italian company that has been operating in the Warm Air heating market for more than 40 years, offering solutions and products for the livestock farming and agriculture.
All products are entirely designed and manufactured in Italy, certified according to current regulations in various international markets and subjected to the most rigorous quality and reliability controls. Innovation, technology and customer focus have always been the hallmarks of Tecnoclima proposal.
Tecnoclima sales organization supports customers in identifying the best heating and ventilation solutions. The technical service assures a timely and competent presales assistance and service support after installation.
The heaters developed by Tecnoclima for poultry applications have been designed considering the needs of the farmers and the experience gained from thousands of successful installations around the world:
quick and easy installation:
accessories to meet any requirement and different types of installations;
reliable and durable operation;
ideal heating level for the different stages of growth;
high quality of air;
high efficiency and fuel saving;
choice of the highest quality materials specifically suitable for use in poultry farms and livestock;
technical assistance service.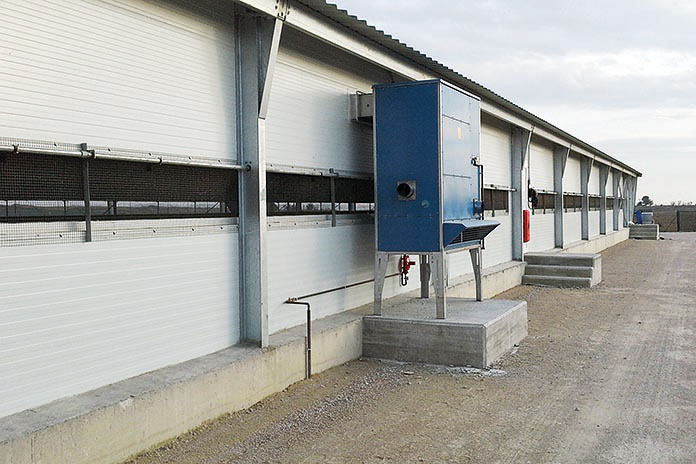 SUPERCIKKI – Proven Technology
Direct air heater Supercikki has a great success on the international markets due to its reliability, efficiency, safety and simplicity of use. Updated over the years, today's Supercikki offers an output of 80 kW and easy installation solutions to fit any type of poultry building. The possibility to install heaters also outside is especially appreciated, as well as fresh air intake or the possibility to mix fresh and return air. Thousands of units sold each year confirm farmers trust around the world for this simple, reliable and flexible solution. Last year Tecnoclima provided Supercikki heaters specifically certificated in conformity with the strict Australian AGA gas regulations. 180 heaters with 100% thermal efficiency, installed outside and working with fresh air, with reduced production of CO2 and water vapor, fully satisfied the requirements for safe and efficient heating of 70.000 m2 poultry farm, creating the best conditions for chicks raising in all their life stages.
EKOCIKKI – Clean warm air in the poultry farms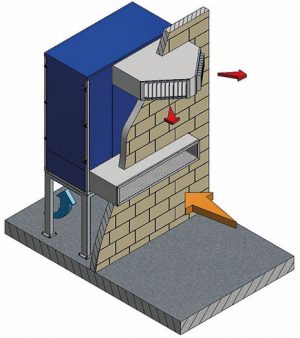 Climatic environment is of a great importance for the wellbeing of birds, which affects directly the productivity of a poultry farm and finally the quality of resulting meat. The main climatic factors are temperature, humidity, air movement and air purity. Therefore, besides the direct heating technology, Tecnoclima offers a full product range and solutions with sealed combustion technology to ensure heating with a clean warm air in the farms.
Ekocikki is just the latest product of the family of indirect fired warm air heaters with heat exchanger that meets growing market demand for ideal environment for birds.
These warm air heaters are based on a thermal exchange between combustion products of a forced draft burner (can work with gas or oil) and air flow produced by a high performance fan unit. Such heating system has the advantage of blowing into the environment only clean air, completely free of harmful contaminates, such as carbon dioxide, carbon monoxide and nitrogen oxides.
Recently Tecnoclima proposed an efficient solution to meet the requirements of the Spanish farmers who were aiming to create the best conditions for ducks raising. With a special focus on birds health, an air heating solution using Ekocikki was realized on 1.000 m2 duck nursery farm in the area of Pamplona. The heaters are installed outside of the building to avoid the space restriction, while the clean warm air is blown through diffusion plenums fixed just under the ceiling. The combustion gases are exhausted through a dedicate pipe system and the air necessary for combustion is taken from outside. Outside installation is often an appreciated solution not only for saving productive space, but also from the point of view of cleaning, maintenance, fire risk and related assurance.
Such great comfort created for birds allows for their no-stress growing, putting on more weight and achieving better meat quality with less pharma.
Additionally, this heating system permits a remarkable operating economy. The use of Ekocikki heaters reduces the fuel consumption for about 25%, compared to traditional direct-fired heaters, thanks to a reduced need for ventilation. This is an important advantage for investors also, in terms of payback of the project.
TECNOCLIMA SPA
Viale dell Industria, 19
38057 Pergine Valsugana (Trento) Italy
Tel.: (+39) 0461 531676 fax (+39) 0461 512432
Email: tecnoclima@tecnoclimaspa.com