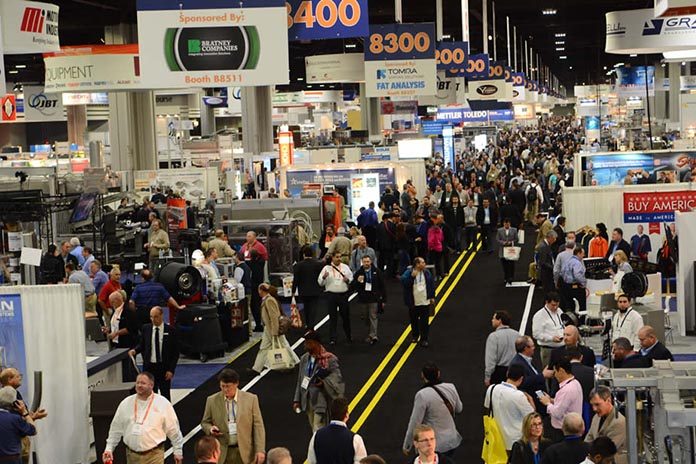 This year the IPPE show will bring together more than 1,200 exhibitors and 30,000 visitors in Atlanta, Ga. USA from Jan. 30 to Feb. 1, 2018. The trade show focuses on Innovation – bringing together buyers and sellers of the latest technology of products and services to make companies' business successful, Education – learning from the experts in free – and fee-based world-class programs beginning Mon., Jan. 29, on topics that cross industry interests, Global Reach – attracting more than 8,000 International visitors from 129 countries, and Networking – meeting new and rekindling old relationships with leaders across the industries.
Made up of the three integrated tradeshows – International Poultry Expo, International Feed Expo and International Meat Expo – the IPPE is the world's largest annual feed, meat and poultry trade show.
The event is sponsored by the U.S. Poultry & Egg Association (USPOULTRY), the American Feed Industry Association (AFIA) and the North American Meat Institute (NAMI).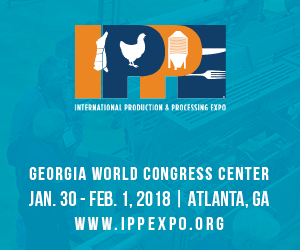 2018 Dates:
Jan. 30 – Feb. 1, 2018
Show Times:
Tues., 10 A.M. – 5 P.M.
Wed., 9 A.M. – 5 P.M.
Thur., 9 A.M. – 3 P.M.
Venue:
Georgia World Congress Center
285 Andrew Young International Blvd NW
Atlanta, Georgia USA
U.S. Poultry & Egg Association
1530 Cooledge Road Tucker, GA USA
Phone: 770.493.9401 – Fax: 770.493.9257
Email: info@ippexpo.org