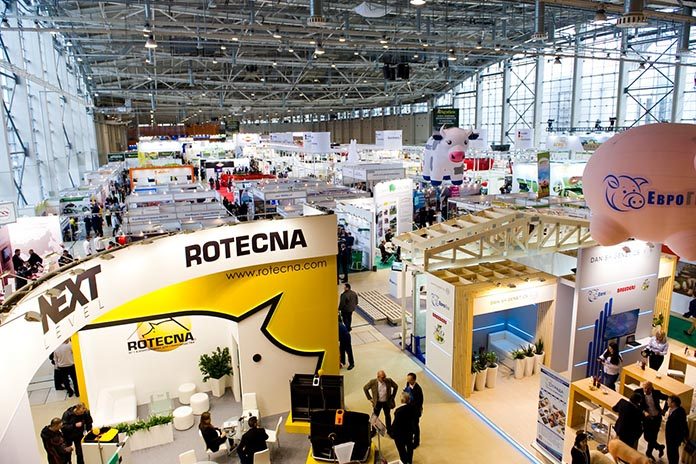 AgroFarm 2020 international exhibition of stock breeding and technologies for livestock products manufacturing and processing is to take place on February 4–6, 2020 in Pavilion No. 75.
For more than 13 years, AgroFarm Exhibition has been shaping a comfortable business environment for Russian and foreign manufacturers in every area of cattle farming and other related sectors, manufacturers of equipment and technologies, specialists of agricultural holdings and farms. In 2019, state-of-the-art developments and equipment were showcased by 421 companies from 30 countries of the world. Out of them, more than 80% gave positive feedback in regard to their participation in the exhibition and expressed an intent to revisit it in 2020. The exhibition was attended by over 12,000 industry specialists.
To facilitate further development of the project, VDNH Expo introduced a new loyalty program for all categories of participants, offering additional tools for promotion of a business in the exhibition at affordable prices. Every year, nearly 30% participating companies become debutants of the project. They can take advantage of the preferential terms included in the special packaged offer "First Time in AgroFarm".
The project's congress program includes strategic events featuring discussion of the industry's prospects, improvement of competitiveness of the Russian products in the domestic and foreign markets, development of selection and breeding business in the domestic animal husbandry. A special focus will be made on the industry's digital transformation and transition to export-oriented strategy.
A series of business events will be complemented by the contest program which will culminate in awarding the best developments in animal breeding industry. The winners will gain prizes in the following nominations: "Best product", "Best scientific development" and "Best service".
Do not miss the important appointment! Welcome to AgroFarm 2020!
Moscow, VDNH, Pavilion No. 75