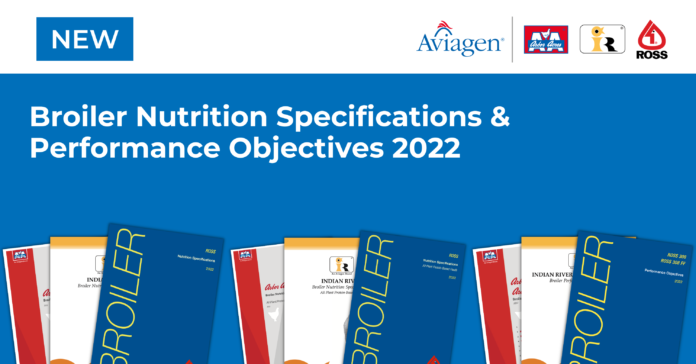 Aviagen has released new broiler performance objectives and nutrition specifications for the Arbor Acres, Indian River and Ross brands. The 2022 Broiler Nutrition Specifications are the result of internal and external research, literature reviews, and consideration of commercial nutrition practices.
The Specifications are focussed on supporting optimal biological performance obtained through continuous genetic improvements in body weight gain, feed conversion and carcass quality and yield while consistently strengthening robustness and welfare traits. In response to the changing target weights of broilers marketed around the world, the number of live weight target categories has been reduced from 5 to 3 (<2.0 kg, 2.0 kg-3.5 kg, and >3.5 kg). These weight changes reflect the range of product mix in the global marketplace. 
Taking into account worldwide formulation practices, the Aviagen 2022 Broiler Nutrition Specifications solely present recommendations of amino acid (AA) values obtained through standardized ileal digestibility (SID) method. Additionally, ratios of AA to digestible lysine are provided following the balanced protein (BP) concept. In comparison to the previous Broiler Nutrition Specifications released in 2019, the AA recommendation takes into consideration the specific requirements involved in supporting early development and ensuring a solid foundation for later meat deposition aligned with realization of optimal genetic potential. These recommendations are reflected in changes in the optimal balanced protein profile.
Dietary energy levels have a significant impact on feed formulation and feed cost. Thus, the 2022 Broiler Nutrition Specifications balance an energy profile along with adequate balanced protein in order to achieve optimal live performance and meat yield, resulting in competitive feed prices, especially under higher energy price conditions, and improved margins over feed cost (MOFC).
Aviagen's long-standing genetic selection program focusing on robustness and welfare traits has resulted in excellent skeletal integrity under varying calcium and available phosphorous (avP) profiles. Aviagen mineral trials support a reduction of calcium accompanied by adequate levels of avP, which account for overall energy metabolism, broiler performance and welfare traits. Changes in the calcium and available phosphorus contributions are expected according to limestone solubilities, alternative raw materials, different phosphates, or enzymes. Therefore, requiring the development of accurate matrices.
Overall, Aviagen 2019's trace mineral recommendation is still valid, and minor changes presented in the new recommendations are supportive of optimal performance, skin quality and immune status. One set of vitamin recommendations replaces the separate maize and wheat recommendations from 2019 due to the relatively small differences and practical implications.
Producing the Broiler Nutrition Specifications involves input from each of Aviagen's global nutritionists and the global specialist groups on hatcheries, technical systems, technical transfer and veterinary services representing the important regional and global perspectives on the factors involved in the foundation and development of the 2022 Broiler Nutrient Specifications. Aviagen uses proprietary biological/economic models to design customized feeding strategies which optimize MOFC in specific market scenarios. Aviagen nutritionists work with clients on a case-by-case basis to arrive at such solutions.
For further information regarding these recommendations or more specialized situations and advice on local markets, please contact your Aviagen Nutritionist or any Aviagen representative.