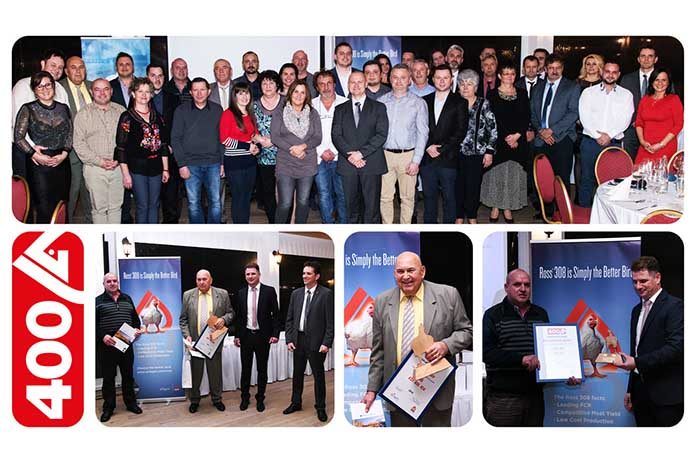 Ross 400 Club recognizes commitment and skill that maximizes broiler performance.
Aviagen® Kft gave special attention to its top-performing customers during a Ross 400 Club ceremony in Inárcs, Hungary. Balázs Takács, General Manager of Aviagen Kft., presented awards to 44 broiler producers with 138 flocks among them. Also, in attendance were representatives from 6 feed mills. A key highlight of the event was a presentation by Dr. Márton Hercsel on antibiotic reduction in the Hungarian poultry industry.
The top winners were Mr. József Kellermajer, who achieved an EPEF of 471.30 in the category of flocks under 120,000, and Mr. József Csatári, with an EPEF of 448 for flocks more than 120,000.
Please see the full list of award recipients here.
Aviagen Kft General Manager Balázs Takács welcomed the achievers to the event and offered his congratulations. "I couldn't be more proud of this year's highest performers, who serve as an inspiration to producers throughout the region. These farmers work extremely hard and have a deep understanding of their birds' needs and how to achieve the best conditions to meet these needs."
Károly Tar, CEO of Hungerit Zrt., attended the ceremony and commented, "It is a great honor for Hungerit Zrt to be awarded by Aviagen Kft for our Ross 400 Club results. The success can be attributed to three factors: the breed, the feed and the management. Following Aviagen management advice and using quality feed enabled us achieve high results with the Ross 308 broiler. In 2019, Hungerit Zrt produced 12.5 million broilers within 50 crops; 34 out of these 50 flocks reached an EPEF above 400. We would like to go even further with the Ross 308 breed in the future, improving feed quality and management to reach new heights in 2020."
Note: Aviagen and the Aviagen logo, Ross and the Ross logo, Arbor Acres and the Arbor Acres logo and Indian River and the Indian River logo are registered trademarks of Aviagen in the US and other countries.  All other trademarks or brands are registered by their respective owners.