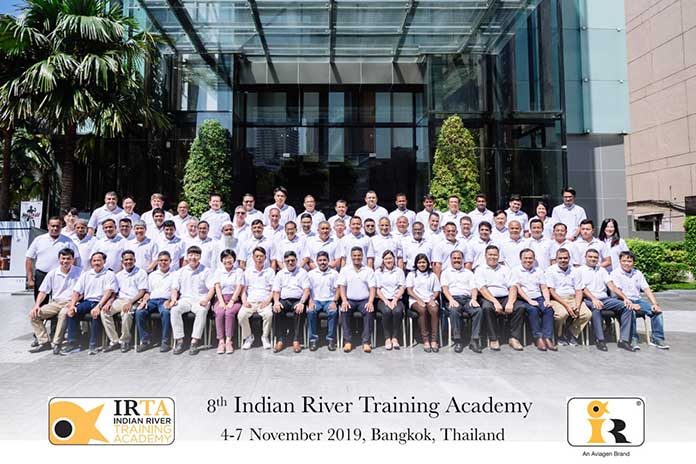 During Nov. 4-7, the Aviagen team welcomed 56 delegates representing 24 of its valued customers to the 2019 Indian River® Training Academy, where they took a deep dive into multiple facets of biosecurity – from the hatchery, to the farm, to the feed mill, and more.
This year's IRTA took the interactive learning experience to a new height, as Aviagen introduced Virtual Reality (VR) technology in its sessions. Through VR, students were immersed in a realistic farm environment, where they could actively practice and improve beneficial poultry husbandry skills. The VR exercise was received with great enthusiasm.
Other experiential aspects of the conference included workshops where students could try their hand at designing a farm layout for maximum biosecurity. Additional presentations and conversations centered on the growth of Indian River throughout the continent, and advice on strengthening competitiveness in the dynamic Asian poultry market.
"Biosecurity is one of the cornerstones to the success of our customers, and is key to strengthening the health, welfare and performance of their birds," remarked Greg Hitt, Regional Technical Manager for Asia Pacific. "Supporting our Indian River business partners and prompting the growth of their poultry operations is a top priority for us. That's why we carefully chose to feature biosecurity as the theme for this year's IRTA."
Larry Blackstone, Commercial Manager for Indian River Asia Pacific, added, "It was exciting to see the group take a trip from Bangkok to New Zealand in the blink of an eye with the new Virtual Reality experience, which was just one of the highlights of this year's IRTA. We also used another bit of technology that enabled us to address customer issues on biosecurity in real time and draft the next day's program to encompass the real-world challenges our clients face in their daily operations. These innovations to benefit our customers are just another way we always strive to be the preferred supplier of broiler breeding stock. We aim not only to supply the birds, but also the tools and knowledge to improve their operations and ultimately their profitability.