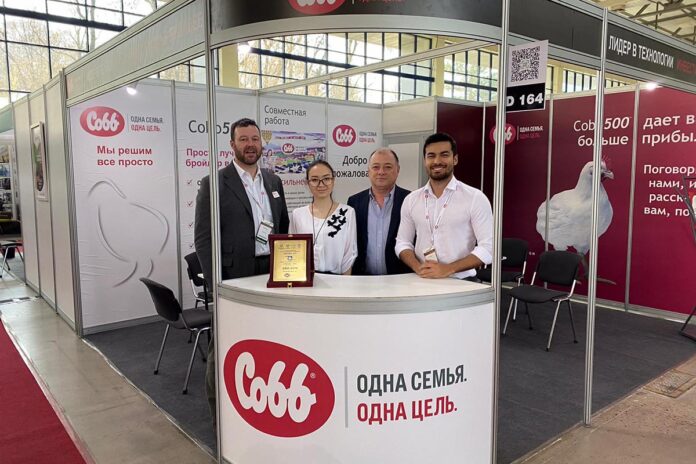 The Uzbekistan Managers Association recently honored Cobb Europe for outstanding contributions to the Uzbekistan poultry industry.
The association's accolades for Cobb come after the country saw significant growth in poultry production and consumption since 2017, with the expectation of Cobb playing an active role in future growth. The award was presented at the AgroWorld trade show, prior to the current COVID-19 pandemic restrictions.
Cobb sponsored a successful international poultry forum in Uzbekistan in November 2019, bringing together 200 leaders from 35 companies across 18 countries. Bakhodir Khashimov, chairman of the Uzbekistan Managers Association, said that the forum ultimately led to the association's decision to give Cobb its most prestigious award.
"This forum covered the ins and outs of poultry production from genetics, technologies, and veterinary issues, to feeding and conversion — and Cobb was a large part of that," says Khashimov. "It gave impetus for further development of poultry farming in Uzbekistan."
Khashimov shared that the forum led to several cooperation agreements being signed and an increase in interest from Uzbekistan poultry farmers to expand technology and equipment in their operations.
According to Abdullah Vahab, Cobb agent for Uzbekistan, parent stock poultry imports, production, and per capita consumption of poultry are all steadily increasing in the country.
"Exports have grown in Uzbekistan over the last 2 years and Cobb's market share has grown significantly in that time frame, as well," says Vahab. "We're also working within the Uzbekistan market to continue to expand domestic production to help meet the needs of the country."
The average annual chicken meat consumption grew from 2.4 kg per person in 2017 to 9 to 10 kg per person in 2019. Trajectories were high for 2020 as well, but due to COVID-19 quarantines the market stalled from an import perspective. Vahab is still optimistic for the future of the Uzbekistan poultry industry.