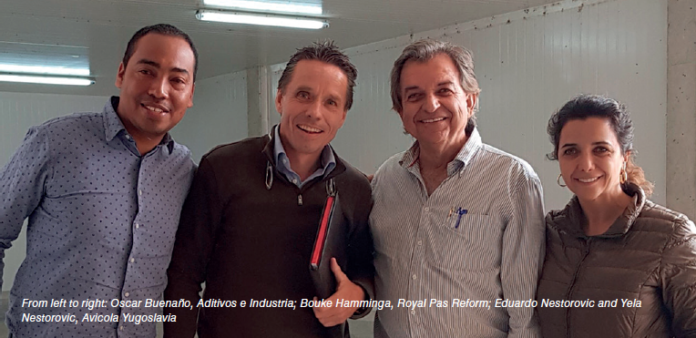 Avicola Yugoslavia, based in Trujillo, Peru, is the first broiler hatchery in Peru to work with SmartPro™ incubation solutions from Royal Pas Reform – as it renovates its current multi-stage hatchery to a completely single-stage facility to increase capacity.
The renovation includes SmartSetPro™ NF setters, operating on an existing 54-egg flat-tray platform, and SmartHatchPro™ hatchers, featuring a surround cooling system that will be fully integrated into the walls. In addition, the HVAC system will be completely overhauled – with air-handling units, ducting, pressure and temperature control, and Royal Pas Reform's new hatchery HVAC management control system, SmartControl™. The project will be multi-phase, allowing the hatchery to continue to operate at full capacity while renovation takes place.
Eduardo Nestorovic, Avicola Yugoslavia's owner, says: "This project, which will take shape over the next couple of years, will bring us to the forefront of modern incubation in Peru. We had been looking for a partner to work with us on this complicated renovation. A complete HVAC overhaul and a phased machine-replacement project is not an easy task, especially during the Covid pandemic.
"We are happy that we can bring the 'best of both worlds' to the project with Royal Pas Reform: changing incubation technology to single stage, while also working with the best standard in hatcher hygiene."
Oscar Buenaño, Royal Pas Reform's local Sales Director explains that working in Peru has been very challenging over the past year because of the Covid pandemic. "Our installation supervisors were not able to visit locally," he says. "We had to install the entire project through on-line support, which has rapidly brought our local technical team up to speed with such a situation. It has proven that we can achieve more than we think on-line and we are happy that we have succeeded.
"We see a great future with Royal Pas Reform in the Peruvian market and I am confident that this will be not just the first phase of our project with Avicola Yugoslavia, but also the catalyst for other relationships with hatcheries in Peru."