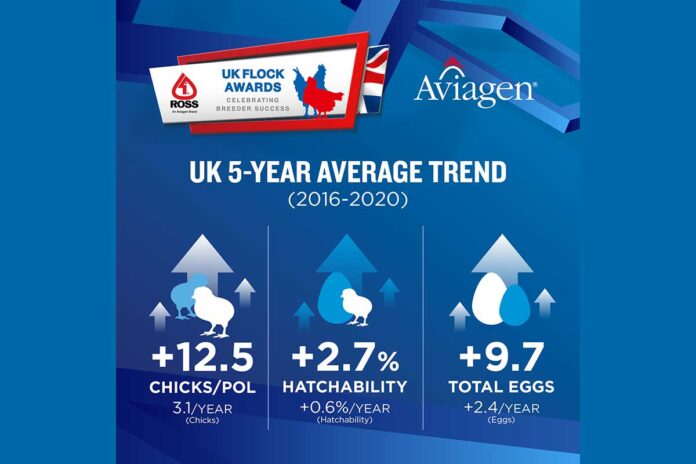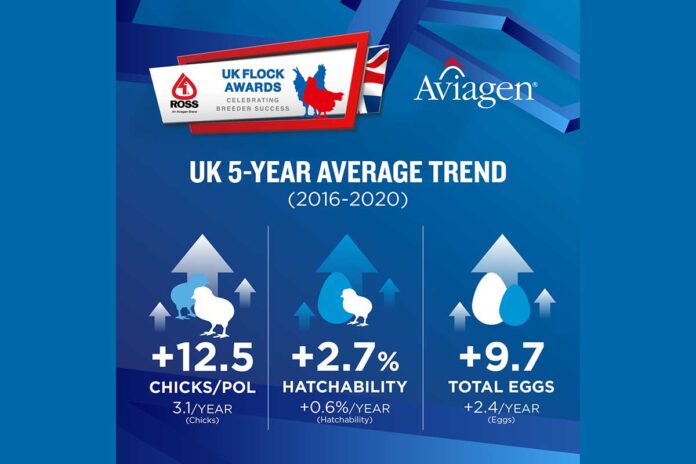 The Aviagen® UK team recently honored their 2020 Ross® Flock Award winners. Commercial and Technical Managers Niamh Molloy and Glenn Bushell arranged visits to personally congratulate them and present their awards.
Reaching the pinnacle of performance
The top nine 2020 Ross UK flocks scored a phenomenal average of 165.1 chicks per hen housed. This year's winners are part of a five-year average upward trend, which has seen improvements of an added 12.5 chicks per hen housed (HH) and 9.7 total eggs, along with, 2.7% greater hatchability.
Exceeding expectations
Blake Williamson, General Manager, Aviagen UK Limited, made the point that this year's Flock Award recipients actually exceeded the official Ross Performance Objectives, which is particularly impressive given the current challenges.
"During the height of the pandemic, our customers were on their farms every day, looking after their birds. They should all feel proud that, despite the many challenges the industry is facing, they have kept putting food on every table in the UK. I thank them for that, and celebrate their achievements," he said.
Blake also highlighted the environmental benefits of excellent Feed Conversion Ratio (FCR) as a result of Aviagen's balanced breeding, which reduces the feed needed to grow healthy, robust chicks. "If we look at the last 15 years, a half kilogram less feed is now needed to grow a 2.5-kilogram bird. That translates to 37% less agricultural land and 15% less greenhouse gases. Through the dedication and effort of our customers, our UK industry is able to feed the world in a much more sustainable way." You can listen to the full clip here.
Stuart Thomson, Head of Sales and Technical for Aviagen UK, agreed, "that it was due to the hard work, attention to detail and tending to those flocks 24/7 that enabled the genetic potential of Ross birds to shine. Our performance in the UK has gone from strength to strength, and our winners are part of that success. On behalf of the entire Aviagen team, I congratulate them for this amazing accomplishment. They are truly an inspiration to breeder growers in the UK and beyond." Stuart's video is available here.
The overall top flock award went to P.D. Hook Breeders North for an impressive accomplishment of 173.93 (chicks/HH), outdoing their 2019 winning result of 167.97 chicks/HH.