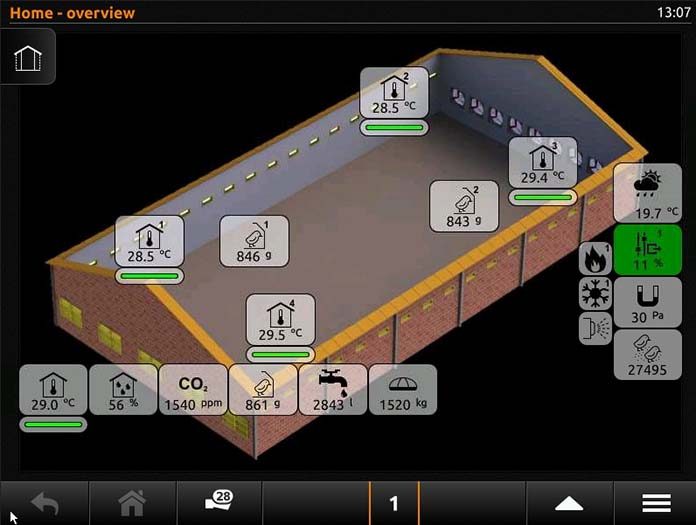 Hotraco Agri from Hegelsom in The Netherlands, has worked hard over the past year to further expand the innovative Fortica® system for poultry with new controls and imporved the Fortica®App. The renewed Fortica® was presented at the VIV Europe, in Utrecht. The full touch screen Fortica® is a powerful and extremely user-friendly poultry automation system for broilers, layers and parent stock. The Fortica® is able to control all the important processes in all possible barn types. So also free-range, colony and aviary housing. Unlike competing systems, all processes in the barn are controlled from one touch screen control computer. Climate control, ventilation, animal weighing, lighting, feed and water control, data management and – new in the Fortica®: nest control, egg counting and hopper feeding.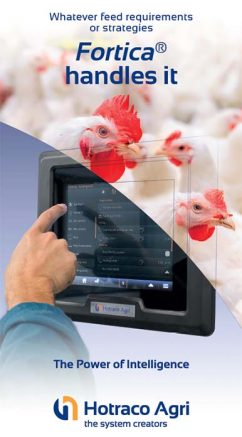 Nest control and nest monitoring for free-range and aviary keeping
With the Fortica®, a poultry farmer can train the animals by means of feed, water and light control with switched light timers, to go to the right floor and the right nest in the system, at exactly the right time. The nests can be controlled in two groups. By dimming different lighting controls in a specific order, the animals are sent to another floor. By automatically increasing the light intensity during the laying period, outdoor eggs are prevented. Additional functions such as daylight control and a winter garden control make the Fortica® truly an all-round system.
Egg counting
For free-range and aviary housing systems, egg counting is possible for both nest and cross belts. By accurately counting the eggs, deviations per barn and per group are immediately visible. Detailed and accurate information such as laying percentage, number of eggs per counter, identification of the laying source of the eggs – either out of the indoor laying system of outside nests – enables the poultry farmer to closely monitor the production and determine an optimal feed, water and lighting strategy based on the animal performance information.
Hopper feeding
The new hopper feeding control makes it possible to ration feed and is aimed at mother animals and rearing animals. By regulating the feed quantity and the feed composition for cocks and hens separately, a poultry farmer can bring his animals in an optimal condition, thus achieving a maximum number of hatching eggs and a high fertilization percentage.
Fortica®FreeFlow®
Fortica®FreeFlow® is an optimal ventilation system for free range houses with pop hole doors. It's the solution for three relevant problems experienced by poultry farmers:
condensation on the litter at pop hole doors,
a strong air stream at the pop hole doors when they are opened, which can reduce animal productivity,
optimal fresh air distribution in the poultry house.
Fortica®FreeFlow® runs on a positive pressure ventilation method when the pop hole doors are open. If local environmental requirements don't allow multiple exhaust points, it also can run on an equal pressure method.
Total control with the ForticaApp®
With the ForticaApp® it is possible to control and operate the Fortica® and all connected process systems via a smartphone, wherever the poultry farmer is. The ForticaApp® gives you complete control over every process. The Fortica®system enables poultry farmers to run their business in the best possible way. The ForticaApp® can be used on the mobile operating system Android and IOS