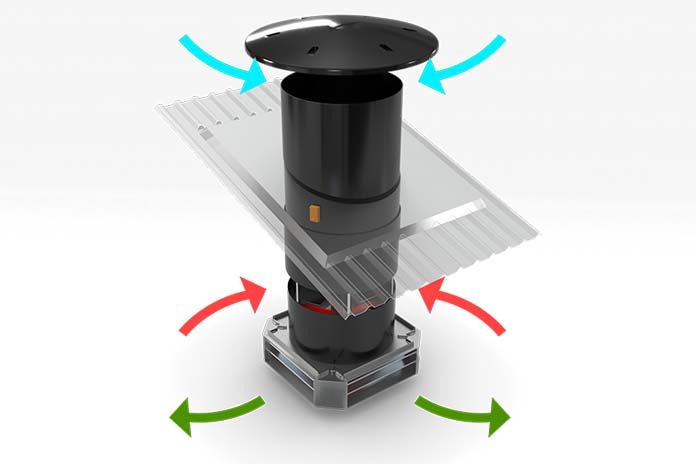 For over 35 years ITB Climate has been a specialist in the development and production of climate systems for pigs, poultry, calves and goats. New from ITB is the ClimaMix climate system for livestock housing with equal-pressure ventilation. ClimaMix is suitable for free-range housing for animals such as pigs, poultry and goats.
Optimum air distribution prevents cold, damp and draughts for animals
Accurate distribution of intake air is a vital requirement for a good climate in livestock housing. Optimum distribution of air with the correct temperature and humidity prevents cold, damp and draughts for animals. ClimaMix has been specially developed for equal-pressure livestock housing. The correct placement of intake chimneys and exhaust chimneys within the ClimaMix climate concept results in optimum temperature and air distribution throughout the whole housing unit. As ClimaMix keeps the pressure in the housing the same under all conditions, it prevents any problems when the exhaust hatches are opened.
Easy maintenance and cleaning with hinged distribution plate
ClimaMix consists of a reinforced fan housing with a distribution plate welded on to it. The distribution plate has a number of equal-sized compartments into which the air is blown with laminar flow. The climate concept has been designed so that the throw of the intake air is always perfectly adjusted to the housing dimensions. The distribution of the intake air in the building is therefore extremely uniform. Cold, damp and draughts are minimised. The animals distribute themselves optimally throughout the area and remain healthy and vital. As the distribution plate is hinged, the fan and distribution plate are easily accessible for maintenance and cleaning.
Air mixing system to preheat cold outside air
ClimaMix is completely made from HDPE plastic which provides long-term resistance to the extreme conditions in livestock housing. Thanks to the innovative click system, ClimaMix is also available as a construction kit that is easy to transport and simple to install. ClimaMix can be supplied with a motor-operated air mixing system; this can be used to preheat the air on cold days before it reaches the animals. This results in a constant pleasant climate throughout the whole year, which can have a positive effect on animal health and feed conversion.
You can find more information on the new ClimaMix climate system at www.ITBClimate.com