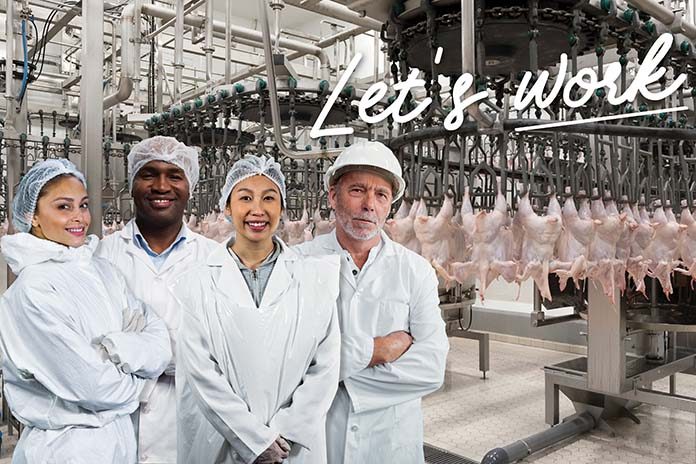 Meyn will participate in the International Production & Processing Expo (IPPE) 2019 which takes place in Atlanta, Georgia USA, at the Georgia World Congress Center from February 12-14. At the IPPE, Meyn will offer its latest technology in processing equipment from live bird handling to deboning for a wide variety of line speeds and bird sizes – allowing its customers to achieve a high level of productivity with minimal labor.
For the poultry processing industry, labor has now become a critical issue with rising poultry consumption while unemployment rates are low. Poultry processors around the world, especially in the US, face many labor challenges. During the trade show, poultry processors will discover Meyn's innovative solutions that address labor challenges such as labor shortage, labor safety, and quality & consistency of working. This year, our campaign slogan will be 'Let's work' meaning Meyn provides relevant solutions to help the customer with their labor challenges.
High level of productivity with minimal labor
Customers see unique benefits from this unrivaled deboning solution; it's still the only solution available that can harvest all fillets and tender products automatically at the highest capacity. The result is a significantly minimized dependency on labor skills and labor availability. The new Meyn Rapid Plus breast deboner M4.1 increases the capacity up to 7,000 bph while reducing the footprint up to 16%. The modular design and set up allow for an optimum TCO while saving up to 33 full-time employees per shift.
The Meyn Rapid Plus breast-deboning concept has been globally accepted and proven to be very successful. At the IPPE, Meyn will also present a sneak preview of the Rapid Semi-Automatic loading solution in addition to the Rapid Plus.
More consistency in poultry processing
Meyn provides the latest innovation for the Physic and Flex Plus cut up lines M3.0 for an unchallenged performance within numerous modules that can process up to 7,500 birds per hour. The new design of modules provides top performance both in accuracy and quality of cuts with a weight range increasing from 1.0 to 2.5 kg to 3.2 kg for grillers.
Labor safety at the processing line
The Meyn evisceration equipment has been optimized by implementing the new ECP 1.1 concept. All machines are now fully covered with safety doors for total enclosure. Therefore, in-feed guide adjustments can be made without opening the safety doors making for easier and safer operation at high-speed processing lines. In addition, fine-tuning adjustments can be made when the machine is running for maximum uptime and high yield.
Meyn welcomes all guests to IPPE 2019 at the Georgia World Congress Center, building B, at booth 5413.