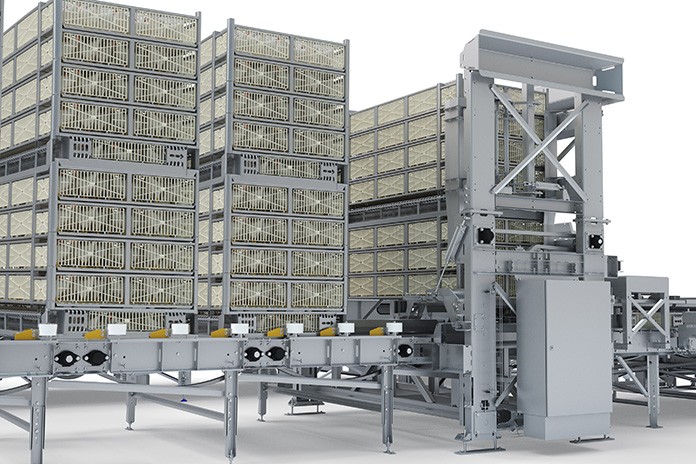 The new Stork ATLAS (Advanced Technology Live bird Arrival System) gives high attention to animal welfare, while increasing efficiency considerably. Thanks to the ingenious design of the container stack, loading capacity can increase up to 38%, which means less CO2 emission. At the same time, more space is available per bird.
In the supply chain, handling remains animal-friendly all the time; during transport and in the plant the birds stay calmly in their spacious trays. The plant logistics, such as lairage and de-stacking, have been organized to cause the least stress possible. ATLAS seamlessly integrates with CAS SmoothFlow stunning; trays are gently moved through the system. Only after having lost consciousness, the broilers are shackled to enter the process.
SmartStack
The Stork ATLAS live bird handling system features a technologically advanced SmartStack module, consisting of a revolutionary loadable pallet with a variable number of frameless trays (mostly three or four) on top of it. The clever design of this module increases the loading capacity up to 38%, which means fewer truck movements and therefore less CO2 emission. Making use of the same floor surface, SmartStack provides more space to each bird. Already at the farm, the module shows it advantages, having a large opening for easy loading of broilers in all tray levels.
Food safety
As the trays and pallets don't have any frame or any blind spots, they can be submitted to an easy but thorough cleaning in the specifically conceived, modular washing device. By upholding food safety and preventing cross-contamination, ATLAS sets new standards in hygiene. After the cleaning process, pallets and trays are restacked to compose complete SmartStack modules again, ready for a next round.
Marel Poultry is clearly anticipating upcoming developments in the poultry business. The Stork ATLAS system meets these criteria and is ready for future progresses; it runs with the latest Marel user interface and connects with the Innova production control platform. This can be the starting point of a plant-wide tracking and tracing system.
Experts have already acknowledged the remarkable characteristics of the Stork ATLAS system. That's why this advanced live bird handling system has won the EuroTier 2016 Innovation Award.