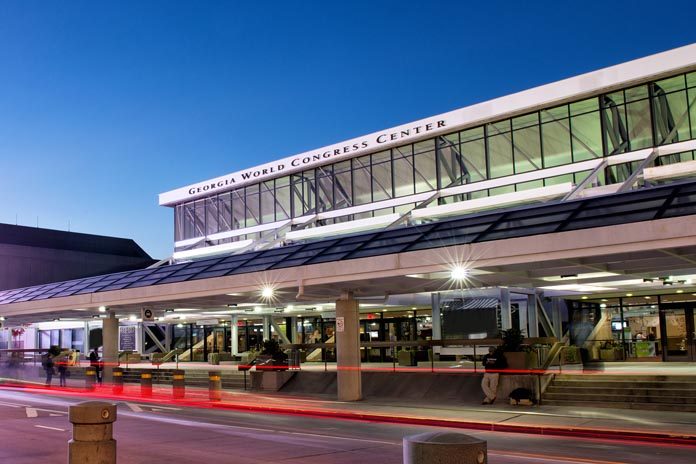 The 2018 IPPE show will bring together more than 1,200 exhibitors and 30,000 visitors in Atlanta, Ga. USA from Jan. 30 to Feb. 1, 2018.
The trade show focuses on Innovation – bringing together buyers and sellers of the latest technology of products and services to make companies' business successful, Education – learning from the experts in free – and fee-based world-class programs beginning Mon., Jan. 29, on topics that cross industry interests, Global Reach – attracting more than 8,000 International visitors from 129 countries, and Networking – meeting new and rekindling old relationships with leaders across the industries.
IPPE is a collaboration of three trade shows—the International Feed Expo, International Poultry Expo and International Meat Expo—representing the entire chain of protein production and processing. The event is sponsored by USPOULTRY, the American Feed Industry Association and the North American Meat Institute.
Show Times:
Venue:
Tues., 10 A.M. – 5 P.M.
Wed., 9 A.M. – 5 P.M.
Thur., 9 A.M. – 3 P.M.
Georgia World Congress Center
285 Andrew Young International Blvd NW
Atlanta, Georgia USA

AB VISTA identifies opportunities for incremental gains at IPPE 2018 – Hall C, Booth 2569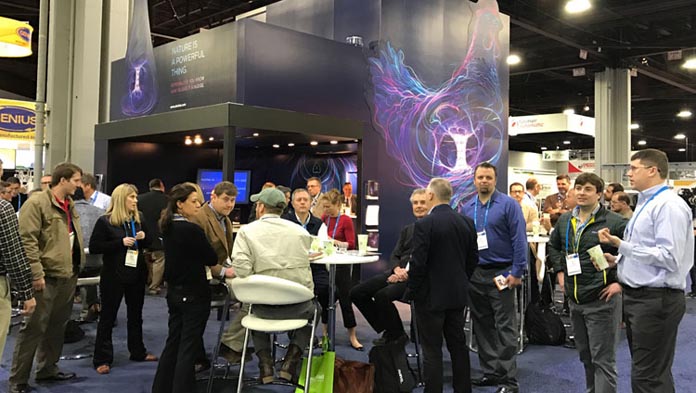 The phytase sector has seen substantial growth over the past 10 years. Traditionally phytase was used to release phosphorus, but now feed manufacturers are much more aware of the so called 'extra-phosphoric effects' that can be exploited from targeting complete breakdown of the phytate level of the diet. Within the enzyme sector as a whole, it may be that the secondary effects begin to be seen as being of equal importance as the primary effects, inositol release being one example.
Better knowledge of the limiting factors within the diet, be it anti-nutritional factors or variation within raw materials, can improve the way in which products such as phytase are applied, to tap into incremental gains that may otherwise be lost or not realised.
"Four or five years ago, people were using phytase to release phosphorus. Now we understand more about phytate and its influence on nutrients, as well as animal performance, and we can formulate diets based on more complete phytate destruction and provision of nutrients beyond phosphorus."– Carrie Walk, Senior Research Manager, AB Vista.
Phytate is present in all plant-based feedstuffs and is known to bind with proteins and minerals in the diet, reducing digestibility and utilisation of important nutrients supplied. An improved understanding of the phytate level within diets can provide a better picture of what is going on within the animal, helping producers to manage any anti-nutritional effects.
When using a phytase with high phytate affinity such as Quantum Blue, several options for phytase application are available depending on whether the end goal is to increase performance or reduce feed costs. Having an understanding of the phytate level opens up more opportunities for producers to apply phytase and extract even more value from their feed.
At AB Vista we work with you to evaluate the phytate level within your feedstuffs, offering advice on how to extract even more value from your phytase.
To find out how AB Vista can help you identify margin opportunities across your production process, visit the AB Vista stand (C2569) at IPPE.
Global Reach, Local Touch and product diversity featured at AVIAGEN booth – Hall B, Booth 6721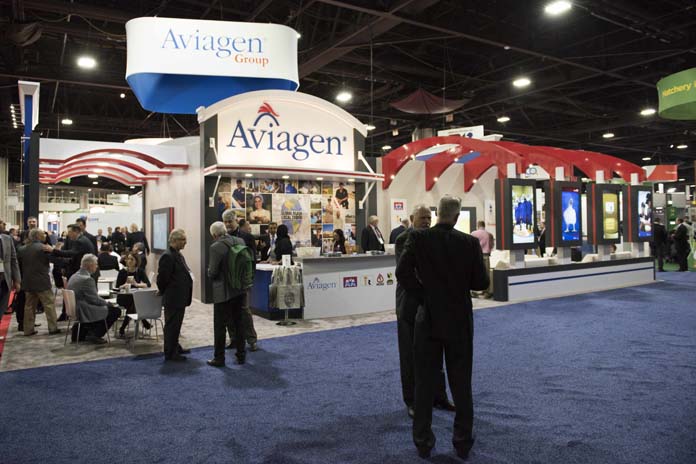 At IPPE booth, global poultry breeding company Aviagen® will feature its full line of products uniquely bred for the best performance, health and welfare.
From the traditional Ross®, Arbor Acres® and Indian River® brands, to the Specialty Males® and slower-growing Rowan Range®, Aviagen has the right product to meet the breadth of consumer needs worldwide. Aviagen's Global Reach, Local Touch theme illustrates the worldwide presence of the company, coupled with its sharp focus on the success of local customers and communities.
AVIAGEN TURKEYS – Hall B, Booth 6727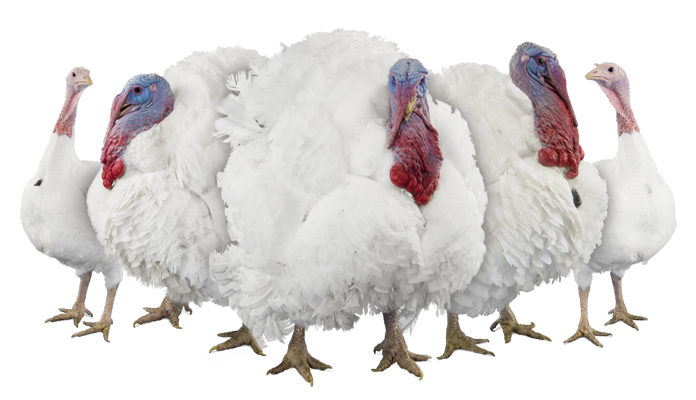 Aviagen® Turkeys is the premier primary breeding company developing pedigree lines for the global turkey industry. Visit the Aviagen Turkeys team in Hall B, Booth 6727 to discuss the industry leading performance of Nicholas and B.U.T. turkeys.
The Nicholas Select excels in meat yield, weight gain and feed conversion. It provides the best economic returns for both live production and processing operations.
The B.U.T. Big 9 combines growth, meat yield and liveability for a turkey that grows well in a range of climates. For more information please visit www.aviagenturkeys.us
BÁBOLNA TETRA – Hall B, Booth 7131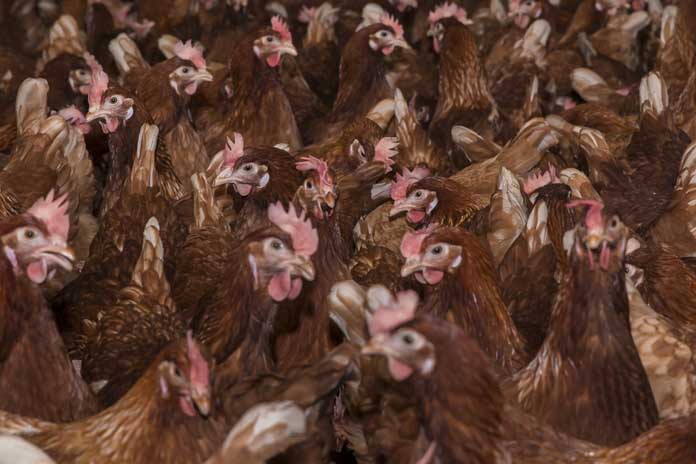 Bábolna TETRA Ltd. will participate at IPPE 2018 in Georgia World Congress Centre, Atlanta, between January 31st – February 1st, 2018. The company is ready to introduce and promote its new white layer, TETRA L SUPERB, which has high egg production, balanced behaviour and low mortality and planning to captivate new and existing markets.
The new generation of TETRA-SL LL, brown layer is living up to the expectations of small farmers as well as market leader egg producers around the globe.
Bábolna TETRA Ltd. is aiming to increase their market share of brown egg layers in various management systems in the USA and in Latin-America. In the last years, international and expanded field test results are clearly shown that TETRA layers have outstanding natural resilience against management and environmental disorders, egg production and quality as well as FCR is competitive to any other brands on the current market.
The 50-year-old layer breeding company offers a bird for every market and management systems, along with an effective technical support in more than 40 countries. The friendly and professional sales team will be delighted to meet new and existing partners in Hall B, Booth 7131.
COBB drives the Industry forward – Hall C, Booth 1953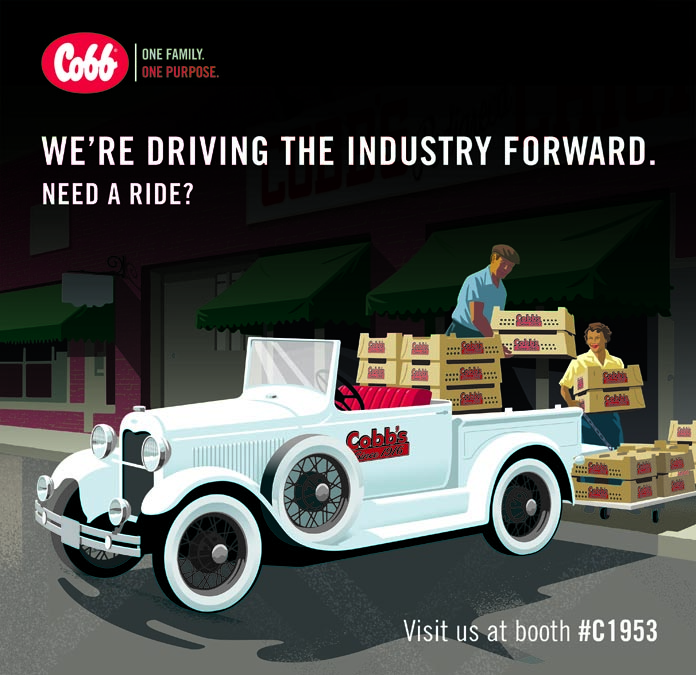 Cobb-Vantress, Inc. makes quality protein accessible, healthy and affordable worldwide. Learn more about Cobb-Vantress and how we use research and technology to innovate the global poultry industry at IPPE 2018. Be sure to look for our restored replica 1929 Ford Model A chick truck that will be displayed at the show.
Come by booth #C1953 and meet our superior technical service and sales professionals who can tell you how well Cobb-Vantress broiler breeder products consistently perform in the crucial areas of meat yield, feed conversion and time to processing.
With headquarters in Siloam Springs, Arkansas, Cobb-Vantress is the world's oldest pedigree broiler breeder. We distribute poultry to more than 120 countries and operate globally through four business units: North America, South America, EMEA and Asia-Pacific.
For more than 100 years, Cobb-Vantress has used genetic selection to improve our products for optimal broiler breeder production, reduced environmental impact, superior health and well-being. Genetic progress is the foundation of sustainability and is supported through improved feed conversion, better bird welfare, improved meat yield and a more robust broiler.
Animal welfare and proper handling is the foundation of our training programs, our husbandry methods and the breed selection at Cobb-Vantress. Caring for chickens is a passion for our team members and farmers. We have ethical requirements for the daily care, health and well-being of our chickens. Optimal bird health is a critical component of the welfare of all the chickens at Cobb-Vantress farms and hatcheries. We strive to produce chickens that are robust, healthy and disease-free.
CORTI Zootecnici – Hall B, Booth 8927
Amongst the 14 standard nipple drinkers offered by Corti (Booth B8927), the new 4004 is the one set to have the front line. This full-metal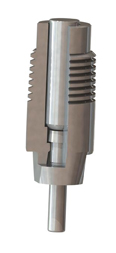 drinker, developed to offer the lowest opening force possible at 1 (one!) gram, has also been fine tuned to be able to work with higher water columns and deliver water flows up to 120 cc/min, making it a perfect fit for all the life stages of your flock.
As all our drinkers, the 4004 is offered both trayed or as part of assembled drinking lines, making Corti the one-stop-shop for drinking systems. Moreover, as the whole Corti product range (including drinkers, pressure regulators, piping and fittings), the 4004 comes from a single productive centre in Italy handling from design, prototipation and tooling to final assembly and testing. This means that beside rapid handling of the orders also an efficient product customization is possible, with our custom-specs drinker being something worth learning about for all poultry systems integrator.
GASOLEC B.V – Hall C, Stand C3131 

Gasolec B.V. is participating at IPPE 2018 through its sister company Gasolec America Inc.They have a booth in Hall C, Stand C3131.
Visitors from all over the world are of course welcome there
GIORDANO Poultry Plast – Hall B, Booth 8330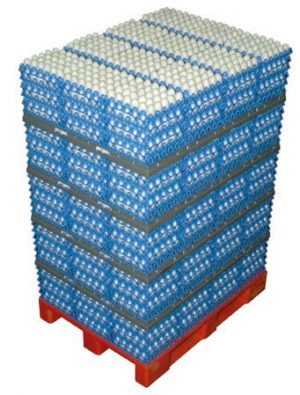 Giordano Poultry Plast (www.poultryplast.com), a leading multinational plastic moulding company, specialized in the production of poultry equipment, will be present at the upcoming edition of the professional exhibition IPPE 2018, which will be held in Atlanta, at the stand n. 8330 – Hall B.
Established in 1962 under the name of Avicolplastica and since 1974 as Giordano Poultry Plast, a handicraft company specialized in plastic equipment for poultry farming, the company has grown regularly over more than half a century to reach a very international dimension, both in sales and in production.
The product range, probably the largest in the world dedicated to professional poultry sector, covers all areas of production, from livestock to transport, from incubation to vaccination, to the handling of final poultry and egg products. The innovative use of plastic material has provided significant added value to the company's production, in terms of practicality, lightness, environmental sustainability, hygiene. To these advantages, new innovations have recently been added, such as the ability to electronically trace some equipment at the poultry farms' interior or the addition to plastic materials of active antibacterial ingredients.
The headquarters of the Company is located in Italy, in Caraglio (CN), where more than 80 people are employed, the production subsidiaries are in Mexico, Argentina, Egypt and Malaysia. The Giordano family totally controls the group, with Osvaldo Giordano, President and sons Oscar and Enrico, Managing Directors. 95% of the group's production is exported to more than 65 countries.
HENDRIX GENETICS – Hall C, Booth 1941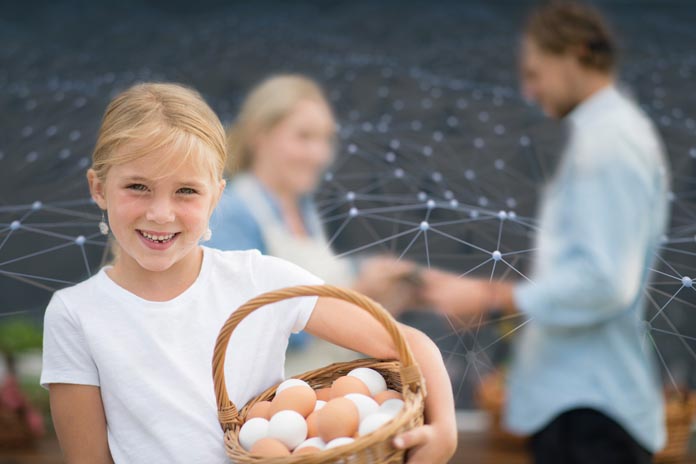 Hendrix Genetics invites you to our booth at IPPE where we will be exhibiting all genetic brands for turkeys (Hybrid Turkeys), layers (Dekalb, Shaver, Bovans, ISA, Hisex, and Babcock), and traditional poultry (Sasso). Members of our global team, including sales and technical service representatives, veterinarians, and senior management will be waiting to greet local and international guests. We will be available to discuss our ongoing investment in the industry and dedication to supplying quality genetics throughout the value chain. Recent trends, such as antibiotic free and cage free production, have opened up new areas of opportunity. Experts will be on hand to discuss how our genetics can help you meet the growing demand. Hendrix Genetics strives to create value for the animal protein value chain through constant innovation, collaboration, and continued focus on sustainability. Come see us to find out more about how this can apply to your business.
HUBBARD Conventional and Premium; Your Choice, Our Commitment! – Hall C, Booth 2541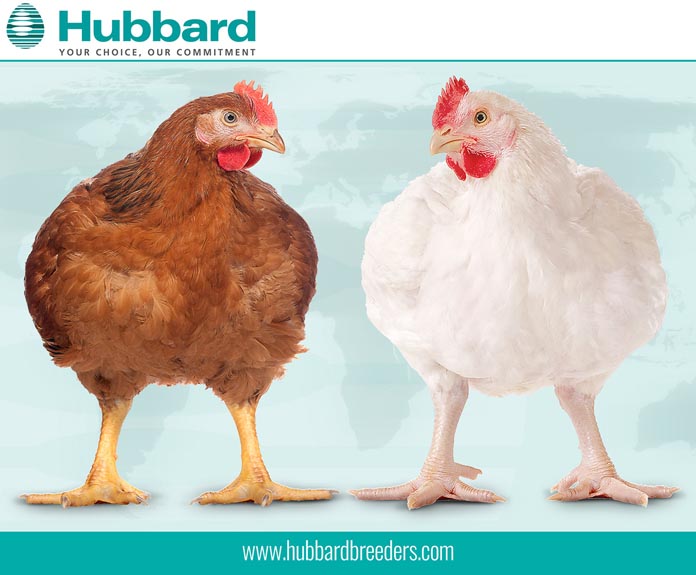 Hubbard, global leader in the Premium market, offers a wide range of products with color differentiation, slower growth and excellent robustness allowing its customers to respond to changing consumer demand for higher animal welfare standards and quality.
Hubbard's Conventional product range is highlighted by its highly productive Hubbard Classic female and the Hubbard M99 male, tested best in class for feed conversion. The recently introduced Hubbard M22 yellow skin male provides high breast meat yield for debone markets.
HY-LINE International – Hall B, Booth 5933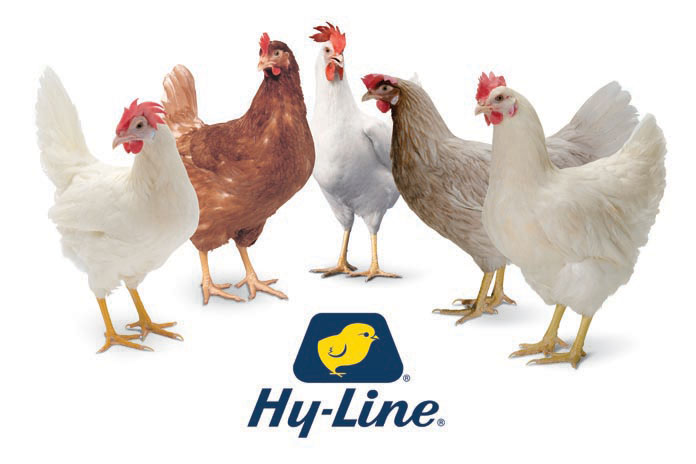 Hy-Line International, the world leader in layer poultry genetics, has completed a $2.5 million expansion of the Dr. Dennis Casey Research Farm, increasing the farm capacity by 50 percent. With this major investment and significant expansion, Hy-Line now extends the evaluation of top pedigree birds for genetic selections.
Hy-Line's team of geneticists is making the genetic engine more powerful and more efficient. The farm expansion increases the population of research birds from which to identify the top performing individuals to keep as breeders for the next generation.
As a result of improved selection intensity, Hy-Line varieties are gaining increased egg numbers, persistency, shell strength, egg weight and feed efficiency. Visit us at IPPE, Hall B, Booth B5933 to learn more.
JAMESWAY – Hall B, Booth 6745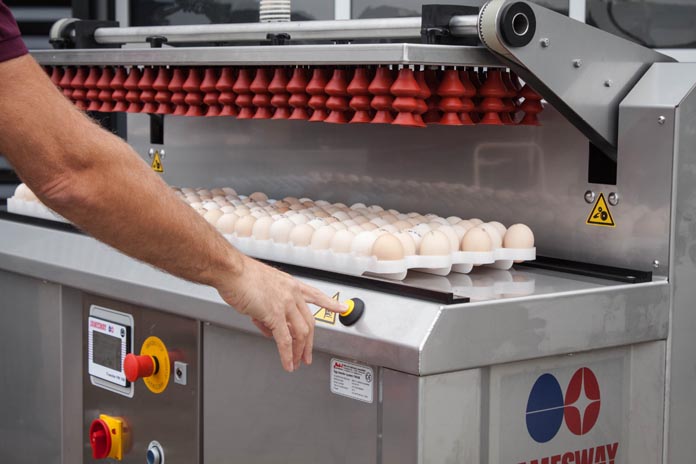 A Worry Free Hatchery is a state of mind. It is knowing that your equipment is solid, that your HVAC is efficient and that your embryos are nestled in the perfect environment. Jamesway is the partner you need to hatch quality chicks with complete confidence.
Our booth at IPPE will feature our Platinum 2.0 Single-Stage machine: the most reliable and easy to use incubator on the market. It includes many features as standard: a complete set of racks, S.P.I.D.E.S. capability in every machine and outstanding maintenance. Also on display will be some of our Plug and Play solutions for your Automated Hatchery.
MAREL POULTRY launches Nugget Line, ATLAS and more at IPPE – Hall B, Booth 4321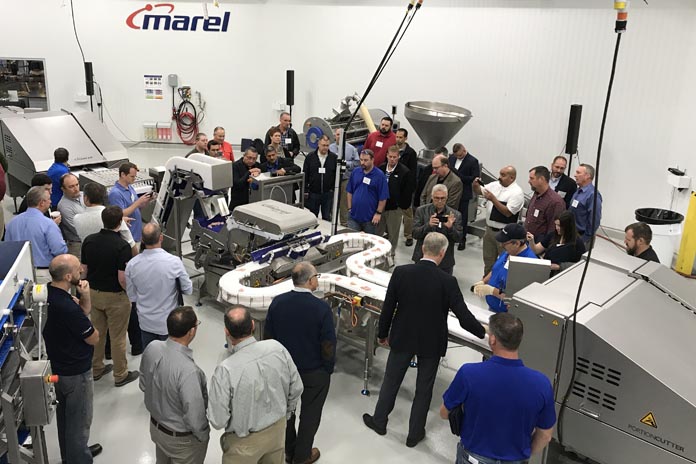 Advancing poultry processing to the next level
At the 2018 IPPE expo, Marel Poultry, proven global market leader in poultry processing solutions, will launch many innovations, all of them designed to make life easier for processors and add value to their processes. A world's first is the Automated Nugget Line, which will surely be warmly welcomed in the homeland of the nugget.
Marel Poultry has developed the integrated Automated Nugget Line to facilitate machine-driven whole muscle nugget production. The system consists of an I-Cut 122 which cuts fillets into strips. Next in line is the SingleFeed to singulate the strips. The brand new Marel StripPositioner plays a crucial role in the process; it rotates incoming strips 90 degrees and spaces them appropriately so they are in the perfect position for the second I-Cut 122. This portion cutter will then take care of optimized nugget portioning. Marel Poultry's automated cubing solution is truly "a cut above" and saves considerable labor.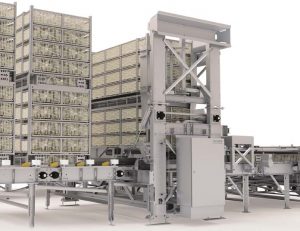 Animal welfare
At IPPE, Marel Poultry also launches its Stork ATLAS live bird handling system in the USA. The complete configuration features destacking, washing and restacking, but the heart of the system is the technologically advanced SmartStack module, which not only gives high attention to animal welfare but also increases efficiency significantly. While providing more space to each bird, the cleverly designed SmartStack increases loading capacity, which means fewer truck movements and therefore less CO2 emission. By upholding food safety and preventing cross-contamination, ATLAS also sets new standards in hygiene. At Marel Poultry's IPPE booth, the ATLAS showcase will be combined with a CAS SmoothFlow controlled atmosphere stunning application, showing the harmonious integration of both solutions.
Perfectly batching large products
Another first for the USA is the brand new MHW Medium. It's the latest, largest and smartest member of Marel's multihead weigher family. Featuring 20 heads, it can be used for packing fresh, sticky poultry parts into fixed-weight batches. The MHW Medium is particularly fit for the US market, as it can batch bigger breast fillets, thighs, drumsticks, wings, tenderloins and nuggets. The new screw design ensures correct singulation; products cannot stick to each other. With only one product in each hopper, it is much easier to make perfect fixed-weight batches, resulting in fewer rejects and higher throughput. 
MEYN innovates the future at IPPE 2018 in Atlanta, USA – Hall C, Booth 1617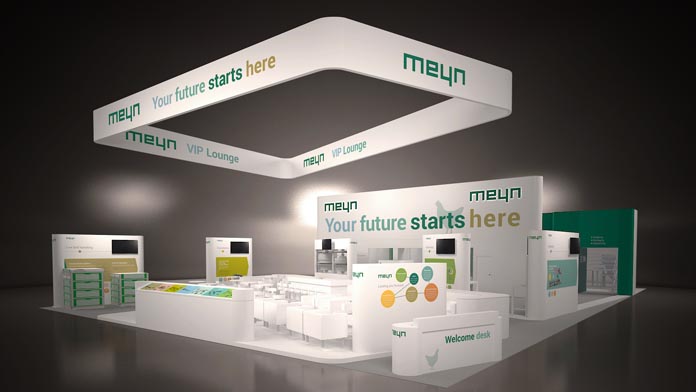 Meyn, the market leader in poultry processing solutions, will present in hall C with stand number 1617 a grand total of 8 world premieres.
Meyn Grande Drawer system (world premiere)
The newest, easy-to-use and animal welfare friendly live bird transport solution. Drawer system, designed for the highest line speeds and with an unrivalled headspace of 255 mm for the birds.
Meyn EVO US container (world premiere)
Especially designed for the US market. Can be integrated with most commonly used US arrival systems and ideal in combination with the Meyn Multistage CO2 stunning system.
Meyn Multistage CO2 stunning system with CO2 reclaim option (world premiere)
The most animal welfare friendly stunning method. Eliminates live bird handling from the processing plant and reduces wing damage. Diminishes CO2 consumption with 80%.
Meyn automatic feet selection (world premiere)
Meyn Automatic Feet Selection System provides a fully automated process complete with camera and product sensing equipment, and now complemented by an automatic ejection machine. Grading and sorting takes place in real time, and animal welfare data is captured to comply with local regulations.
Meyn Vent cutter 240 (world premiere)
The Vent Cutter 240 uses a non-rotating bushing technique that protects the knife from cutting into the intestines during vent extraction. Cutting capacity is 8,000 to 13,500 bph on a 6" pitch, using a spring-loaded mechanism. With simple adjustment for varying bird weights and sizes.
Meyn Opening machine 240 (world premiere)
The Opening Machine 240 ensures consistently low contamination during evisceration, via an innovative 'swivel' movement of the scissors that moves the scissors away from the intestinal pack. The up and down movement of the scissors results in an excellent cut for a wide variety of bird sizes.
Meyn WLD whole leg deboner M3.0 (world premiere)
Meyn's WLD whole leg deboner M3.0 simultaneously processes left and right anatomical legs with or without skin at a capacity of 4,200 legs per hour.
Meyn Connect (world premiere)
Meyn Connect is a software platform that integrates data from multiple sources and combines it into consistent information that supports multiple tasks. Information is related to order data (quality, number and yield); to operation (e.g. lot status or performance); and to equipment (status and availability).
Visitors are welcome at the Meyn pavilion. A pavilion that has been redesigned to match the new Meyn corporate identity. Highlights include Meyn Academy and Meyn Service. Meyn customers are welcome in the VIP Lounge.
Commenting on the importance of IPPE, Robert Bertens, CEO of Meyn Americas said, "Market conditions continue to be favourable in our industry. Our exhibition slogan for this year is 'Your innovation starts here', which means we present implement changes and innovations."
PAS REFORM Hatchery Technologies – Hall C, Booth 2165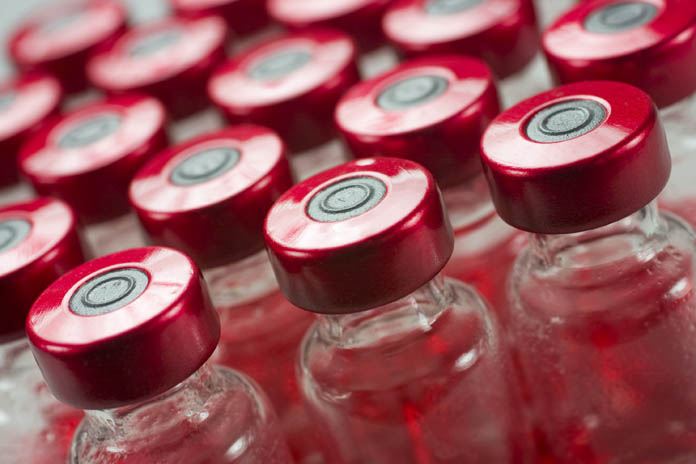 Pas Reform is an international company, which has specialized in the development of innovative hatchery technologies for the poultry sector since 1919. Today, the company is the world's only single-source supplier of fully integrated hatchery solutions.
Recently, Chicago-based Koch Foods, the USA's 5th largest poultry integrator, has chosen Pas Reform and NatureForm to completely renovate its Henagar hatchery in Alabama. When completed, Henagar will be the largest fully integrated, single stage broiler hatchery in the Western Hemisphere.
Pas Reform and its US partner, NatureForm Hatchery Technologies, will install 84 SmartSetPro™ setters with a capacity of 132,192 eggs each and 92 SmartHatchPro™ hatchers, each with a capacity of 22,032 hatching eggs, to create a weekly setting capacity of more than 3.7 million eggs.
Sanofi Pasteur contracts NatureForm for new 'flu vaccine facility in Pennsylvania
Sanofi Pasteur, the world's largest dedicated producer of human vaccines, is to build a state-of-the-art new vaccine production facility with SmartPro™ NF incubation systems at its campus in Swiftwater, Pennsylvania. With 10 incubators built to exacting pharmaceutical standards, the new facility will have a total incubation capacity of more than 2.5 million eggs and is expected to be operational in 2019.
Pas Reform very much looks forward to welcoming its clients and visitors to the booth 2165 in Hall C and to showing how Pas Reform can positively influence the hatchery's future.
PETERSIME – Incubators & Hatcheries – Hall B, Booth 7145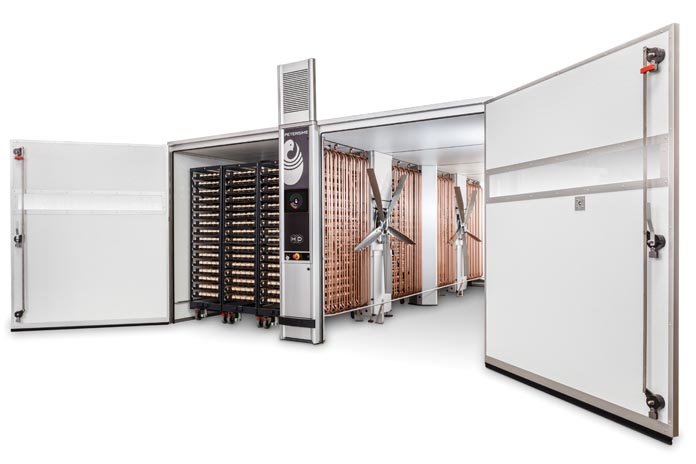 Petersime provides world leading incubators, hatchery equipment and turnkey hatcheries aligned with the expertise and support to maximize return on investment. Through the Operational Excellence Programme™ Petersime provides best practices support on every operational level and becomes a partner for life for its customers. Headquartered in Belgium with offices in Brazil, China, Russia, Malaysia and India and a worldwide sales network, Petersime commits to a dedicated customer service.
Visit Petersime at Stand N°7145 (Hall B) where they will spotlight several recent enhancements to their hatchery equipment and vast service portfolio 'Customer Care CommitmentTM'.
Quadradiant infrared heater, cutting-edge performance & profitability by ROXELL – Hall C, Booth 1633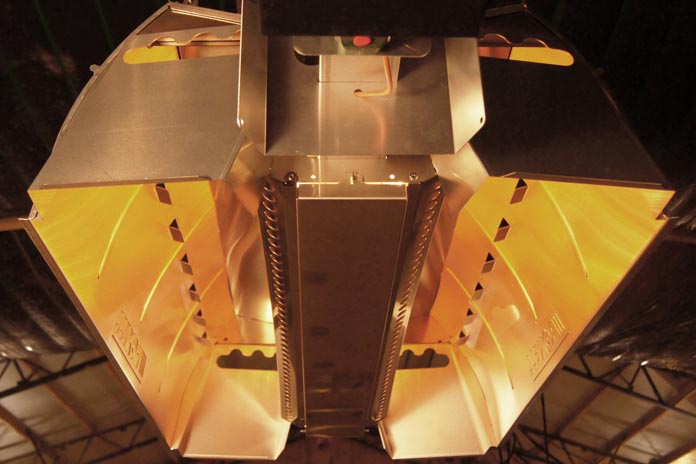 Roxell's new Quad-Glow 100 sets the standard high for the heating of poultry houses. Quad-Glow 100 is able to heat a larger floor area from 50°F to 90°F (10°C to 32°C) in 13 minutes or less – faster than any other systems. This translates to less operation time for your heaters and lower fuel consumption.
Further, the attained floor heat pattern of the Quad-Glow 100 is larger in size and deeper in penetration than anything else on the market. You get more usable floor area and heat is retained longer. All this results in a winning combination: increased savings, better bird performance and increased productivity. Visit us at IPPE 2018, Atlanta, Booth C 1633.
For more information, click here 
LinkedIn: https://nl.linkedin.com/company/roxell
Twitter: https://twitter.com/roxell_belgium
SANOVO TECHNOLOGY GROUP – Hall B, Booth 7925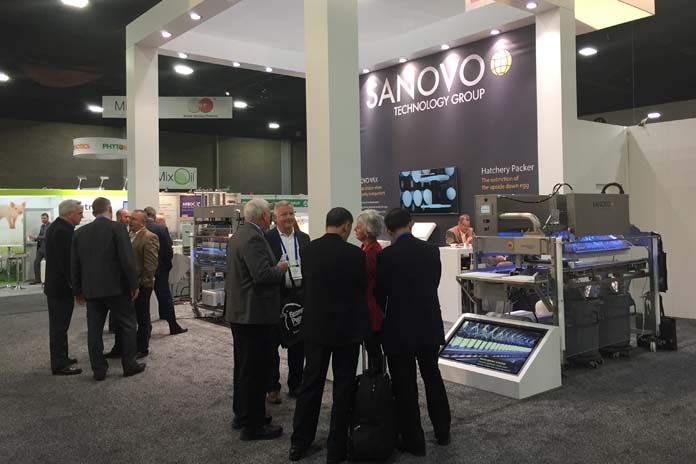 SANOVO TECHNOLOGY GROUP is the Global Leader in egg handling and processing. Our automation and expertise accumulated over 60 years is also available in the Breeder-Broiler Sector. SANOVO's in-ovo machine "SANOVO VAX" offers the coveted "Clean-Technology" for the Hatchery, while our SANOVO Hatchery Packer for the breeder farm is widely recognized as the gold standard for "Gentle-Handling" of the hatching egg.
Pay us a visit at booth B7925 in hall B where we will exhibit a Hatchery Packer with Farmgrader and UV detection.
TPI-POLYTECHNIEK – Hall B, Booth 7478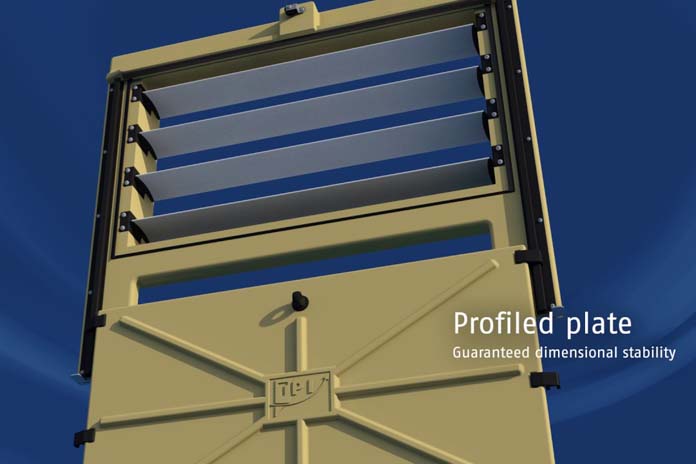 Specialized in high quality polyurethane ventilation components TPI products
offer unique insulation values. With more than 20 years of experience and our own production facilities we can offer high-end products and provide valuable strategic advice to our partners.
Whilst being active all over the globe here at TPI we take the time to help all our partners with suitable and personal advice. Together we aim to create a perfect climate for the animals. Come visit us at booth B7478 in Hall-B and let's talk ventilation and innovation!
TWINPACK Special Products – Hall B, Booth 8330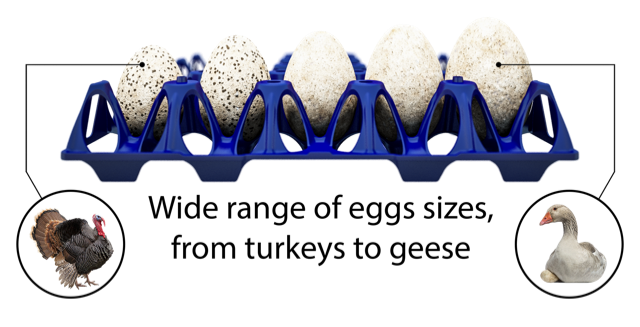 During the IPPE 2018 Atlanta Twinpack Special Products (booth B8330 – hall B) will show its latest innovations. Beside the existing EggsCargoSystem®, the company will showcase the new Jumbo 2.0 egg trays. The Jumbo 2.0 is designed for larger (hatching) eggs and the tray is 100% compatible with the pallet and divider of the EggsCargoSystem®.
Twinpack Special Products will also introduce its latest egg tray innovation, the XXL 20 egg tray. This tray can carry eggs from turkey to geese. The XXL tray is compatible with the EggsCargoSystem® pallet. This new tray has been studied for hatcheries that need to transport these kind of eggs from farm to hatchery.
Eggyplay® consumer packs are dedicated to retailers. Eggyplay is a plastic egg pack for eight eggs based on the Lego® principles. Eggyplay® is available in various colours and is highly attractive for young children. For the full range of products, you can visit www.twinpacksp.com
VAL-CO – Hall B, Booth 6527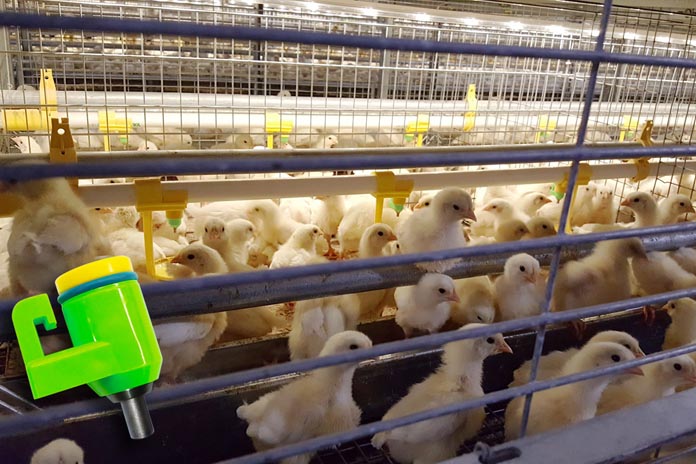 VAL-CO's 2018 IPPE Booth (B6527) is set to feature all of our newest products, as well as some classics. This year, we will be showcasing the new ATLAS™ curtain machine that can lift up to 4,000 pounds (1.814 kg), the new Aurora™ IR low-profile brooder that has a total height profile of just 10.8 in. (27.4 cm), and our newest drinker, the Aqua-V™ PFA, designed for young layer pullets to drink more comfortably.
The company is also showcasing its popular fiberglass fans, its newest fan – the Z-Fan, and the Comfort Nest for breeders, featuring extra wide nest holes.
Visit us at Booth #B6527 & B6521, or at www.val-co.com.
VOSTERMANS Ventilation – Hall C, Booth 2927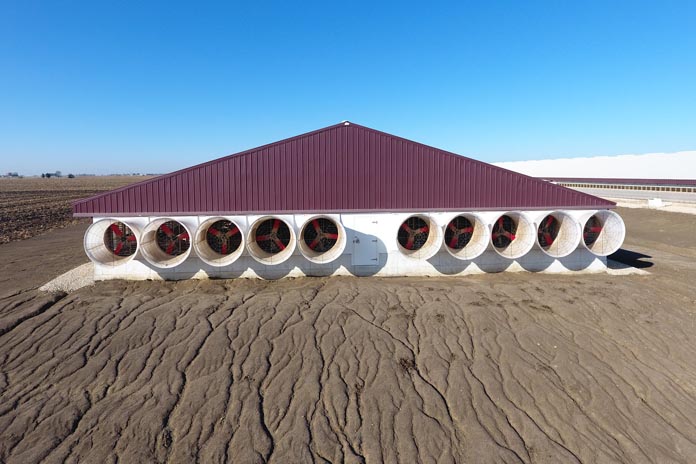 Looking for Vostermans Ventilation Inc. at the IPPE? Visit our Multifan dealer INDIV at hall C Booth 2927. Highlighted will be our very efficient Multifan Fiberglass Cone Fan Vplus.
The Vplus is Vostermans Ventilation's most energy efficient fan technology. The permanent magnet technology and extreme efficient fan controller result in more than 85% energy savings. The steeples controller enables precision ventilation for exactly the amount of air you need.