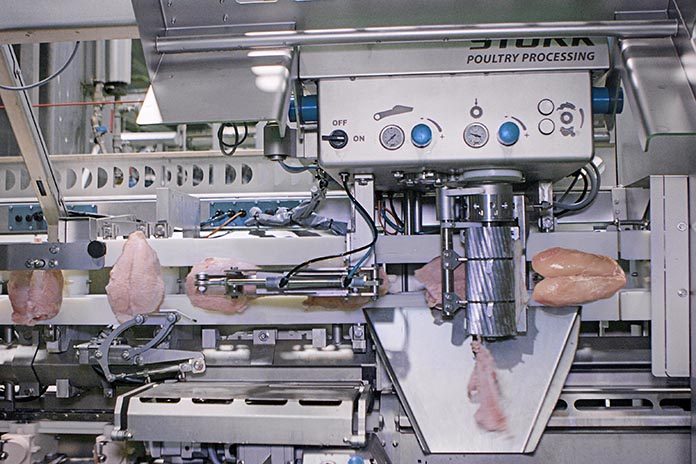 28 to 30 January 2020, during the IPPE exhibition in Atlanta, Marel Poultry will focus on automation advancements and new solutions that can help transform poultry processing in all aspects of the factory.
A world's first – AMF-i Heavy-Duty filleting
Today's broilers are getting bigger and heavier. This is an unstoppable trend with quite some consequences for poultry processors. They have to adapt their systems to heavier weights and larger products such as breast fillets. Marel anticipated this trend by developing its AMF-i HD solution, an intelligent breast cap filleting system suitable for today and future broiler weight ranges. Compared to a regular AMF-i, AMF-i HD's processing range at the top end shifts upwards. The heavy-duty system incorporates AMF's high intelligence, including the measuring system, to which all downstream module settings will adapt. In this way, it can cope with a wide variety of uncalibrated breast cap weights. IPPE will be the occasion for Marel to show the AMF-i in public for the very first time.
Animal well-being
Marel Poultry also has on display its revolutionary ATLAS live bird handling system. The technologically advanced SmartStack module not only gives high attention to animal well-being but also increases efficiency considerably. Combined with CAS SmoothFlow anesthetization, a well-proven, multiphase concept that enhances animal well-being and product quality, processors have a solution that benefits everyone.
Robotization and digitization
Robotization and digitization of the poultry industry are on everybody's lips today. Marel's Innova software platform turns poultry processing into a data-driven process. Sensors on virtually every machine in the line, together with weighers, scanners and vision graders gather all kinds of data to enable traceability, production control, quality control and performance monitoring (OEE). By linking together virtually all machines in the plant, Innova empowers processors in their digital transformation journey to get the most out of their operations.
This transformation journey also includes automation of human tasks, possibly using robots. The Multihead Weigher Large and the RoboBatcher, both on display at Marel's IPPE booth, are perfect examples of automated batching and packing solutions.
More automation
The increasing shortage of skilled human workforce drives the need for automation of operations in a poultry processing plant. Thigh filleting is such an operation that originally required much skilled manual labor. Marel's Thigh Fillet System succeeds wonderfully in mimicking mechanically the human actions, at high speed with maximized yield and consistence.
Once deboned, breast fillets and thigh fillets may contain occasionally some tiny bone particles. For humans, it is impossible to detect these bone remnants, as well as other contaminants such as metal, stone and glass. This process has to be automated too. That's exactly what the Marel SensorX machine does, by using cutting edge X-ray technology.
High-quality convenience products
Furthermore, Marel demonstrates having plenty of solutions for convenience food processing. One of these solutions for creating attractive added-value products is the flexible RevoBreader. This dual-mode machine is the ultimate solution for applying a high-quality coating to home-style and homogeneously coated products.
More information: marel.com/poultry