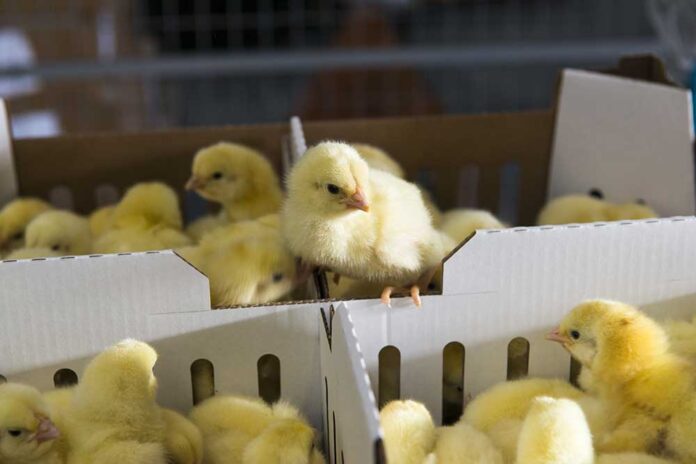 Securing the global food supply is of prime importance to the health and well-being of people in communities around the world. However, international poultry trade is often threatened by challenges such as avian diseases, trade restrictions, natural disasters, political unrest and even a global pandemic, which we are still experiencing. And often, many of these challenges can come at the same time.
At Aviagen®, we are prepared to face these hurdles head on with well-defined value chain strategies. We have identified Health, Food Safety and Food Security as #1 of our Top 5 Commitments, which are key to our mission of helping our customers – the world's chicken meat producers – put food on every table of families in Europe and around the world. These Commitments are in harmony with the top five United Nations Sustainable Development Goals (SDGs) that the International Poultry Council (IPC) highlighted as areas where the global poultry industry can have the most impact. The goal is a better and more sustainable future for all, which we target with our Breeding Sustainability theme. (Learn more by engaging with this Committed to Breeding Sustainability interactive presentation)
#1 Biosecurity
Disease prevention is fundamental to our business and begins with biosecurity, which is essential to poultry breeding and trade. In order to keep harmful pathogens away from our flocks and protect our birds, every part of our operation must follow the highest standards of hygiene. Our biosecurity programme meets and exceeds official regulations for domestic and international trade, and we believe it is a key element to promote food security.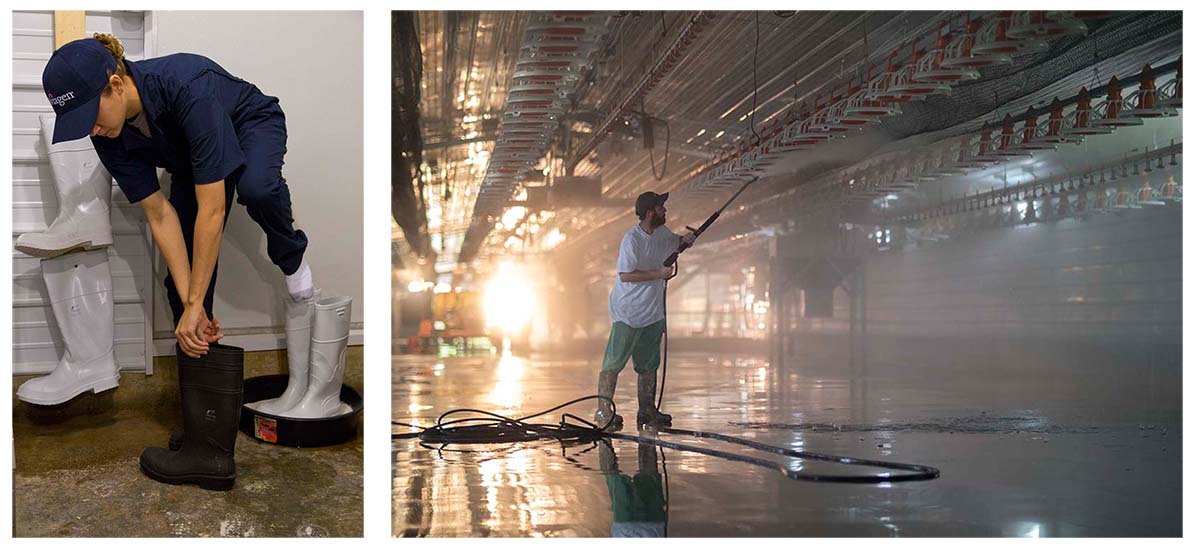 #2 Dedicated veterinarians strengthen bird health and biosecurity
Having a team of dedicated veterinarians to look after bird health is of utmost importance. At Aviagen, our large group of over 30 veterinarians supports both customers and internal operations around the world. These specialists are passionate about our birds, providing advice on how to care for our birds' needs and keep our flocks disease-free. Our veterinarians check   bird welfare and biosecurity through regular audits and health monitoring, and share their knowledge through Schools, workshops, webinars, literature, and more. They also play a vital role by providing background information, policy advice and health certificates needed to facilitate the export of chicks to customer farms in Europe and beyond.

#3 Compartmentalisation
Another strategy with proven success is compartmentalisation. A compartment is a group of approved farms that are under a common intense biosecurity management system with a distinct health status with respect to a specific disease or specific diseases for which required surveillance, control and biosecurity measurements have been applied for the purpose of international trade. The concept ensures that local economies have a dependable source of healthy protein. In 2010 Aviagen in the UK was the world's first poultry breeding company to receive official compartment status, and since then multiple Aviagen operations around the world have become certified.
#4 Multiple local and regional supply bases
This fourth strategy is twofold. First, we have a large global network, with production bases on five continents. Thus, our customers consistently receive their birds, even when trade is restricted in specific supply bases. Next, we locate our facilities close to customers in key markets around the world. Our growing production operations include more than 260 facilities and 27 commercial hatcheries providing customers in over 100 countries with quality breeding stock.
Using Europe as an example, we have production facilities and offices spread throughout the continent. Aviagen in the UK is the home of our Research and Development programme, and having parallel pedigree programmes in the UK and US protects the supply of our high-generation birds.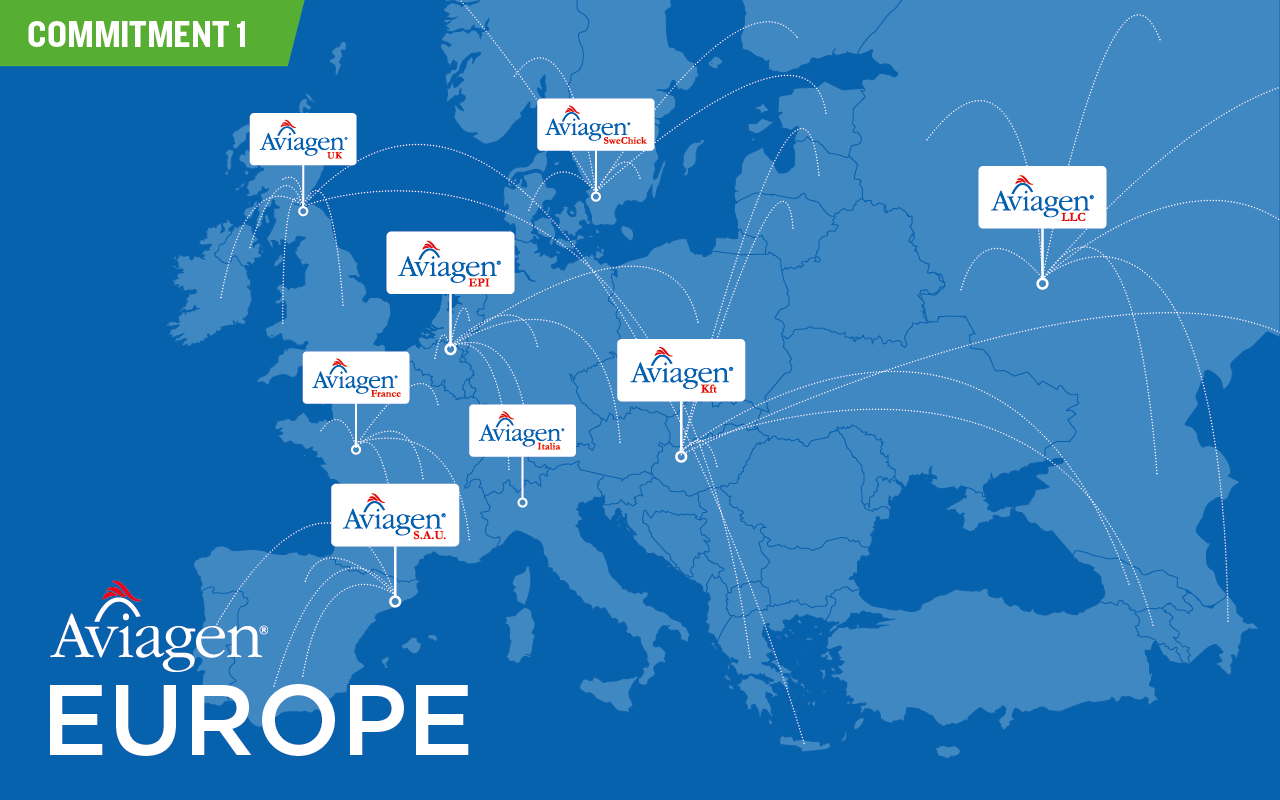 #5 Skillful export team
An experienced and proactive team to guide the shipment and delivery of birds is indispensable. In Europe, our logistics staff in the UK, supported by a network of colleagues in the continent and globally, coordinate orders from our production bases to domestic and export customers throughout Europe and worldwide. In doing so, our dedicated team cultivates relationships and keeps in close communication with airlines, freight agents and agricultural ministries. They also actively participate in organisations such as the International Animal Transportation Association (IATA) to make sure the interests of live birds are well represented. And, they work to ensure that air handlers and anyone who will look after the chicks are well-trained in the proper care of our birds. When the chicks are in transit to our customers, our export team monitors their environment to make sure conditions remain ideal for their needs.
When any challenge, such as avian disease, a global pandemic, natural disasters, flight cancellations, political unrest or any other export obstacle occurs, these dedicated professionals act quickly, finding alternative trade routes and doing whatever is necessary to make sure the world's producers receive safe, healthy chicks on time. Since there are many stakeholders involved in the export process, communication is absolutely paramount, and during the pandemic, Zoom meetings have proven very useful.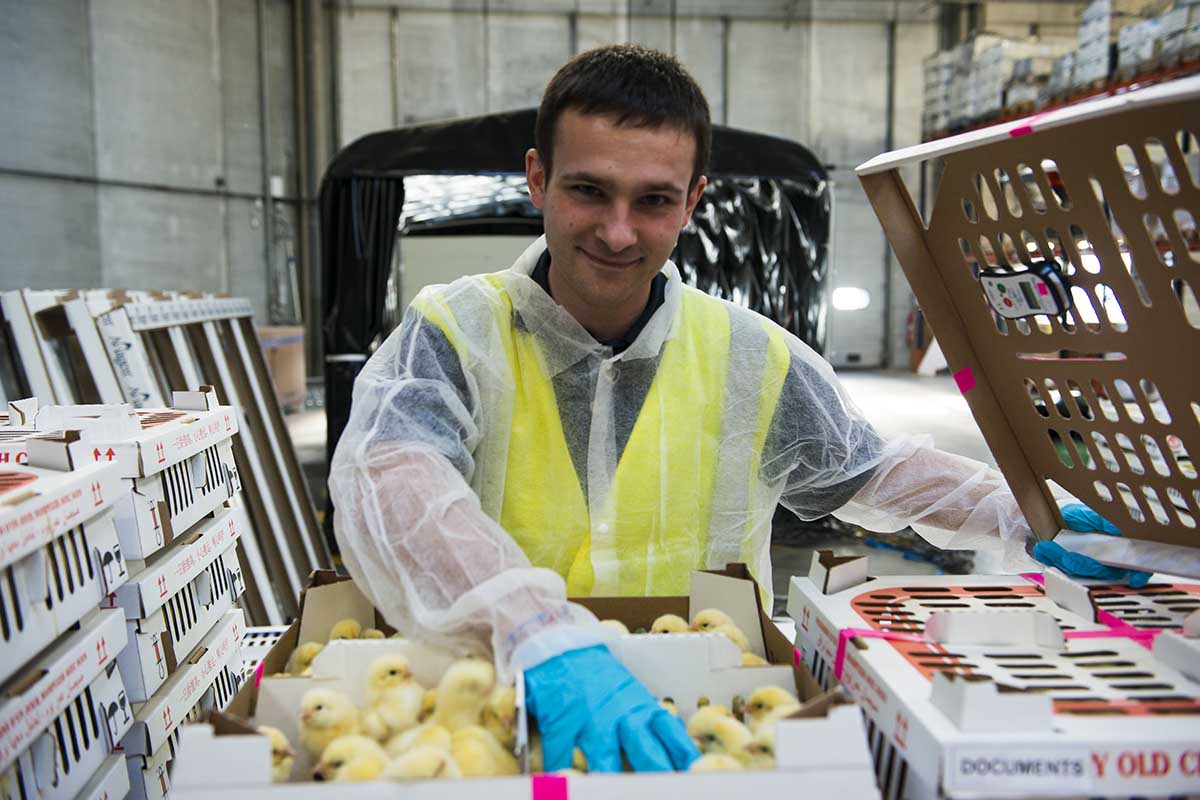 The end goal – helping to feed the world
As a primary poultry breeder, Aviagen takes our role in the poultry supply chain seriously. We are firmly committed to helping our customers provide their local communities with an affordable and sustainable protein. Solid strategies help us fulfil this mission, as we strive to do our part to create a brighter and more sustainable future for people today and future generations.