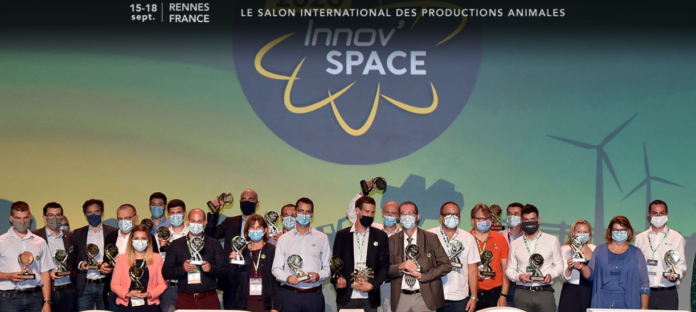 For its 34th edition, from September 15 to 18, SPACE 2020 was held in an unprecedented and essentially digital version. The Show could not take place in its usual form due to the Covid-19 pandemic. After the decision of its cancellation in its physical form announced in May, the organizers have implemented and strengthened many digital tools to maintain the link between members of its community, exhibitors and visitors.
SPACE traditionally brings together more than 1,400 exhibitors, a third of whom are international, and more than 100,000 visitors, including 15,000 from 120 different countries. These participants were able and still can stay in touch by organizing B2B meetings thanks to the platform available on the "SPACE 2020 Rennes" mobile app and on www.space.fr. The functionalities of this mobile app and of the website have been developed consequently to offer many services to their users: the presentation of nearly 1,000 exhibiting companies registered for this edition with more than 800 products featured, a program of 85 conferences, the description of the 26 products awarded by Innov'Space this year, the top 100 of the most memorable award-winning innovations over the past 25 years, replays of animations and programs, a showcase of the breeds announced in the spotlight this year: the Normande and the Blonde d'Aquitaine, SPACE TV video reports by Web-agri etc.

SPACE was also the first Agricultural Show to launch its Podcast platform. These programs are available on the website, on the mobile app and on the major podcast platforms to discover programs on employment in agriculture, the history of the changing farming practices in cattle, pigs and poultry livestock, but also in agro-machinery with a particular focus on the tractor.
The "Genomic Elite" auction could also take place this year in a completely digital way. The Holstein, Normande, Jersey, Pie Rouge and Montbeliarde breeds presented exceptional cattle for sale. 19 heifers were sold for a total of € 86,200, with an average price of € 4,537.
This SPACE 2020 also organized two highlights on site. The Innov'Space awards ceremony took place on Tuesday, September 15. By maintaining this operation and the quality of the winning products (26 out of the 70 applications submitted) SPACE concretizes its role as a unique showcase for innovations.
On Wednesday, September 16, a round table brought to light the components of the food supply chain, all its actors, and in particular the "shadow hands" which guarantee its solidity and which make it possible to guarantee the supply of quality food for all our consumers. The French Minister of Agriculture and Food, Julien Denormandie honored SPACE with his presence by participating in this round table. On this occasion, the Minister outlined his ambitions for French agriculture and for livestock in particular, in the frame of the recovery plan. This presence is a sign of strong encouragement for SPACE and for all agricultural fairs which play an essential role in agricultural economic activity.
This digital version and these highlights have been set up thanks to the adaptability of its organization to deal with this crisis in a reactive and anticipated way. Digital allows us to maintain a link but it does not replace the wealth of exchanges that can take place in the show-ground. This digital package will be complementary for the years to come. Friendliness is part of SPACE's DNA and we all miss it this year. Next Space will be held from September 14 to 17, 2021 at the Parc-Expo exhibition centre in Rennes, France.
Join SPACE on www.space.fr, on the mobile app, on social networks: Facebook, Twitter, LinkedIn, Instagram and YouTube.