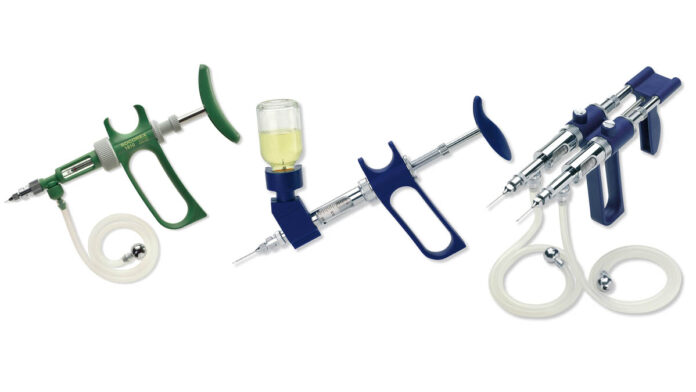 Optimal injection up to the last animal is guaranteed when selecting a reliable and comfortable syringe model. The re-usable Socorex® self-refilling syringes offer high performance level thanks to careful conception and wise material selection.
The automatic syringes accept any type of vaccine and suspension. Metal valve balls and springs remain efficient, even after thousands of consecutive injections. Proper plunger tightness without O-ring reduces maintenance requirement and limits trouble during use. When required, all syringe parts can be replaced to guarantee perfect working conditions and extended instrument life span.
Following Socorex accessories improve work efficiency and flexibility:
Conversions sets to modify feed source from a silicone tubing to a vial holder syringe.
Draw-off needles to connect feed tubing to a hanging pouch or bottle. An air-inlet with filter protects bottle content from any dust particle.
Manifold for single needle injection, fitting the Twin syringe model, it enables simultaneous injection of two different liquids through one single needle.
Rigid extension tubings increase distance between syringe and the animal. Help reaching pigs on the ground without having to lean forward.
Needles, made of long-lasting stainless steel with very sharp bevel tip, to limit skin wound even after repeated injections. Needles are supplied in a safety packaging limiting risk of injuries and contributing to operator's protection.
ABF lubricant spray to protect syringe metal parts (plunger, valves) after use.
FishGuide™ enabling correct fish and syringe positioning when injecting fish. Fish guide also prevent hand injuries while injecting.
Check our web pages for details about these accessories, and contact our distributors for purchase.
Socorex Isba SA
Chemin de Champ-Colomb 7a
CH-1024 Ecublens
Tel. 0041 21 651 6000
Email: socorex@socorex.com
Website: www.socorex.com