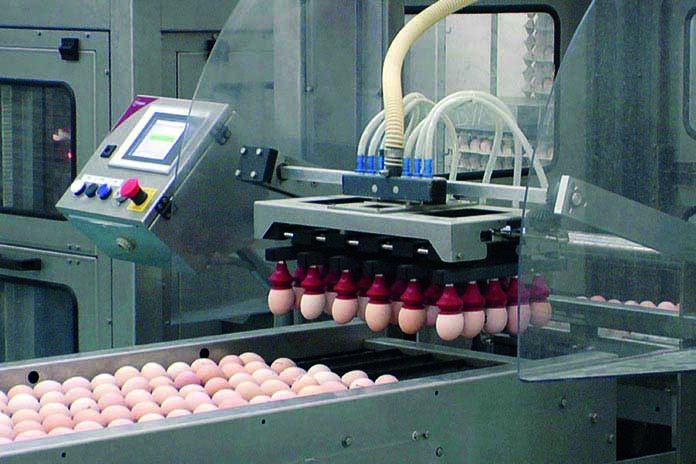 Valentijn Crum, Business Development Manager at Prinzen, part of the Vencomatic Group, tells us about the company history and the stunning advances made over time, starting from its foundation up to its today leading role in egg handling equipment.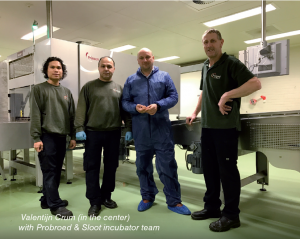 First to invent the points down setting for eggs
Prinzen was founded in 1984 when Mr. Louis Prinzen decided to start his own business. Prinzen began with maintenance and service of egg handling equipment within the domestic market. Soon the company started developing its own machines to satisfy a niche market of specialists in hatching egg handling and for simple egg transfer. Prinzen was the first one to invent the points down setting for eggs, which represents a key factor for hatching egg pro cessing at breeder farms and in the hatchery.
During the following 20 years, the company grew significantly and became a leader in the egg handling sector. They started selling machines in Benelux and in Europe, expanding production and sales. In 1999, Cor van de Ven acquired the company; he was in the nest sector, but intended to start offering customers complete solutions.
In the period going from 2007-2008 up to 2013-2014 all Prinzen's products directed to the European market were developed and delivered for enriched cages or for aviary egg systems. Many packing systems were sold, and the company extended its activities and sales to the rest of the world.
In 2006 the company built a brand new factory as the previous one had become too small for a production, which was increasing every year.
As Valentijn states: "The company's philosophy focuses on being present in each country, working with local dealers; the reason is local people know the market, the culture, local regulations very well, and can be therefore more accurate in their feedback to us. Over time, Prinzen has build a global network of specialised dealers with a wide distribution network, selling all over the world. Just think that every day some 850 millions eggs are packed with Prinzen machines."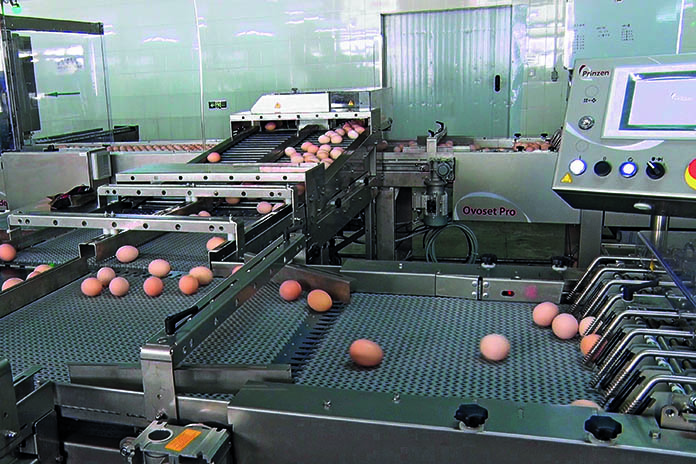 Prinzen's core business
"We produce both small machines and big machines to meet every customer's need. We know that putting a lot of technology inside the machine can be a risk, so we prefer designing our equipment with the big part of it to be mechanical. We do not produce egg grading and packing machines for central packing stations, as we are fully focused on farm packing." – Valentijn explains.
The company is active in 3 basic segments: table eggs on farm, hatching eggs on farm and inside the hatchery. In the hatching eggs sector, the company has the majority worldwide market share with operations in Europe, Africa, Middle East, China, US, Brazil, Argentina, Canada, Australia and New Zealand.
"We are the leader in the hatching eggs automation and we develop some 30 to 40 hatchery projects per year globally. Our best features are: labour saving, the points down setting, grading by weight and the complete line of process. We sell directly to large integrations through our dealers, and via our own sales team" – adds Valentijn.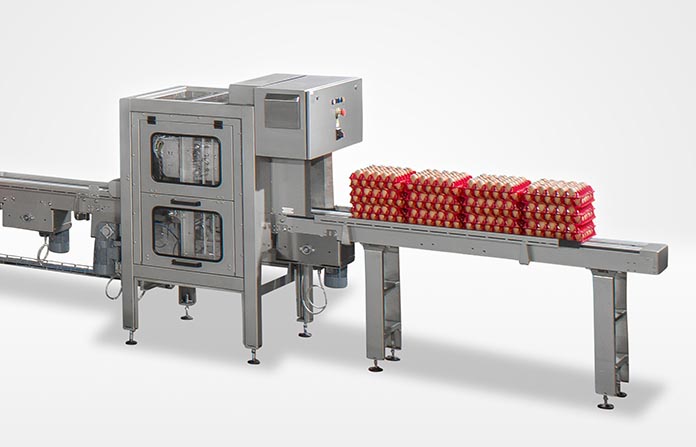 Prinzen's success constantly growing
Every day millions of hatching eggs are carefully handled and set by Prinzen machines worldwide. With the Prinzen PSPC series automation of hatching eggs setting goes one step further, placing hatching eggs directly onto setter trays. These trays are automatically fed and brought into position. The Prinzen egg transfer system lifts and places eggs gently onto the setter trays. The machines have a capacity of up to 30.000 eggs per hour, depending on the type of setter tray. The machines are easy to operate and constructed in robust stainless steel allowing easy service and accessibility for cleaning. In addition, the egg intake and transfer operation can be combined with candling, egg grading and UV disinfection of the eggs. Besides saving labor costs, full automation is essential also for biosecurity.
"The key of our success lies in our automatic points down setting of 99,7%, while the manual one is say up to of 97%, with a difference counting for 2,7%. Eggs are placed with the air cell up and the small end down. In normal development, from day 14, the embryo turns its position to the air cell; in this position, from day 18, the embryo can penetrate the inner cell membrane to gain access to the air in the air cell, and start breathing. Correct points down setting improves hatching figures resulting in more saleable chicks. Extra beneficial results can be achieved when in-ovo vaccination is applied where correct egg point down orientation is a pre-requisite" – explains Valentijn.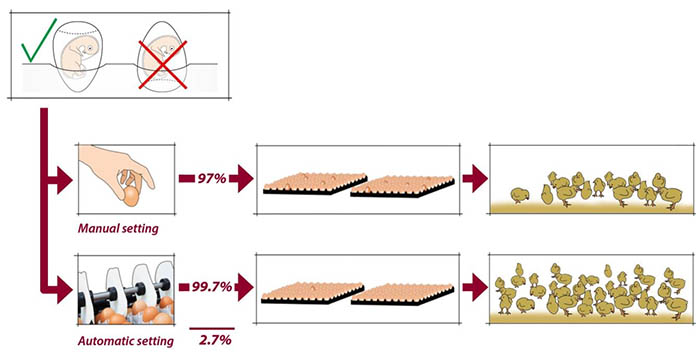 Complete solutions
"We offer complete solutions for egg intake in hatcheries and are specialized in packing eggs into any type of setter tray, no matter what brand of setter tray. We feature two solutions: direct transfer from the farm tray to the setter tray, or grading by size, selecting by quality through candling, do the points down setting and put the setter tray automatically into setter trolleys".

Prinzen's hatchery automation system offers:
Better hatchability by perfect points down setting;
Quality grading: taking out very small and large eggs to get only good quality hatching egg inside the setter tray;
Less hair-line crack eggs as the machine is more precise and consistent with respect to human egg handling;
More uniform eggs and chicks due to grading by weight.
Goals are the following:
Labour saving;
Complete egg intake automation inside hatchery;
Full trace information;
Improved hatchery biosecurity;
Quick handling and storage of eggs, which are important in extreme climates to ensure the optimum hatching conditions.
"From the grading process and related software you can get a lot of data from each breeder farm. This data is recorded with precision: number of eggs within a weight range, average egg size, total number of eggs. In other words, we can get a full traceability. All these data represents a good feedback for the breeder farms to even further improve the efficiency of their production. This leads to a positive effect on the hatchery results with an operation capacity of grading and packing going from 20.000 to 60.000 per hour onto setter trays. The machines used inside the hatchery are different, due to the particular incubator brands and environment. All machines are set in several operator languages and allow remote control access for service and updates" – concludes Valentijn.
A field experience: visit to Probroed & Sloot in Groenlo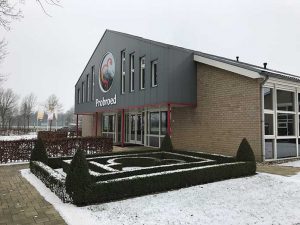 Probroed & Sloot is an independent broiler hatchery operating in the poultry chain with sites in The Netherlands and Germany. The company is specialized in broiler chickens, with more than 90 years of experience in incubating, now backed up by ultra-modern hatcheries. They are located in the east of the Netherlands, not far from the German border.
We visited the hatchery, all equipped with Prinzen machines to see them operative and realize their positive impact on production.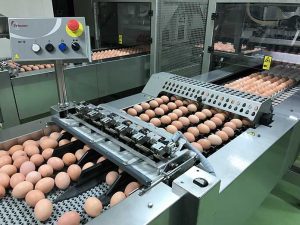 During our visit, Theo Krabbenborg, Hatchery Team Leader of Probroed & Sloot explained that the company has four modern hatcheries in the Netherlands and two partner-hatcheries in Germany. Hatchery equipment comes from various manufacturers: HatchTech at Langenboom (Netherlands), Vreden (Germany) and Elsnigk (Germany), Pas Reform at Groenlo (Netherlands) and Petersime at Meppel (Netherlands).
Probroed & Sloot with all their hatcheries operate 8 million chicks per week, and exports hatching eggs delivered mostly to Russia, Africa, and Middle East.
Asking Mr. Krabbenborg why they chose Prinzen for their hatcheries he replied Prinzen's machines are the leader in featuring points setting down, egg grading and cost saving, while ensuring improved efficiency and better operational quality.