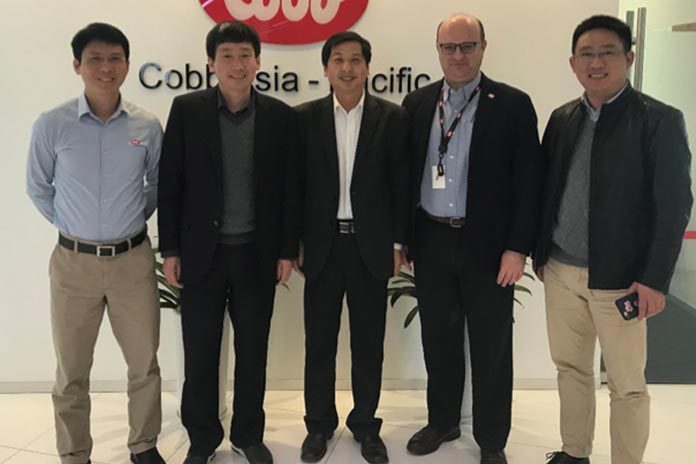 Chinese customers visit Cobb office in Shanghai
One of the largest integrated companies in China, Shandong Fengxiang, located at Yanggu in Shandong province, places about 1.2 million parent stock every year. Fengxiang sells products to 20 countries in Europe, Asia and the Middle East, and is a strategic partner with major fast food restaurants and retailers. The company has been a loyal Cobb customer for over 12 years, initially purchasing through Beijing Poultry Breeding Company and now directly with Cobb China.
Recently the two key Chinese customers – Shandong Fengxiang and Dalian Chengsan – visited the Cobb Asia office at Shanghai and had very positive reports on the breed's performance in the Asia Pacific market.
"At Fengxiang, we are becoming very confident of the performance of Cobb," said Luo Pingtao, general manager of Shandong Fengxiang. "Our latest flock peaked at 87 percent and had 5 percent mortality in lay up to 55 weeks, which is a very good result. When compared with different breeds, Cobb is way ahead of competition in terms of product quality and breeder performance."
Dalian Chengsan is the largest poultry company in Northeast China, operating in the Puwan area and Dandong. Bai Guohui, deputy general manager of Dalian Chengsan, said: "We are seeing lower mortality in lay with Cobb, compared with another breed. This is giving us a lot of confidence in the genetic potential of the Cobb breed."
"We are thrilled with the positive feedback from valuable customers such as Fengxiang and Chengsan," said Pelayo Casanovas, general manager of Cobb Asia Pacific. "It is immensely rewarding for the Cobb team, knowing that our hard work is being appreciated. We are extremely confident in the genetic quality and performance potential of our product, and we will continue to help improve the whole Chinese broiler industry. Working with such professional partners will make this effort more efficient and productive."
Due to avian influenza, China's grandparent imports have been decreasing for the last three years, causing a shortage of grandparents in the market. These supply issues have led to extreme price volatilities in recent years. Cobb invested US $35 million in developing the grandparent project at Suizhou in Hubei province which began supplying parent stock to the Chinese market in November 2016. It became the first company to introduce a 'One Price' policy to the China broiler industry aimed at stabilizing the market by providing consistent supply of parent stock at the same price throughout the year. Cobb is now partnering with major integrated broiler companies in China aimed at improving the welfare and quality of poultry production.