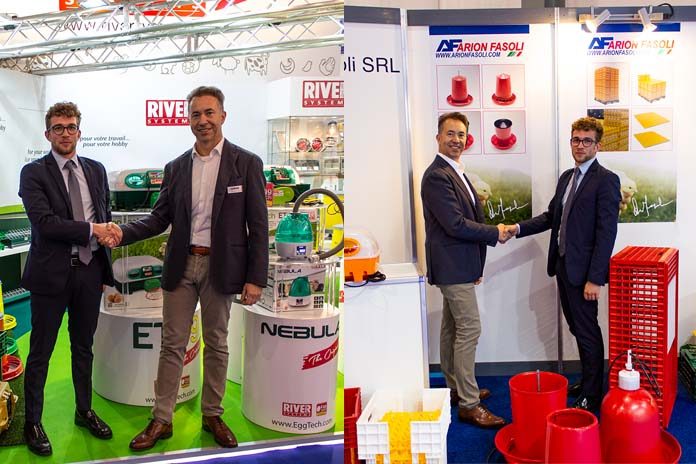 During the VIV Europe Fair, we met Stefano Concina at the Stand River Systems, and Nicola Bonetti of Arion Fasoli and took the opportunity of interviewing them about the latest developments and future prospects.
What is the latest news from River Systems that you are presenting here at the fair?
Stefano Concina: "We have new techniques and, from a commercial point of view. these technical innovations are mainly focused on the continuous progress and improvement of our equipment , an ideology that we pursue non-stop for the benefit of our customers.
Our flagships products are our incubators, continuously updated with the latest technological discoveries, including management software that is constantly developed and adapted to allow us to be increasingly high performing and competitive in the marketplace.
At the fair, we launched our nebulizer NEBULA, unique in its kind because of its very advanced technical features, so much so that it has been patented in Italy and in Europe. This is a universal system that can be easily applied to all incubators of an amateur and family nature, with the exclusive technical characteristic of guaranteeing the exact level of humidity inside the incubator, a feature unique to the market. We have no other competitors because our device is an absolute novelty.
Regarding feeders, the innovations mainly concern minor aspects from a technical point of view, namely the refinement of design and those particular details that allow better performance by reducing feed wastage – as we decrease more and more the levels of feed and water wastage we improve drinking and animal nutrition standards.
Another aspect that should not be underestimated is the commercial element. To meet the demands of our customers who request new products with specific characteristics for certain markets, we have recently started a partnership with the company Arion Fasoli, to whom we provide our customized incubators.  They reciprocate with specific equipment that goes to fill the blanks in our product range – crates for the transport of poultry, trays for eggs, etc. This exchange of synergies allows us – both ourselves and Arion Fasoli – to be more incisive and competitive in emerging markets  such as Africa and the Middle East while at the same time continuing to offer a series of products as complete and interesting as possible."
Also Nicola Bonetti, Marketing Manager of the Arion Fasoli company also present at the fair with their interesting range of equipment for poultry producers confirmed:
"We are very pleased to have undertaken this collaboration with River Systems. We believe that setting up a system and establishing an all-Italian consortium on the international market can protect and grow both companies, and gives us the weaponary to compete with foreign opposition in the Asian and Turkish markets. Success abroad also should strengthen our  position in our home market. We have therefore decided to work together to fill the gaps of both at the equipment level and hope that the collaboration is a lasting one  that it will bear fruit for both."