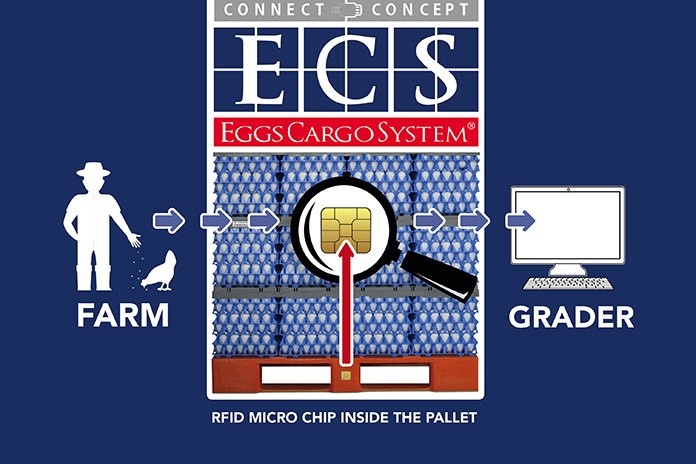 The Dutch companies Twinpack Special Products and Ovotrack have decided to collaborate. Twinpack is the global supplier of the EggsCargoSystem®, whereby the plastic pallets which form part of this system have been equipped with RFID microchips.
Ovotrack is a global supplier of hardware and software solutions for the tracking and tracing of eggs. The aim of the collaboration is to provide customer-specific solutions, with the reading in and out of the RFID chips being a central focus point.
They are currently still frequently working with labels, which need to be processed manually, whereas the EggsCargoSystem® Connect Concept offers numerous possibilities for automatically linking the data from the RFID chip to the customer's existing software.
In addition to being able to digitally access information regarding the eggs included on the pallet, the Connect Concept also offers a module for perfectly registering and following the package. The RFID microchip is secured to the inside of the ECS pallet and will therefore never come into contact with water. There is no other pallet in the market, which can offer this. Virtually all-existing customers will be able to make use of the Connect-Concept®, as Twinpack Special Products has equipped nearly all pallets with similar RFID chips since the EggsCargoSystem® was launched, now over 15 years ago.
Customers interested in the EggsCargoSystem – Connect Concept® can choose from simple handhelds which can read data in and out, right through to fixed scanners on the loaders which can transfer the data across to sorting or crushing machines. Twinpack Special Products and Ovotrack can develop whatever the customer desires.
For more information: sales@twinpacksp.com or www.eggscargosystem.com