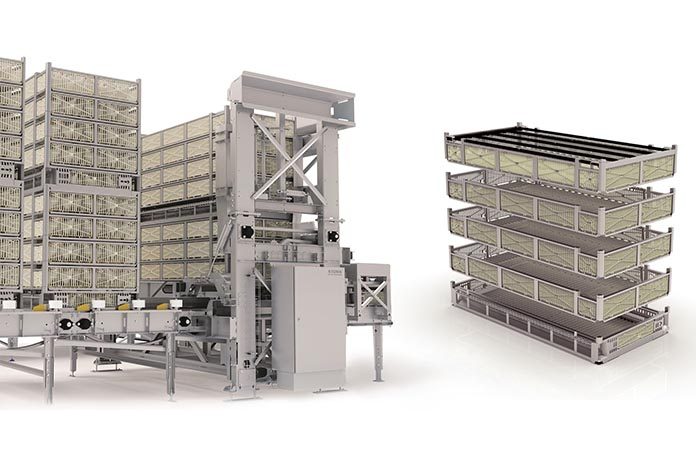 Marel Poultry will participate in the International Production & Processing Expo (IPPE) 2019, taking place in Atlanta, Georgia USA, at the Georgia World Congress Center from 12-14 February 2019. 
Smooth transport
The Stork ATLAS live bird handling system is a perfect example of this, as it offers perfect control of the well-being of broilers. This solution controls the smooth transport from farm to shackle with no need for human intervention. After loading on the farm, the process does not require any human touching until manual shackling of the stunned broilers.
The combination of ATLAS and CAS SmoothFlow anesthetization has been highly acclaimed in North America over the last year, with a bright future ahead. Large conglomerates in the poultry industry have begun integrating this Marel Poultry solution into their operations with many more to come. 
High level of productivity with minimal labor
For the poultry industry, labor has become a critical issue. Poultry processors around the world, especially in the US, face many labor challenges. At IPPE, customers can see the benefits Marel Poultry can offer in automation throughout the entire processing plant. Our SingleFeed solution is a great example of a labor saving solution. We will have a twice-daily live demonstration showing how our automatic sortation into our I-Cut portioning equipment works to keep tight control over yield. 
Traceability
The word traceability is on everybody's minds these days. Food companies globally are trying to prevent major loss of business and brand image due to costly product recalls. Marel's Innova software offers processors multiple opportunities to gather data and contribute to end-to-end traceability. Sensors at crucial positions throughout the plant all deliver their information to the control room where Innova can identify and backtrack the product properties of every shackle in the plant.
An integrated Innova solution will enable plant management also to control, monitor and report on the real-time status of production and yield. It allows them to 'zoom in' on every aspect of production and pinpoint the exact process stage where performance can be improved.