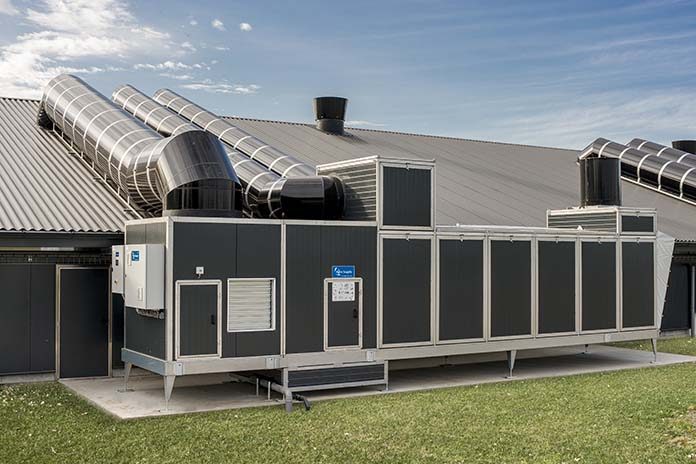 Health, and thus performance of poultry, first and foremost depends on the quality of the air in the poultry house. A healthy climate is created by controlling the air flow inside the poultry house and bringing fresh air at the right temperature at bird level. With the new ECO Unit we create an optimal control for the climate in poultry houses in all weather conditions with minimal energy use and superior air quality.
All weather conditions
In cold conditions, the ECO Unit is a heat exchanger that uses warm air from inside the house to heat up fresh air from outside. It achieves a thermal efficiency of 80%. In warm conditions, water can be sprayed within the unit on the outgoing air, which causes evaporative cooling of the outgoing air. This also causes the incoming air to cool considerably – over 13 °C cooling ­– without an increase in absolute humidity. At the same time, the ECO Unit reduces emissions of ammonia and fine dust.
Pre-heated or pre-cooled air is brought directly into the house and projected towards the roof, where circulation fans spread the air throughout the house. This ensures an even temperature and uniform climate throughout the entire house. Intelligent software governs this technology and allows you to realise substantial savings in heating costs and reduction in environmental emissions, such as ammonia, fine dust and CO2 emission. Besides saving energy through warming in the winter, this new ECO Unit also has big advantages in the summer.
Cleaning
Proper cleaning of heat exchangers remains a challenge. To make manual cleaning easier, all side panels of the ECO Unit can be removed very easily and the complete "heart of the unit" can be approached from all sides. As an option, there is also an automatic cleaning system that can be used while the ECO Unit is in operation and there is no interruption of the ventilation process. The ECO Unit keeps its maximum thermal efficiency without dirt blocking the airflow and heat transfer, and saves on labour for manual cleaning. With this option the amount of water needed for cleaning is reduced with 90% compared to a flushing system that uses fresh water, because the system recovers condensation water and reuses the water several times before it is drained.
For more information please contact: marketing@vencomaticgroup.com