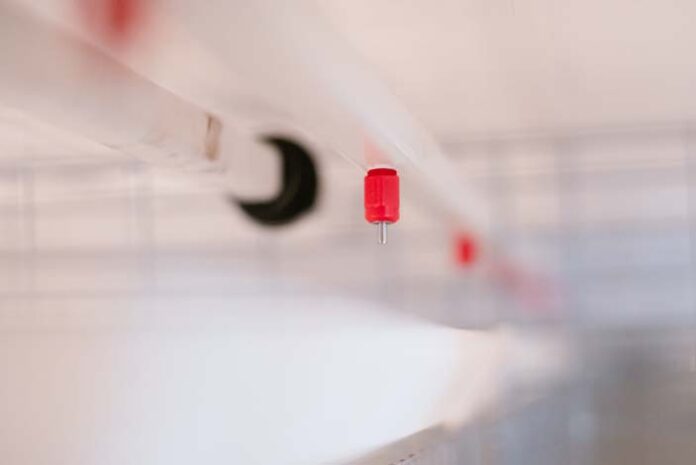 Water is an essential resource for animal well-being.

The Facco drinking system is designed to achieve the best performance in guaranteeing the well-being of birds reared in poultry farms. It is essential to provide the birds with the correct amount of easily accessible fresh water, free from contamination, using drinkers connected to the main water line.
The Facco solution, comprising drop-type nipple drinkers with accessories like the pressure regulator with rinsing system and terminal aeration unit, is well suited to the needs of the poultry since it ensures that water is always available during regular use and while rinsing is performed to remove residues from the pipes (no algae).
The water is dispensed through Facco nipples, which are made of stainless steel or plastic: two solutions that open through 360°, an essential feature that ensures easy water intake in all types of poultry farm (broilers, chicks or laying hens).
Besides the drinkers, another important point for a good drinking system is the connection to the main water line. This Facco system, which can consist of different modules, allows the water to be sanitized and filtered before it reaches the individual water lines. The main unit can therefore comprise a combination of the following components: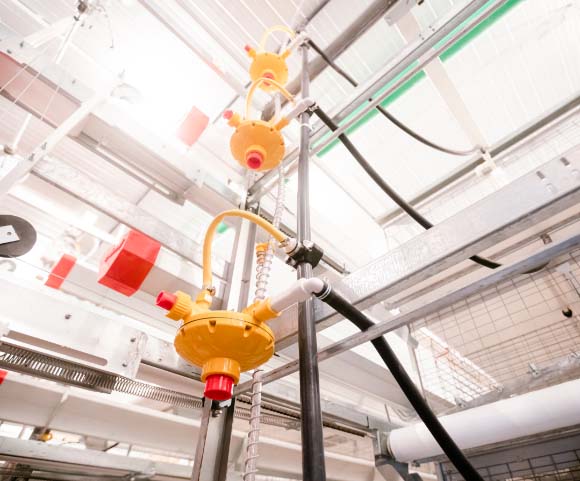 filter system (filtering coarse suspended substances in the line so as to prevent the equipment downstream from being harmed);
pressure reducer, which regulates the inlet pressure to suit system requirements and the pressure at which water must be dispensed (useful for preventing water hammer effects on the equipment downstream);
hose bib-cock, useful for connecting cleaning systems or simply as a source of water for pre-mixing the substances required by the birds;
pulse emitting water meter, essential for checking the amount of water consumed by the poultry;
medicine dispenser, mechanical or digital, that dispenses the correct amount of medicines, nutritional supplements or products for sanitizing the lines;
monitoring solenoid valve, it enables water supply to be timed in order to avoid waste. It is also useful for planning when products must be added to the drinking system at precise intervals.