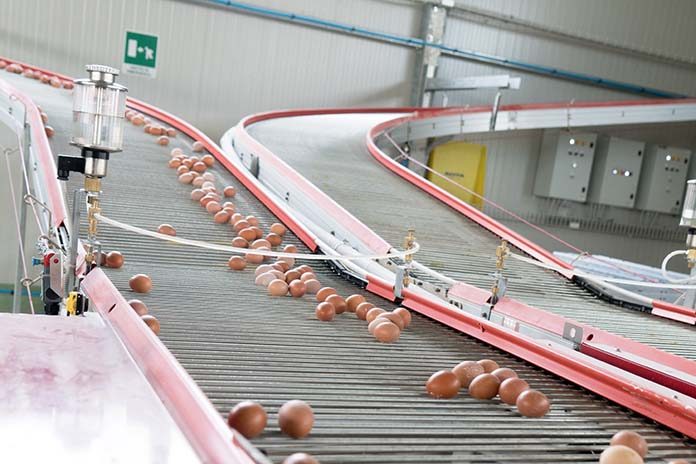 During our recent visit to FLEXY, a manufacturer and distributor of poultry equipment located in Campo San Martino, Padua – Elisabetta Libralon, General Manager and Luca Paiusco, Export Manager introduced us the company's products and outlined their new business strategies.

FLEXY is specialized in egg-handling systems for poultry farming, and is well known in the sector for the high technological level of their products and for their skill and professional service. For more than twenty years FLEXY's specialists have been entering into poultry farms and egg rooms to understand producers' needs as well as to anticipate their requirements, well aware that global market challenges have in logistics and egg handling one of the main aspect to stay competitive.
Every day, FLEXY systems collect eggs as well as help farmers ensure that their eggs are transported from the production to the selection and packaging in an efficient, fast and cost-efficient way all over the world.
As regards to the innovative and technological product features, Elisabetta Libralon specifies: "Our products are reliable and of great quality. Over the years, FLEXY has developed a wide range of highly versatile poultry equipment, which can be easily installed and adapted even to existing plants.
FLEXY EGG WAY is the company's flagship product, known all over the world (it is estimated that every day FLEXY systems currently transport more than 100 million eggs). It has a special rod belt (no other company in the world has this advantage), consisting of two calibrated, hardened outside chains, joined together by an endless loop, "the Flexy Bar", welded for more than 2 cm on both sides. The component structures are made of stainless steel and / or aluminium, combined with plastic materials.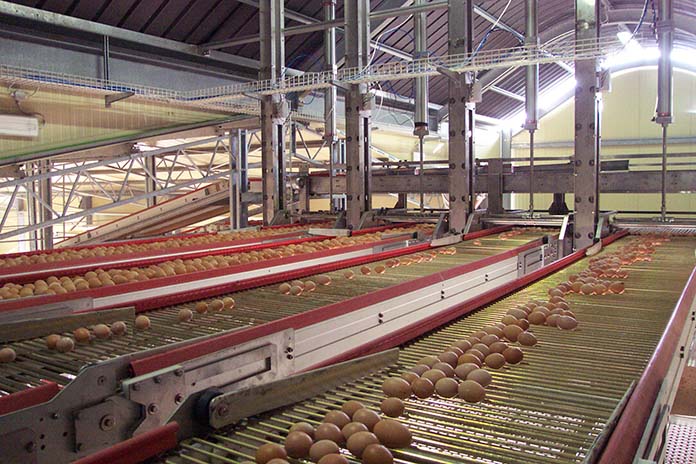 FLEXY EGG WAY main features can be summarized as follows:
Stronger chains weldings which guarantee unrivalled strength.
Minimum egg breakage, even on bends.
System reliability and lifespan (going beyond twenty years of continous use).
Ease of use and maintenance.
Less energy consumption.
FLEXY LITFWAY is also another system offers from the company, to collect the eggs from different levels and it can be combined with EGG WAY. The main advantages on using this alternative solution are:
Unrestricted access to corridors.
Just one egg transfer, from egg belt to transverse conveyor.
Low power consumption.
Easy installation.
Reduced maintenance and cleaning times.
Another flagship product of the company is certainly the FAMILY NEST, which is both the result of their experience gained in egg handling and collection and the farmers' need to have a nest able to ensure safety in egg collection and animals' welfare. Several years of intensive studies and research allowed the company to obtain a reliable and completely versatile equipment, which can be customized according to the various specifications.
The FAMILY NEST is available in a central version, a wall version, and in two-tier variant. Its structure is made in treated plywood – in order to guarantee a long resistance to humidity ­– and galvanized steel, with stainless steel legs to resist corrosion.
The company also offers several other solutions such as the chicken transport system, called BROILER WAY, the EGG TABLE, that can be used along with all the existing egg conveyors in the market (available on more than one level and also with width of more than 3.5m) and the FMDS manure treatment system (Flexy Manure Drying System). Each of these products is available in different versions and can be customized according to customer's needs."
Luca Paiusco illustrates the company's future prospects in view of their global expansion: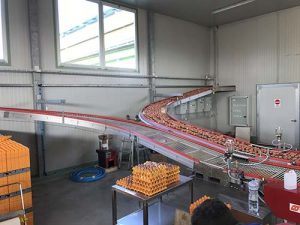 "Not only offers FLEXY simple solutions for the egg transport from one point to another, but also provides much more to the farmers. The company's products are indeed the result of in-depth studies of complex projects. As current plants have wide and sophisticated egg handling rooms and an increasing numbers of interconnected warehouses, cutting-edge equipment is required. Here, FLEXY is able to play a decisive role.
Today, large plants are designed starting from egg handling, with a decisive attention to all logistics aspects, which assess the whole complex competitiveness. FLEXY cannot therefore be defined just as a mere machine manufacturer but as a systems and solutions provider.
All this makes FLEXY an excellent partner for many operators of the poultry industry, offering efficient products as well as the certainty to rely on a modern and high tech company, giving credit to all who decide to cooperate with.
In a fast changing world, everyone needs to be a partner of the best companies. Flexy can be the perfect partner for your growth."
Which are your expansion prospects and your target markets?
"We have recently participated to the most important poultry trade fairs, such as VIV Asia, with excellent feedback from the market; we also plan to participate to other fairs, the most relevant are certainly VIV Turkey in Istanbul and Eurotier in Hannover next year.
Expertize and collaborations have so far enabled us to install our equipment in different countries around the world. Our aim is to further increase our presence in those countries where there is an emerging need for automation, as well as in the industrialized ones, which are currently experiencing such a revolution in logistics changing the concept of egg collection and handling. This both for the cage system and for the cage free require ever a greater control over the egg flow."
Elisabetta, how do you define your strategy in terms of customer support and service?
"Customer service plays a fundamental role when choosing poultry equipment and FLEXY certainly put a scrupulous attention to this. To this end, company dealers and collaborators thoroughly trained to know our products and, in addition, they receive constant remote assistance to support them in the field, in hard and highly critical situations.
We know how many problems a malfunctioning or faulty system can cause and it is important for every farmer to count on skill and experience to improve their daily work with rapid and efficient solutions, preventing the problems instead of facing them afterwards."