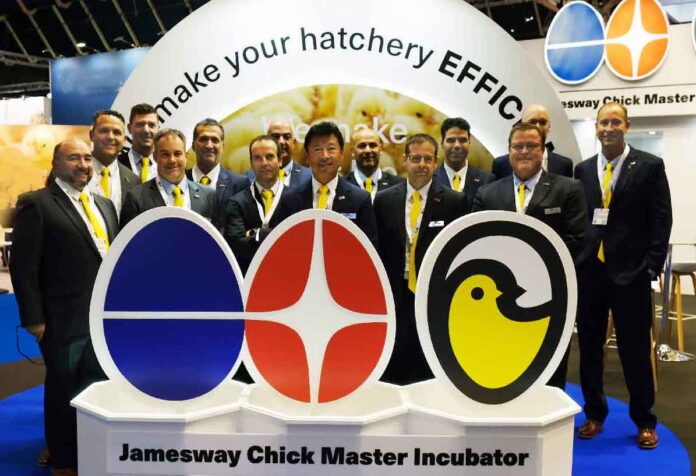 Interview with Mr. Victor Chaux, Marketing Specialist at Jamesway Chick Master Incubator Inc.
Jamesway began designing and manufacturing incubation systems and hatchery equipment in 1890. Today, the company is known worldwide for the excellence that stands behind their machines and equipment. Recently, at the VIV Europe Fair, we met with Mr. Victor Chaux, Marketing Specialist at Jamesway Chick Master Incubator Inc. and took the chance to talk about their latest product innovations and market strategy.
Jamesway and Chick Master have integrated their businesses, creating a new, powerful organization. What goals have been set and reached up to now after this reorganization?
"Jamesway and Chick Master decided to combine their business in 2020. The move established a new combined headquarters with integrated manufacturing operations located at the existing Jamesway facility in Cambridge, Ontario. This new joint organization is known as 'Jamesway Chick Master Incubator Inc.', and is led by Mr. Denis Kan, with continued strong support from Mr. Nate Goodnow.
The basic concept is to operate with the two brands, Jamesway and Chick Master, so that each company can benefit from the advantages and availability of stronger research and service programmes. We also have our factory in Canada, that means our products are all Made in Canada".
As far as chick quality is concerned, what are your system's crucial traits throughout the various phases of incubation and chick handling?
"Jamesway offers single-stage and multi-stage incubation systems. We are industry leaders for many reasons and above all, particularly for our most effective designs which translates into very reliable, easy-to-use and energy-efficient equipment. We also have a specialized department – the AirWay Complete Climate Control. Our ventilation systems harness the latest technology and are customizable to deliver the best configuration for your needs. From 'plug and play' to 'heat recovery solutions etc', we are able to provide a perfect hatchery ecosystem. This means that we operate with innovative products always with the future in in mind.
Here at the VIV Europe we are launching a new system, the '360 – Easy Hatchery Management' a software programme for our machines that allows for better control and thus, better quality of chicks. We have specifically different type of control components which are the most important part of our machines. Control and software are the areas where we are most innovative at the moment. The '360' platform tracks your machine performance, your egg data, and maintenance routines. The ability to analyze performance is the key to hatchery optimization: to better results; happier customers; and improved bottom lines. The launch of '360' brings data management and control of your hatchery to a new level."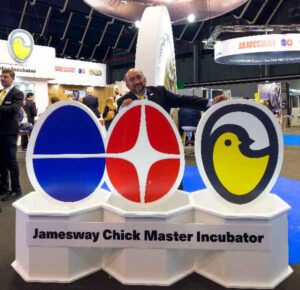 What are the distinguishing features of your machines with respect to the others on the market?
"Well, there are some differences, differentiating is essential when you plan to buy a machine or when you sell them. The specific and unique characteristics of our machines consist in the fact that they are very easy to manage and in addition, incubation time is shorter resulting in a different quality of chicks which leads to you saving money.
In addition, how you store your eggs has a profound impact on chick quality and our egg holding machines are specifically designed to perform 'short periods of incubation during storage' to ensure your embryos remain robust and viable.
Another main point for consideration is that we are green on energy, as our machines are the most energy-efficient on the market and operate 50-80% more efficiently than any other equipment. Our machines ensure for our clients a high level of innovation and superior quality chicks which means time and money saving in all the phases of incubation."
How do you define your strategy in terms of customer support and service?
"One of the main strengths in this business is customer service – we are present in many different countries and regions all around the world with our agents, who assist and serve our customers re any technical issues they may encounter or with regard to any specific needs relevant to their local markets. We have teams working together across different countries in North America, Latin America, Europe, Asia, Australia, providing assistance to our specialized team in each of these regions. We have over 2,500 customers in over 150 countries."
What are your current markets and your future prospects in view of your global expansion?
"Jamesway and Chick Master bring their solid reputations to the worldwide market. With our two brands, the Jamesway Chick Master Incubator Inc. we can provide perfect solutions for any customer. Our future marketing strategy is focused on reaching more clients all around the world, in different countries. We are aiming for further expansion in Europe, Asia, and Africa to build on the already good market share we have in North and Latin America.
Jamesway Chick Master Incubator Inc. is the partner you need to produce quality chicks; and with two product lines we definitely have the right machines for any hatchery."